The dreaded "A-Word" has once again made its way into Israeli media, not by a leftist "self-hating Jew", but by a prominent Israeli politician, the Minister of Defense, who is a decorated soldier and a former prime minister as well. "A" is for Apartheid.
An awful word that evokes awful memories, presumably left behind in the annals of history in places such as Soweto and Cape Town. A word that has invited rage, insults, and attacks against a former US president who received a Nobel Peace Prize.
This past Tuesday, however, Defense Minister Ehud Barak warned that if Israel does not achieve a peace deal with the Palestinians, it will have to become a binational state or be an undemocratic apartheid one if it remains as it is.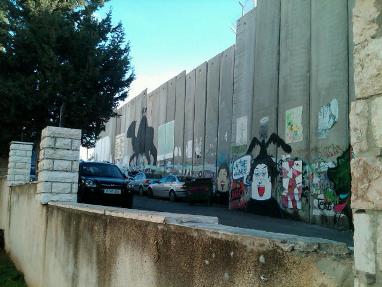 "The simple truth is, if there is one state" including Israel, the West Bank and Gaza, "it will have to be either binational or undemocratic. ... if this bloc of millions of Palestinians cannot vote, that will be an apartheid state," Barak said at the Herzliya Conference north of Tel Aviv.
Though rarely used by Israeli leaders in connection to the Palestinians, the term "apartheid" is becoming more common to describe the current reality on the land between the Jordan River and the Mediterranean Sea.
More than two years ago, on the anniversary of the 1947 UN partition plan that would have divided British mandate Palestine into a Jewish and an Arab state, then Prime Minister Ehud Olmert warned of this same scenario. In an interview with the Israeli newspaper Ha'aretz, Ehud Olmert said Israel was "finished" if it forced the Palestinians into a struggle for equal rights.
If the two-state solution collapsed, he said, Israel would "face a South African-style struggle for equal voting rights, and as soon as that happens, the state of Israel is finished".
But veteran Israeli journalist David Michaelis believes that a South African-style apartheid system has already emerged due to Israel's prolonged occupation of Palestinian territories.
"What Ehud Barak intended to do is to send a stark warning that Israel is heading towards a binational situation; however, we are already in a binational situation, and an apartheid system that's working very well for the Israeli military and government."
Five years ago David Michaelis and I jointly interviewed Palestinians and Israelis about the prospect of a binational state. Most Palestinians we spoke to then were thinking of independence and most Israelis were thinking of separation. At the time, the Israeli government was frantically building the Separation Wall, and only a handful of Israelis entertained the idea of binational coexistence. One such person we interviewed who predicted what Ehud Barak is currently cautioning of was Meron Benvenisti, a former Deputy Mayor of Jerusalem.
Benvenisti has recently published an elaborate article in Ha'aretz chronicling how Israel became a de facto binational regime.
"The attempt to mark the settlements, and the settlers, as the major impediment to peace is a convenient alibi, obfuscating the involvement of the entire Israeli body politic in maintaining and expanding the regime of coercion and discrimination in the occupied territories, and benefiting from it," he argued.
According to him, the violent events of the (second) intifada brought the Jewish-Israeli public to a crossroads in relation to their neighbors-enemies. Benvenisti argues that Israeli-Jews turned their backs on the Palestinians, erasing them from their consciousness and imprisoning them behind impenetrable walls, and became willing to congregate in a ghetto and pray that the Mediterranean might dry up or a bridge be built to connect them with Europe.
This mentality is manifested in two, recently constructed, architectural monuments whose symbolism transcends their functional value: The gigantic Separation Wall and the colossal Ben Gurion air terminal. The former is meant to hide the Palestinians and erase them from Israeli consciousness and the latter serves as an escape gateway.
David Michaelis concurs and believes that most Israelis prefer to live in denial and avoid the subject of apartheid.
"The peace process is a misnomer, and the word occupation is misleading because it's really about systematic control."
How long can Israelis live in this denial and pretend that apartheid-like conditions do not exist?
Well you've heard the expression, "If it walks like a duck and quacks like a duck..."
Related
Popular in the Community