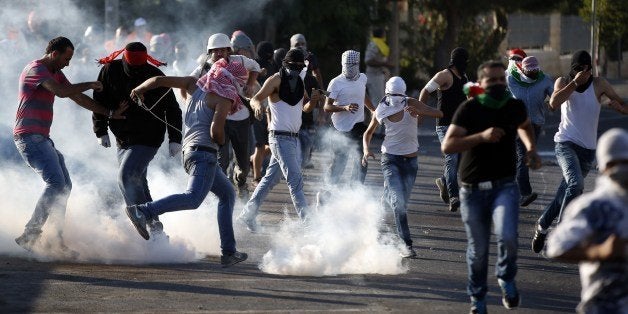 Tensions in Israel and Palestine remain high after the discovery of the bodies of three Israeli teens kidnapped in June sparked a new wave of violence in Israel and the Gaza Strip. According to a new YouGov poll, most Americans think the situation isn't likely to get better anytime soon.
Exactly half of respondents said they believe violence in the Israeli-Palestinian conflict will increase in the next few years, compared to just 3 percent who said they believe violence there will decrease. Another 27 percent said they think the level of violence will stay about the same.
Overall, Americans are more inclined to sympathize with Israelis than with Palestinians in the conflict. Over one-third of adults said they are more sympathetic to Israelis, while only 9 percent said they sympathize more with Palestinians. Twenty-four percent said they sympathize equally with both sides.
Sympathies were strongly divided along partisan lines, with Republicans much more likely to side with Israelis. Fifty-six percent of Republicans said they sympathize with Israelis in the conflict, while 4 percent said their sympathies lie with Palestinians. In comparison, just 20 percent of Democrats said they sympathize more with Israelis and 13 percent said they sympathize with Palestinians.
A plurality of respondents also said they believe Israelis are more interested in finding peace than Palestinians. Nearly 40 percent of adults said Israelis are more interested in seeking a peaceful resolution, compared to 7 percent who identified Palestinians as more interested in making peace. Another 20 percent of Americans said both sides are equally interested in finding a peaceful solution.
Americans were also more likely to support the creation of an independent Palestinian state than to oppose it. Thirty-five percent of respondents said they support the establishment of an independent Palestinian state on the West Bank and the Gaza Strip, while 25 percent said they oppose the idea.
The YouGov poll surveyed 1,000 adults online between July 2 and July 7.
REAL LIFE. REAL NEWS. REAL VOICES.
Help us tell more of the stories that matter from voices that too often remain unheard.