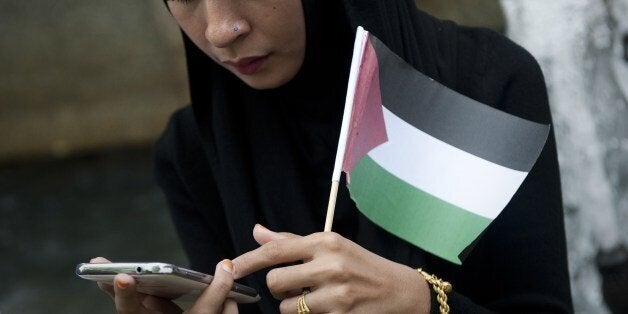 Late last year, Israeli police arrested and detained 15-year-old Tamara Abu Laban after storming her house. Tamara's crime? Updating her Facebook status with the words "forgive me" in Arabic.
In most places in the world, a cryptic, if not slightly dramatic post written by a teenage girl seeking "likes" from her friends would hardly be cause for reaction. But if you are a Palestinian growing up in Occupied East Jerusalem like Tamara, even a vague and "angsty" personal Facebook status may become grounds for arrest.
Israeli authorities interpreted the post as expressing intent to carry out a violent act of resistance. The teenager was released under the condition that she would post bail of 1,500 Israeli shekels, remain under house arrest for 5 days, and pay another 10,000.
Tamara's story is one of many, and those numbers are rising both for adults and minors. According to a new report, by Hamleh - The Arab Center for the Advancement of Social Media, 2015 saw a surge in the number of Palestinians being arrested on the charge of "incitement through social media." The Hamleh report analyzed Palestinian internet and social media usage in 2015, and found that since last October - the start of the latest Palestinian uprising - the number of arrests Israel has made based on social media activity has more than doubled.
The Palestinian Prisoners Club, a non-governmental organization dealing with prisoners' rights, estimates that more than 150 arrests took place between October and February 2016 based on Facebook posts expressing opinions on the uprising.
Another prominent case is that of the poet Dareen Tatour, who was first arrested on October 10 -- without a search order or arrest warrant -- for posting images of "martyrs" on her Facebook page and videos of protests with her voice in the background reading her poetry. It is important to note that the word "martyr" is used to describe any Palestinian who dies from any cause related to the conflict.
In November, Tatour was charged with "incitement of violence, and supporting terrorist groups through Facebook," among other allegations. The only evidence was her Facebook posts and lines from her poetry. Tatour, who holds Israeli citizenship, remains under house arrest to this day, forced to wear an electronic handcuff, and has been banned from using the internet. Other Palestinians arrested include administrative detainees who are held for months at a time without trial, evidence, or access to legal counsel.
There is no formal legislation that covers legal action with regard to the accusation of incitement through social media. The lack of a legal framework has led to an arbitrary handling of case-by-case individuals, often depending on the broader political climate as in the October uprising. According to Addameer, a Palestinian human rights NGO that works to support political prisoners, some detainees have even been charged based on the number of shares, likes and the prominence of their Facebook posts, which seems to concern Israeli authorities more than the actual content of the posts.
The very definition of "incitement" is thus being stretched when it comes to evaluating the significance of social media in the everyday lives of Palestinians, especially activist voices, engaging in political conversations or expressing grievances against the Israeli occupation.
Israeli officials have made efforts to tighten security measures surrounding social media activity. The Israeli Deputy Foreign Minister and Member of Knesset Tzipi Hotovely, met with representatives of YouTube and Google in November to discuss methods of censoring videos and shutting down online accounts created by Palestinians, which she described as "inciting violence and terrorism." Google later denied claims that it had reached an agreement to collaborate with Israel on a special monitoring mechanism for online materials published by Palestinians, and instead said that its current Community Guidelines would suffice in protecting against online incitement.
Israel alleges that the sharing of online videos played a critical role in the rise of violence in the final months of 2015. However, journalists and human rights organizations have spoken out against policies of censorship that violate freedom of speech. In fact, all foreign journalists who report in the Occupied Palestinian Territory are already "required to register with the Israeli military, and any footage that they film is required to go through the Israeli Military Censor's office before it can be released."
On the other hand, Palestinians' digital rights and access to the internet are compromised in very basic ways, because Israel controls the infrastructure and services of Palestinian telecommunication companies in the West Bank. The Israeli government recently announced that it would finally allow Palestinians in the West Bank to access 3G wireless networks, making this area one of the last in the world to have access to 3G technologies after years of restrictions. Though it is unclear what motivated this change in policy, many have assumed it was an appeasement tactic as a response to the popular uprising.
Nevertheless, Palestinian social media use is growing in significance in terms of influencing political events, public perceptions and developments on the ground. Hamleh notes that Palestinian participation on social media is largely characterized by political themes, with the most popular posts being related to political campaigns and issues.
In 2015 online activists saw their hashtags, photos and videos being shared worldwide and often getting picked up by mainstream foreign media. For example, one of the hashtags trending on Palestinian social media in the months before the October uprising was #it_will_not_be_divided, which aimed to bring attention to Israeli policies preventing Palestinian men and women from entering al-Aqsa Mosque during August and September.
In addition, online media is increasingly a central source of information for activists and organizers. For example, the political prisoner Mohammad Alan's hunger strike against detention without charge and his subsequent hospitalization led to a widely followed social media campaign with the hashtag #Mohammed_Alan, mobilizing activists and others to protest outside the hospital.
The most important role of social media seems to be that it is opening new opportunities for Palestinians who are separated by the many physical borders Israel has erected to freedom of movement, including the Separation Wall and checkpoints, to connect and build solidarity movements with one another.
Social media is giving Palestinian activists new tools to organize nonviolent protests and advocate for their rights. Of course, the effectiveness of their advocacy necessitates clashing with the Israeli occupation forces in order to realize and acquire their right to freedom of expression, privacy, and access to the internet with quality service.
Palestinians, Israelis and the international community should pressure the Israeli government to honor their proclaimed democratic values and stop arbitrary arrests. Silencing and intimidating teenagers and poets for using social media are not characteristics of a democracy.
Related
Popular in the Community