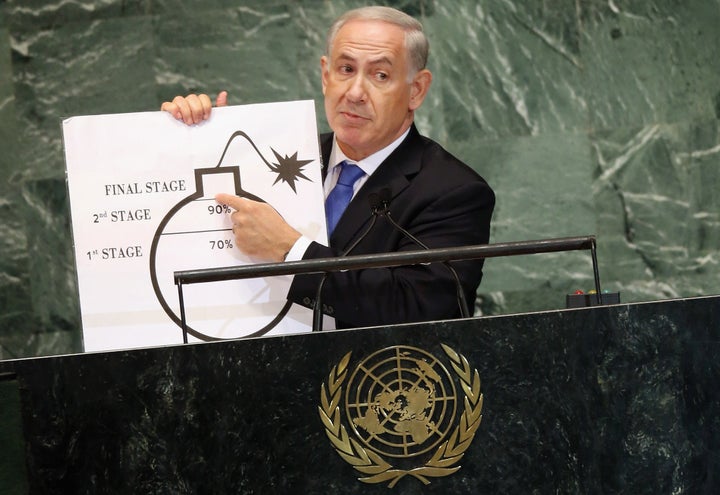 In a polished presentation, Israeli Prime Minister Benjamin Netanyahu drew a "red line" on a primitive diagram of a bomb -- arguing that Iran by next spring or early summer would be close to producing a nuclear weapon.
No doubt Netanyahu's drawing will go viral on the Internet but at least one Israeli columnist believes his aim was to reach a war-weary American public by simplifying a complex subject of centrifuges and enriched uranium. A photo of him drawing a red line on his sketch of a bomb is a sure front-pager.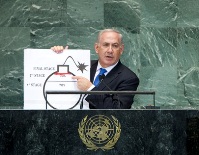 Photo credit: UN photos "I believe that faced with a clear red line, Iran will back down," the prime minister told the U.N. General Assembly. "This will give more time for sanctions and diplomacy to convince Iran to dismantle its nuclear weapons program altogether."
Netanyahu painted a frightening picture -- Iran's ability to manufacture a nuclear weapon and a potential attack against Tehran. While Iran has few allies in the world, most nations believe a military strike would pile another disaster on a turbulent Middle East.
Where's Iran? Iran's completed the first stage. It took them many years, but they completed it and they're 70% of the way there. Now they are well into the second stage. By next spring, at most by next summer at current enrichment rates, they will have finished the medium enrichment and move on to the final stage. From there, it's only a few months, possibly a few weeks before they get enough enriched uranium for the first bomb."
Asserting that Iran could hide its ventures underground, Netanyahu asked: "Do we want to risk the security of the world on the assumption that we would find in time a small workshop in a country half the size of Europe?"
White House red line? The United States has never been specific on its "red line" and many experts believe Iran has diverted much of its uranium to a research reactor and is not yet ready to make a bomb. But, despite public denials, many countries believe it wants the option of manufacturing a nuclear weapon.
Daniel Levy, a senior fellow at the European Council on Foreign Relations, believes Netanyahu guaranteed that the "will he or won't he" attack Iran guessing game will continu"e long into 2013.
Netanyahu's speech attempted to place himself in the driver's seat in how the international community navigates the Iran file, placing impossible conditions or intentionally unreachable conditions on negotiations, while pushing for further intensification of sanctions and escalation of a military presence in the Gulf designed to produce an inevitability of military conflict or regime change.
In a late night statement sent to U.N. reporters, Iran's mission to the United Nations said Tehran could respond to any strike. "The Islamic Republic of Iran is strong enough to defend itself and reserves its full right to retaliate with full force against any attack," it said.
Netanyahu, speaking after Palestinian President Mahmoud Abbas, barely mentioned the Palestinian conflict. "We won't solve our conflict with libelous speeches at the U.N," he said in reference to the Palestinian leader who received a standing ovation.
"Ethnic cleansing" Abbas said he believed that Israel intended to destroy the basis for a two-state solution to the Israeli-Palestinian conflict. He accused the Jewish state of a campaign of "ethnic cleansing" by demolishing homes to establish settlements in East Jerusalem and not punishing harassment by settlers in the West Bank.
During the past months, attacks by terrorist militias of Israeli settlers have become a daily reality, with at least 535 attacks perpetrated since the beginning of this year. We are facing relentless waves of attacks against our people, our mosques, churches and monasteries, and our homes and schools; our people have become fixed targets for acts of killing and abuse with the complete collusion of the occupying forces and the Israeli Government.
"We are not seeking to delegitimize Israel, but rather establish a state that should be established: Palestine," Abbas said in an angry speech. Israel was "promising the Palestinian people a new catastrophe, a new Nabka."
"Nabka" refers to Israel's independence in 1948 when Palestinians fled or were driven out of their homes. Peace talks are frozen. But the return of thousands of Palestinians to Israel proper will not happen.
An upgrade in status at U.N. Last year Abbas drew attention at the General Assembly by announcing he was seeking full membership in the United Nations, a move directed more at his supporters than reality. Not only did the United States promise to veto such a step in the U.N. Security Council but the Palestinians did not have the backing of nine nations, a requirement for any resolution in the 15-member body.
This year they did what they should have tried last year -- an upgrade to a "non-member observer state." like the Vatican. It allows the Palestinians to join more U.N. agencies and even the International Criminal Court. This takes a majority vote in the 192-member General Assembly -- one the Palestinian Authority can easily win and have the symbolic word "state" in its name. Currently it has "permanent observer status."
The question, however, is whether this will provoke a cut-off of funds from the United States, as Congress did when the board of UNESCO (the UN Educational, Scientific and Cultural Organization) accepted Palestine. The Europeans, also major donors, say they will have to make sure any enabling resolution is acceptable.
Since everything and anything gets into the American election campaign, a General Assembly vote before November is not on the agenda. After that the to-ing and fro-ing begins.