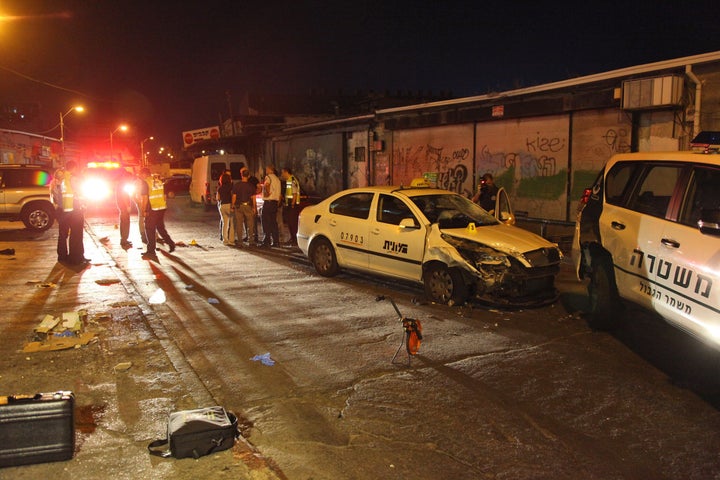 JERUSALEM (AP) — A Palestinian attacker wounded seven Israelis, one critically, near a Tel Aviv nightclub early Monday, hitting a police checkpoint with a stolen taxi and then stabbing others, police said.
Meanwhile, Israel's military ordered more troops to the border with Egypt following intelligence reports of an impending attack by Gaza militants, the military said.
Earlier this month, militants opened fire on a desert road in that frontier area, killing eight Israelis.
The flare in violence comes just weeks before Palestinians are expected to ask the United Nations to recognize an independent Palestinian state in east Jerusalem, the West Bank and Gaza Strip. The Palestinians have adopted that route because vast gaps with the government of Israeli Prime Minister Benjamin Netanyahu have stymied negotiations for more than two years.
The attacker in Tel Aviv was a Palestinian in his 20s from the city of Nablus, according to Israeli police spokeswoman Luba Samri.
Just before 2 a.m., he stole a taxi in south Tel Aviv and then drove into a police checkpoint securing the street near a popular nightclub, she said.
He then got out of the car and stabbed passers-by, she said, while shouting "Allahu akbar" — Arabic for "God is great," a phrase often used as a battle-cry by Islamic militants.
The wounded included four policemen and three civilians, Samri said.
The attacker was arrested. He was injured and was taken to a hospital.
No further details were immediately available.
Such attacks inside Israel, once common, have fallen off in recent years as Israeli and Palestinian forces have restored security in the adjacent Palestinian territory of the West Bank. But some violence has continued, with one Israeli killed in a similar attack with a vehicle in Tel Aviv in May.
Calling all HuffPost superfans!
Sign up for membership to become a founding member and help shape HuffPost's next chapter