Israel's Security Cabinet on Thursday unanimously approved harsher punishments for those throwing rocks, firebombs and fireworks. The new rules lower the bar for police to open fire on rock-throwers and impose a minimum sentence of four years in prison for the offense.
"We intend to change the norm that has become established … that the state of Israel allows these deadly and murderous objects to be thrown without response and with being thwarted," the office of Prime Minister Benjamin Netanyahu said in a statement on Thursday. "This will change."
Before the new rules, Israeli police officers only were permitted to open fire on stone-throwers if their own lives were in danger. Police now may fire their weapon if they believe any individual's life is in danger. Under the new rules, children ages 14 to 18 can face imprisonment for throwing rocks or firebombs, during which time their parents will lose financial stipends from the government. The cabinet also is exploring the legality of fining parents of stone-throwers younger than 14.
Earlier this month, 64-year old Alexander Levlovich, an Israeli Jew, died in a car crash that Israeli authorities said was caused by young Palestinians pelting the car with rocks. Netanyahu, who had already been considering more aggressive measures, declared "war" on stone-throwers days later.
"Rocks and firebombs are lethal weapons. They kill and have killed," Netanyahu told his cabinet on Sunday. "Those who try to harm us, we will harm them."
The act of throwing rocks is widely embraced by Palestinians as a means of protesting the Israeli occupation of the Palestinian territories. In 2000, Faris Odeh, a 14-year-old Palestinian, was fatally shot in the neck by Israeli forces while throwing rocks at troops during the second intifada. A photograph of the rock-throwing teen facing an Israeli tank, taken 10 days before his death, is now an iconic image within the Palestinian resistance movement.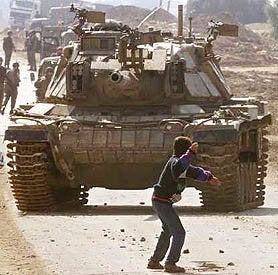 The new rules come amid a wave of violence between Palestinians and Israeli police forces at the Al-Aqsa mosque, the third-holiest site for Muslims, located in East Jerusalem.
Israel recently has restricted Muslim access to the mosque while Jews visit the hilltop compound, which also hosts the biblical Temple Mount. Israeli officials say the restricted access is to prevent confrontations between Muslim and Jewish visitors, but the move has fed speculation among Palestinians that Israel plans to take over the site.
On Tuesday, the Palestinian Prisoner's Society reported that over 150 Palestinians, including several children, were arrested in Jerusalem in the previous 10 days.
A recent poll by the Palestinian Center for Study and Policy Research found that 57 percent of Palestinians supported a return to an armed uprising -- an increase of 8 percentage points from a similar poll three months ago.
Related
Popular in the Community