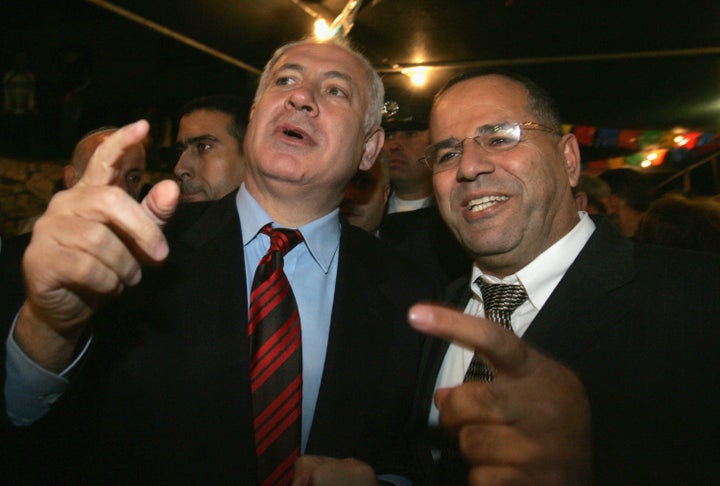 As anger mounted in Israel last week over President Donald Trump's ― and Prime Minister Benjamin Netanyahu's ― response to the white supremacist violence in Charlottesville, Virginia, the country's communications minister urged Israelis to prioritize their support for Trump over their denunciation of neo-Nazis.
Speaking to The Jerusalem Post on Thursday, Ayoub Kara, who was handpicked for his ministerial role by Netanyahu in May, said that Israel must defend Trump, who he described as the "best U.S. leader Israel has ever had."
"Due to the terrific relations with the U.S., we need to put the declarations about the Nazis in the proper proportion," said Kara, who is a member of the Druze community, a non-Jewish minority in Israel. "We need to condemn anti-Semitism and any trace of Nazism, and I will do what I can as a minister to stop its spread. But Trump is the best U.S. leader Israel has ever had. His relations with the prime minister of Israel are wonderful, and after enduring the terrible years of Obama, Trump is the unquestioned leader of the free world, and we must not accept anyone harming him."
Kara's comments were made on the same day as the publication of several front-page stories in Israeli newspapers deploring Trump's Charlottesville comments and Netanyahu's lack of response to them. Yedioth Ahronoth, a popular Hebrew newspaper, had a photo of Trump on its front page with a single word: "SHAME."  
"Trump defends neo-Nazi marchers, shocking America," read Haaretz's front page. Ma'ariv, another popular Hebrew newspaper, bore the headline "Presidential embrace of the far-right," accompanying a photograph of Trump.
Trump has come under fire for saying that "many sides" were to blame for the deadly Charlottesville demonstrations and that there were "very fine people on both sides." 
Netanyahu has similarly been censured in Israel for his tepid response to the white supremacist demonstrations. The Israeli prime minister posted a non-specific tweet conveying outrage at "expressions of anti-Semitism, neo-Nazism and racism," but he did so only three days after the rally occurred. 
He has also not responded to Trump's comments ― to the chagrin of many Israeli politicians and commentators. 
Though the prime minister has mostly kept his silence, his son, Yair Netanyahu, made headlines last week for his own take on Charlottesville. Echoing Trump in a post on Facebook, Yair appeared to equate what he referred to as neo-Nazi "scum" with leftist "thugs of Antifa and [Black Lives Matter]."
"To put things in perspective. I'm a Jew, I'm an Israeli, the neo nazis scums in Virginia hate me and my country. But they belong to the past. Their breed is dying out," the 26-year-old said. "However the thugs of Antifa and BLM who hate my country (and America too in my view) just as much are getting stronger and stronger and becoming super dominant in American universities and public life."
Calling all HuffPost superfans!
Sign up for membership to become a founding member and help shape HuffPost's next chapter
BEFORE YOU GO