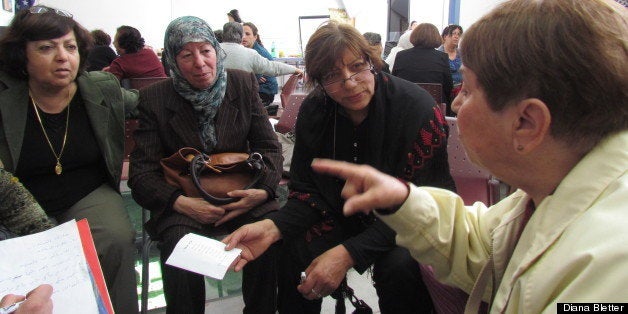 Against the backdrop of the Boston Marathon bombings, the spiraling violence in Syria and the continuing conflict along the Israel-Palestine fault line, a group of 28 women (mostly Christian with a scattering of Muslims) from Bethlehem, Palestine, made a pilgrimage on April 23 to meet with a group of Muslim, Christian, Jewish and Druze Israeli women in the city of Acco during a four-day visit in northern Israel.
"I was surprised," said Huda Salem, a Muslim social worker from Bethlehem in a telephone interview after her visit. "We always think that Jews think we're only terrorists, but they think differently than what we see on TV."
The women's visit -- a combination of hopeful interchanges and seemingly intractable differences -- was sponsored by the Golda Meir Mount Carmel International Training Center in Haifa. Since 1995, the Center has welcomed more than 1,000 Palestinian women to meet with their Israeli counterparts for what the Center's leaders describe as "intensive days of debate, discussion, soul-searching and friendship forging."
"The women don't have to agree," said Bracha Steiner, the Social and Cultural Coordinator at the Center. "But there is a willingness to do things together."
At the Community Center in Acco, funded in part by the Middle East Partnership Initiative (MEPI), the Bethlehem contingent met with Dr. Janan Faraj-Falah, an effervescently optimistic Druze woman who is a professor of Gender Studies at Haifa Teachers' College and leader of a volunteer women's group in Acco that includes Christian, Muslim, Jewish women and Druze women. The 30 or so members of Faraj-Falah's Acco Vision work together to forge connections among the 40,000 residents of the coastal city. The group has held city-wide student writing contests in Arabic and Hebrew, festivals for Jewish and Arab artists and has even built a peace playground in the city.
"I'm very satisfied with this visit," said Faraj-Falah. "If not, I wouldn't spend so much time organizing these events."
The women, coming from in and around Bethlehem, were pulled together by a one-woman powerhouse, Antoinette Knesevitch, a 78-year-old Christian and resident of Bethlehem who remains tireless in her efforts to have women in Israel and Palestine connect with one another. The distance between Bethlehem and Acco is about 113 miles, yet most of the women have never had the chance to meet one another. "Women can change the idea that we can't live together," said Knesevitch. "Because we can."
In Acco, after the obligatory Middle East welcome of fresh loquats, oranges, pastries and drinks, the women divided into small groups to bring the discussion about peace down to a common denominator. Sort of like macro-economics crunched into micro, the women were asked to look at violence in their daily lives. What do they do to stop violence among children, neighbors, spouses and friends?
The atmosphere was friendly and cordial with occasional tense drifts into politics.
During one small group's discussion, for example, a Palestinian woman said that she wants to help people who still carry keys to their houses in Israel -- which they left during the Israeli War of Independence in 1948 -- and "they're waiting to go back to them."
"If you're waiting to take back your houses then your goal isn't peace," countered a Jewish woman. "My family was thrown out of Egypt in 1948. They can't go back to their houses there, either."
The women's words hung in the air until the group moderator moved the discussion to safer ground: violence between husbands and wives. That was one subject about which all the women could agree. Huda Salem, the social worker from Bethlehem, deals with domestic violence in her work in a Palestinian refugee camp outside of Bethelem. "We counsel men that it's better to talk to their wives than to hit them," Salem said.
While the women's encounters have not yet changed governmental policies or even activities on the ground, and some might argue that rubbing shoulders and making nice to one another does not accomplish much, both guests and hosts seemed outwardly content in one another's company, even if it was only to make small talk about children, husbands and family.
"One part of me says that these kind of meetings don't accomplish anything," said Yael Goldenberg, a Jewish participant who lives near Acco. "But then again, it's better to do something than nothing at all."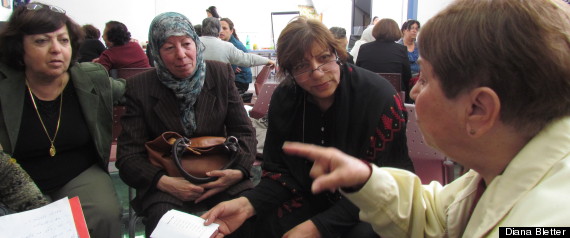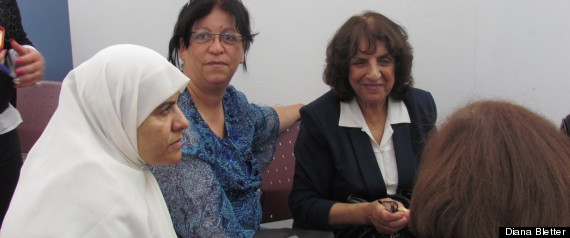 Palestinian and Israeli participants at the April 23 seminar sponsored by the Golda Meir Mount Carmel International Training Center in Acre, Israel.
Related
Popular in the Community