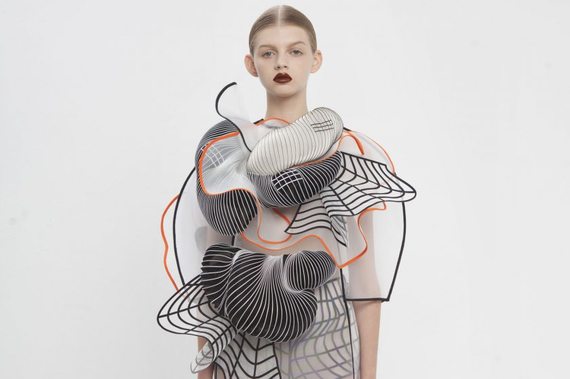 In 1801, a French weaver named Joseph Marie Jacquard demonstrated a device that changed the world. Using a series of perforated cards, the Jacquard loom made it possible to quickly weave complex patterns. Hitherto difficult and expensive designs like brocades and paisleys could be mass-produced by machine.
Fashion was never the same. Neither was technology. Jacquard's innovation led to the creation of a chain of wonders, from calculating machines to computers to elaborate design programs and 3-D printers.
We've come full circle. Last year, a 26-year-old fashion designer stunned the fashion world with a collection of dresses that incorporate computer-assisted designs, executed by 3-D printers, that would be extremely time-consuming, if not impossible, for a human sewer.
Noa Raviv's "Hard Copy" collection, unveiled at her alma mater, the Shenkar College of Engineering and Design in Israel, earned the prestigious Finy Leitersdorf excellence award. It then bought her Fashion Designer of the Year honors at the 2014 international 3-D Printshow in London.