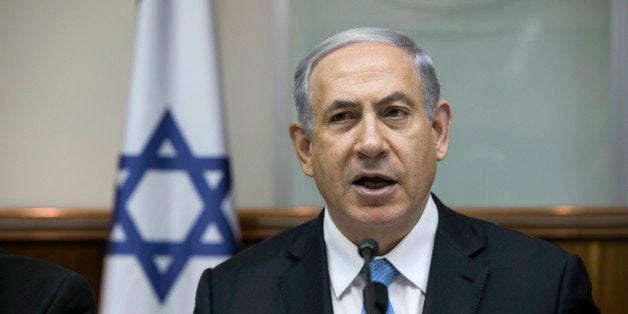 WASHINGTON -- A nonpartisan grassroots group in Israel has come under fire from conservative Jews -- in both Israel and in the U.S. -- for using American funds and expertise in its efforts to unseat Prime Minister Benjamin Netanyahu.
But the group, V15, is undeterred by the controversy, and is pushing forward with a social justice-focused campaign that aims to replace the coalition government currently led by Netanyahu's Likud party.
V15's corps of enthusiastic millennial organizers espouse Obama-style concepts like "hope" and "change" to argue that successive Netanyahu-led coalitions have only resulted in despair and an inability to confront the country's biggest problems. Ahead of the March 17 elections, the group is recruiting thousands of volunteers to boost turnout among left-leaning Israelis.
V15 -- the "V" stands for "victory" -- drew criticism recently when it hired Jeremy Bird, President Barack Obama's former national field director. Morton Klein, president of the Zionist Organization of America, even linked Bird's hiring to the dispute between Netanyahu and the Obama administration over the Israeli leader's planned visit to the United States.
"It is simply hypocrisy and interference in Israel's elections for President Obama to say that he will not meet with the Israeli Prime Minister because Israeli elections are too close, while his closest electoral advisers suddenly appear in Israel for the sole purpose of leading a campaign to unseat the Israeli Prime Minister," Klein said in a statement in January.
But Bird, who is working with V15 through the consulting group 270 Strategies, said on Tuesday that he was enthusiastic about the possibility of harnessing the thirst for change in Israel.
"We're witnessing something special happening in Israel right now -- there's a groundswell of organic energy and a growing number of grassroots supporters speaking out for change," Bird told The Huffington Post. "We're inspired by their passion -- that's why we were honored to be asked by V15 and its partners to share best practices in organizing so they can maximize their impact both online and on the ground and provide these volunteers with an experience that respects their time and values."
Bird's work with V15 centers on volunteer recruitment and training. The group says thousands of volunteers will be needed to knock on doors in liberal strongholds in order to elect enough center-left seats to oust the Netanyahu-led government.
Nimrod Dweck, the co-founder of V15, said Bird's guidance had been "extremely helpful." Dweck contextualized his group's efforts in the tradition of Israel's massive social justice-oriented protests in 2011, when more than 400,000 took to the streets to protest the rising cost of living. Despite the energy generated by those protests, in the next elections, which took place in 2013, Likud still managed to win enough seats to head the government.
"People were very disturbed about it -- we had a dream and the dream didn't prevail," Dweck said of Likud's 2013 victory. "Look, now's our time, we know what we have to do."
A second controversy surrounding V15's efforts has to do with its relationship with the OneVoice Movement, a U.S.-based organization that advocates for a two-state solution to the Israeli-Palestinian conflict. OneVoice and V15 announced in late January that they planned to merge.
Critics of the groups are arguing that OneVoice may have improperly used federal funds to support V15 before the two groups cemented their partnership.
Leading the delegitimization campaign in the U.S. are Rep. Lee Zeldin (R-N.Y.), who is the only Jewish Republican in Congress, and Sen. Ted Cruz (R-Texas). In late January, the two sent a letter asking the State Department to investigate whether OneVoice violated its nonprofit status by using federal grant money to support its partnership with V15.
The State Department says the grants, which were given to support OneVoice's advocacy for Israeli-Palestinian negotiations, ended before Israel's elections were even called.
Across the Atlantic, Likud has filed a complaint with Israeli election officials alleging that V15 violated campaign finance laws by using foreign funds to support the main opposition coalition -- the Zionist Camp, led by Isaac Herzog of the Labor Party and Tzipi Livni of Hatnuah.
However, under Israeli law, it's not illegal for V15 to receive foreign support. Israeli State Comptroller Yosef Shapira disappointed Likud by saying Sunday that he would not investigate V15 before the election, explaining that a probe would have to establish that the group is linked to a specific political party.
On Wednesday, Israel's attorney general rejected a Likud request to block V15 advertising, saying that the Central Elections Commission did not have the authority to grant such an injunction. OneVoice called the decision "the strongest repudiation yet of the ongoing efforts by the political elites to spread misinformation about OneVoice Israel and V15."
Both V15 and the Zionist Camp have vigorously denied any affiliation. V15 insists that its goal is to replace the current government, not to advocate on behalf of any particular party.
"All of his donors are American," Dweck said of Netanyahu. "It's very hypocritical for him to say such a thing."
Moreover, this year, Likud hired Vincent Harris, a Republican political strategist who has previously worked for Cruz, to advise the party's new media team.
Indeed, both Bird and Harris have joined an American political tradition of advising Israeli political organizations. The practice stretches back to the early 1980s, when both former Prime Minister Menachem Begin and Labor Party leader Shimon Peres brought on American political consultants.
Dweck suggested that Likud's attacks were backfiring.
"They gave us amazing publicity, because now when I introduce myself, they know who we are, what we are doing. I don't have to spend 5 minutes explaining," he said.
Mitchell Barak, the head of Keevoon Research Strategy and Communications, an Israeli political consulting firm, told HuffPost he wasn't certain V15's efforts would be successful. He pointed to the large number of Israelis who tend to remain undecided until Election Day, and said that the country's parliamentary, coalition-based system can often lead to unhappy marriages of parties with radically different agendas.
"Netanyahu may not be leaving even if they vote for another person," Barak noted.
Barak suggested that V15's "negative get-out-the-vote campaign" against Netanyahu could flounder, and that, ironically, the group's messaging resembles what Netanyahu has said in past campaigns.
"The right-of-center voters are the ones that always respond to the doom and gloom," he said. "Netanyahu always says, 'I'm the only one who can save Israel, and save you, and if you vote for someone else, we're going to die.'"
And even if voters are disappointed by Netanyahu's leadership, Barak said, Israeli's numerous other political parties may not necessarily project convincing prime-ministerial bona fides.
"At the end of the day, it's nice to talk about an alternative, but you've got to say something," Barak said. "They're saying, 'Let's vote for change,' but there's no message. Israelis may ask, 'Change for what? What are we getting?'"
This story has been updated to include detail about the Israeli attorney general's rejection of Likud's request.
REAL LIFE. REAL NEWS. REAL VOICES.
Help us tell more of the stories that matter from voices that too often remain unheard.
BEFORE YOU GO
PHOTO GALLERY
Obama's Handshakes Around The World