Written by Azmia Ricchuito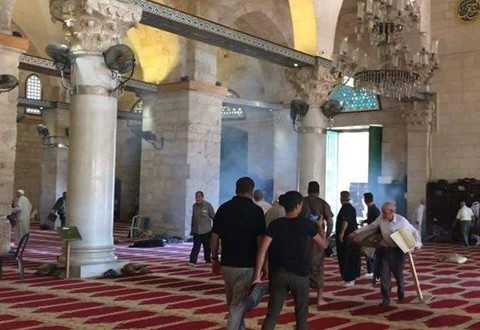 Early Sunday morning, Israeli police forces stormed Al-Aqsa mosque, unleashing teargas, rubber bullets, and sound grenades on the worshippers.
Earlier reports from the Palestinian News Network reported that there were five Palestinians injured, but subsequent reports have upped the number to eight Palestinians injured by the rubber bullets and teargas.
Instagram user Abbas Sarsour, known as @ifalasteen, reported, "BREAKING: RAMADAN DAY 21 occuption forces attack worshipers in masjed AlAqsa and kidnap 4 worshipers from inside the mesjed after firing gas bombs at them. #رمضان_في_القدس_غير #occuption #FreePalestine" [SIC]
Locals who were at the mosque when the Israeli forces broke in and stormed it confirmed Sarsour's account that worshippers were injured and attacked, and reported one as being violently arrested by Israeli police.
Al-Aqsa's director, Sheikh Omar Kiswani, told the Anadolu Agency that the disturbances started after Israeli police opened a gate used by tourists and Jews to enter the compound.  He said it was "unprecedented" that such violence could occur in the last 10 days of our holy month of Ramadan.  He added that this was the first time the Magharba gate was opened once again for the settlers.
Micky Rosenfeld, the police spokesman, denied that non-Muslims were banned from entering the complex during the last 10 days of Ramadan.  He stated that four Palestinian youths were arrested for "disrupting the passage of non-Muslims to the site," and claimed he "wasn't aware" of police using any force against Palestinians.
Al-Aqsa mosque is the third holiest site in Islam, and an integral part of Palestine.  
Since the start of Ramadan, Israel has revoked permits that allow access to Jerusalem for 83,000 Palestinians, following a Tel Aviv shooting where four Israelis were killed.  Subsequently, only Palestinian men over the age of 45 and women were allowed to go to Al-Aqsa mosque, only on Fridays, and with hour restrictions.
This means that men under the age of 45 would not be allowed to enter Al-Aqsa, even for the obligatory Friday Jummah prayer.  
This is not the first time that the Al-Aqsa mosque and the Palestinian people have been subjected to violent stormings by extremist settlers, who enjoy the protection of Israeli police.
Meanwhile, any rightful resistance of the Palestinian people to defend their land, their children, their culture, their right to worship, their future, and their lives from the violent - and illegal - occupation is automatically labeled "terrorism."  If Israel has a right to exist, a "right" that at the moment trumps basic human freedoms such as peace, the freedom to worship, the right to an education, freedom of movement, the ability to work, access to clean water, food, and medical care, then Palestinians have a right - and a duty - to resist.  
The Palestinian people are watching their homes, land, farms, and businesses being stolen without reparation or due process, and large areas of Palestine being completely erased from the map, and illegally replaced by Israel.
They are watching what amounts to the slow erasure of Palestine.  
They're now bearing witness to violent and aggressive attempts to control--and most likely, eventually erase from existence--Islam's third holiest site, Al-Aqsa, a Palestinian landmark.
Israel has, in fact, broken multiple UN resolutions with no consequences, and was recently elected to head a permanent UN committee for the first time - the legal committee.  (No, I'm not joking.)  A 2002 study by San Francisco University political science professor Steven Zunes reveals that Israel actually holds the world record for ignoring United Nations Security Council resolutions.
Earlier in the year, Israeli troops escorted settlers to Al-Aqsa during Passover week.  Two groups of about 50 Jewish men were said to have shouted racist slogans in attempts to provoke Palestinians, and attempted to pray, although it is forbidden for Jews to do so at Al-Aqsa.
The Jerusalem Post cited Rosenfeld as saying, "Israel Police escorted roughly 1,050 people to the Temple Mount, including 885 tourists and over 100 Israelis, and during the visit 13 were removed from the area for not behaving according to the security measures that were implemented."
That incident came just weeks after the UN's cultural arm, UNESCO, said the Temple Mount site, on which Al-Aqsa stands, is "an integral part of Palestine."  They also criticized Israel, referring to Israel as "the occupying power."
UNESCO released a statement condemning Israeli aggression, and Israel's illegal measures against freedom of worship for Muslims.  UNESCO "strongly condemns the Israeli aggressions and illegal measures against the freedom of worship and Muslims' access to their Holy Site Al-Aqsa Mosque/Al-Haram Al Sharif, and requests Israel, the Occupying Power, to respect the historic Status Quo and to immediately stop these measures," reads a statement.
UNESCO also criticized "the continuous Israeli blockade of the Gaza Strip," citing the "intolerable number of casualties among Palestinian children," as well as "the attacks on schools and other educational and cultural facilities and the denial of access to education."
The clashes continued for a second day yesterday, with the injury toll rising to 35, and they continue for the third day today.
This is reportedly not the first time that Israeli provocation has run rampant during the holy month of Ramadan.
Earlier this month, Israelis paraded through the Muslim Quarter of the Old City to mark Israel's 1967 seizure of the Palestinian-dominated eastern half of Jerusalem. Their annual precession came as Muslims prepared for Ramadan. Large groups of young Jews waving Israeli flags and chanting nationalist slogans passed through the Muslim Quarter before arriving at the Western Wall, right next to the al-Aqsa compound.
The Israeli daily Haaretz reported that some of the participants were chanting provocative hostilities, such as "The temple will be built and the mosque will be burned," and "Muhammad is dead."
Calling all HuffPost superfans!
Sign up for membership to become a founding member and help shape HuffPost's next chapter