Miami, FL -- If Tel Aviv is the Miami of the Middle East, it's clear why Israeli musician Idan Raichel felt so at home Thursday night on stage at the Adrienne Arsht Center. Playing to a sold-out crowd, Raichel kept his performance basic: no frills or stunts, just music, energy and a lot of soul. The singer, who recently shorn off his trademark dreadlocks, locked his eyes shut as he played, only his tapping feet betraying his passion for the rhythm.
"World music" doesn't begin to describe the eclectic group of instruments: an Iranian guitar joined by a Greek bouzouki, hints of classical piano combined with Ethiopian beats. Raichel's singers belted out melodies in Amharic, Hebrew, Zulu, Hindi, Arabic and Portuguese. And even though most of the crowd couldn't understand the lyrics, the multi-ethnic audience seemed to understand every note.
Diversity has long been Raichel's calling card: his eponymous "Idan Raichel Project" features an expanding corps of talent, with more than 95 musicians from all over the world. "With us, musicians come and go. They stay a while and then go off into the world to pursue personal projects and then they come back." It's this revolving cast of characters that has brought dozens of languages to his work, with singers ranging in age from 16 to 91.
"You don't have to understand the language to enjoy it," Raichel told the audience. "You can listen to Marcel de Souza and feel as if you're transported to the landscapes of South America... it's the same for our music. It is the music of the world and tells you the story of where we all have come from."
Nine musicians filled the stage during the Miami show, including Sudanese refugee Cabra Kasai, who Raichel launched to fame with their hit song "Home, Back and Forth." Maya Avraham, still lithe at seven months pregnant, danced barefoot across the stage to the music.
The crowd was a rowdy mixture of Israeli fans and locals of all ages. One Miami senior was pulled onto stage by Raichel himself. The two danced as Raichel placed a hamsa pendant he had been wearing around her neck.
Raichel's embrace of diversity and coexistence was in harmony with his embrace of Jewish ethnicity. One fan paraded the hall wrapped in a traditional Jewish prayer shawl. As if in response, a shofar player sounded his horn from the stage and Raichel addressed the crowd briefly in Hebrew: to wish the audience a shana tova--a happy Jewish New Year.
The Miami performance was part of the Raichel's tour in honor of his latest album, Quarter to Six. The album made its debut at the top spot on the iTunes World Music Chart when it was released back in June and some critics are calling it one of the best albums of the year. It features guest appearances by Portuguese fado star Ana Moura, Palestinian-Israeli singer Mira Awad, German counter-tenor Andreas Scholl, Colombia's Marta Gómez, Vieux Farka Touré and a selection of some of Israel's top up-and-coming singers and musicians.
With a long list of new and emerging artists from across Israel, Palestine and Europe, The Idan Raichel Project represents a peaceful and multi-ethnic Israel that's often lost amidst headlines focusing on conflict and politics in the region. For Raichel, music is the unifying heartbeat of a divided region, celebrating a youth movement sweeping the region that is engaged in conscious, positive, and progressive dialogue about the future.
But the evening was not about politics. Raichel said that at the end of the day, he's just like any other guy trying to keep his girlfriend happy... in fact, that's why he shaved his trademark dreadlocks - because his Austrian girlfriend hated them.
"A man who is not afraid of his lady is not really macho," he quipped.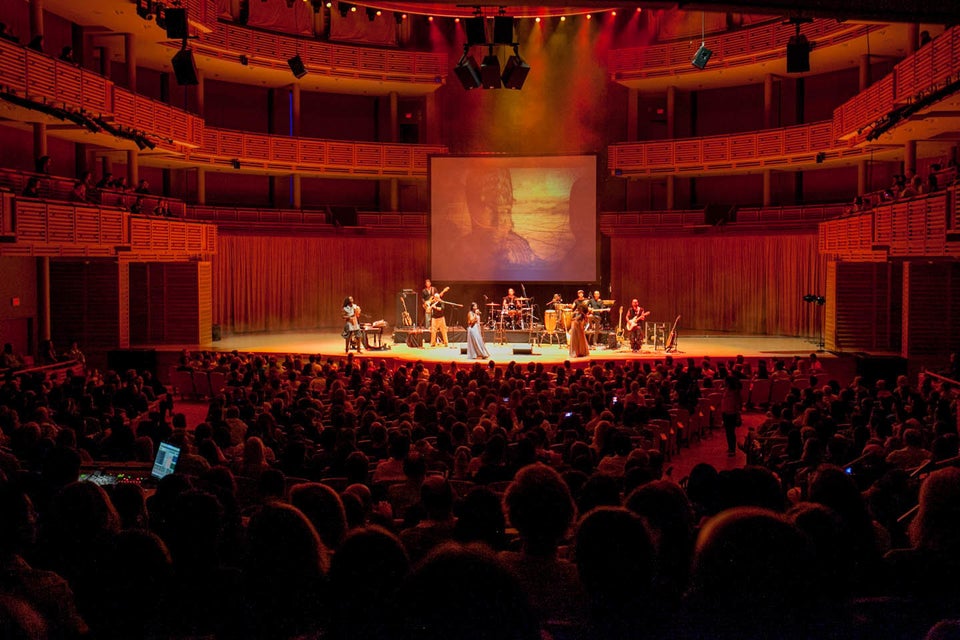 Idan Raichel at the Arsht Center
Related
Popular in the Community