On a calm morning in the south of the West Bank, Palestinian villagers in At-Tuwani are experiencing two very different types of encounters with Israelis.
About one or two hundred meters from the village of some 400 inhabitants, Israeli settlers have erected tents to start what is known as an 'outpost', a makeshift, unauthorized settlement often inhabited by no more than a few people. While all Israeli settlements in the occupied West Bank are considered illegal under international law, Israel itself deems these outposts to be illegal.
From the roof of her house, 58-year old Umm Juma' keeps a wary eye on these new settlers, worrying about her sons: "The settlers block the path we use to access grazing land. They have already attacked my sons as they were herding our sheep. Now I worry about their safety each time they leave the house".
At the same time, Umm Juma' serves tea to a different group of Israelis that she has invited onto her roof terrace. They work for Oxfam's partner Bimkom / Planners for Planning Rights, and have come to help her protect her home from being destroyed.
Bimkom's architects and planners help Palestinians fight house demolition orders and restrictive building policies that are pervasive in Area C. A creation of the Oslo II accords in 1995, Area C constitutes 60% of the entire territory of the Palestinian West Bank. Home to 150,000 Palestinians and twice as many Israeli settlers, a vast majority who moved to the West Bank over the past few decades, it is under full Israeli civil and military control, including the administration of all aspects pertaining to land. According to Bimkom, statistical evidence shows that it is extremely hard for Palestinians to obtain building permits in Area C, while settlements continue to grow.
Even though Umm Juma's house was built 30 years ago, she still needs to obtain a building permit for the house to be legal in the eyes of the Israeli Civil Administration (ICA), the Israeli military agency that decides on planning schemes and issues building permits for Palestinians in Area C. Umm Juma's house faces the threat of possible demolition, as it lies 100 metres outside of the planning boundaries defined by the ICA. Even if the 6-room house is not demolished, it will still be located outside the boundaries of the plan for the village. This means that the family members of Umm Juma', a total of 30 people living in the already over crowded house, won't be able to legally expand or renovate.
The villagers of At-Tuwani complain that the ICA serves demolition orders, but offers no services. They say they have been asking for their village to be connected to the electrical network for years, but that the electrical network serving the neighbouring Israeli settlements still bypasses At-Tuwani.
"The ICA plan [for At-Tuwani] covers only 5.2 hectares of land, including a stream which is not suitable for development since it is often flooded during winter. Furthermore, the plan leaves outside its boundaries several existing residential and other buildings, thus rendering them prone to demolition ", says Bimkom architect Alon Cohen-Lipshitz.
According to Bimkom, the outline plans drawn by the ICA for Palestinian villages throughout the West Bank are rudimentary at best. Cohen-Lipshitz explains how, for reasons that were unclear to him, two houses were not included in the plan for At-Tuwani even though they are located just a stone's throw away from other houses that were included.
"When asked why he decided to leave these two houses outside the plan for At-Tuwani, the ICA planner told us he had mistaken these houses for big rocks. He had never set foot in the village, he drew his plan entirely from an aerial picture", Cohen-Lipshitz adds.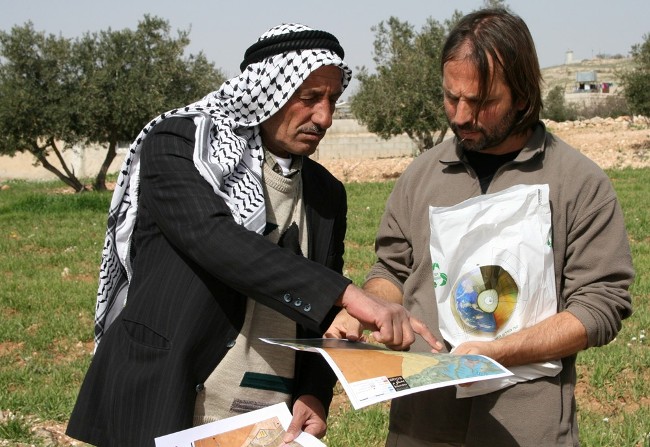 Bimkom's architects and planners help Palestinians fight house demolition orders and restrictive building policies that are pervasive in Area C of the occupied West Bank
Bimkom has filed an official objection to the special outline plan the ICA prepared for the village, demanding significant revisions be made. Both Bimkom's staff and the people of At-Tuwani are waiting for the decision of the ICA planning committee that heard the objection. If the objection is rejected and Umm Juma's house is still left outside the plan, the villagers and Bimkom might decide to appeal the decision in front of the High Court of Justice in Jerusalem.
In 2008, Bimkom released a report accusing Israeli authorities of strangling development for Palestinian communities in Area C by enforcing building restrictions that prevent Palestinian communities from expanding and being able to build new homes, schools and other buildings. Bimkom told Oxfam that the ICA approved only 5.6% of all Palestinian applications for building permits between 2000 and 2007.
All planning institutions in the Civil Administration lack any representation of the Palestinian population. In Bimkom's judgement, Israel's planning policy in Area C is used to maintain reserves of land for future development of Israeli settlements. Palestinians are often left with no choice other than to build without a permit, despite the ever present risk of demolition which threatens thousands of buildings and puts thousands of families at risk of forced displacement2.
Such building restrictions also limit Palestinian economic development and violate basic human rights. In the long term, supporting the rights and development of Palestinians across the occupied Palestinian territory will contribute to help lay the groundwork for a durable political solution between Israelis and Palestinians.
For the time being, Umm Juma' simply hopes that the house where she's been living for 30 years won't be destroyed.
1 Figures from Bimkom 2According to OCHA, citing information released by the Israeli State Attorney's Office in early December 2009, approximately 2,450 Palestinian-owned structures in Area C have been demolished due to lack of permit over the course of the past 12 years
Calling all HuffPost superfans!
Sign up for membership to become a founding member and help shape HuffPost's next chapter