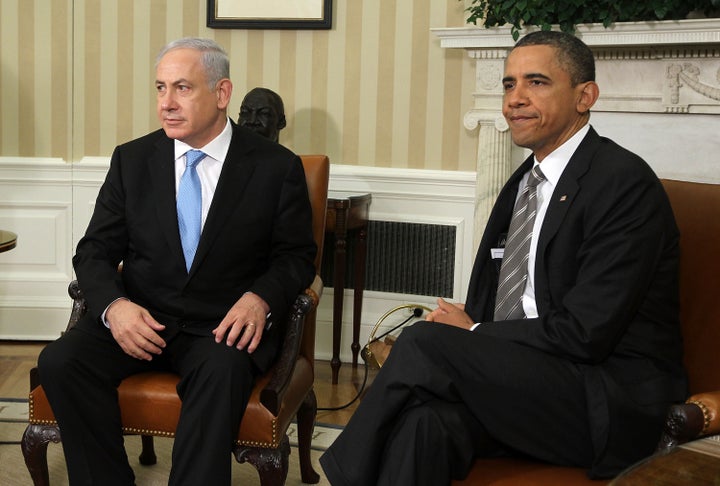 WASHINGTON -- Last August, Dennis Ross, President Obama's top Middle East peace negotiator, paid a visit to a pro-Israel think tank in Washington. Speaking privately before a small gathering of experts and analysts at the Washington Institute for Near East Policy, he offered a dire prognosis for the state of peace talks between Palestinians and Israelis, according to multiple people in the room.
"He basically told everybody that Obama had decided after giving the speech he gave in May, and the reception it got, that was enough," an audience member told The Huffington Post. "And now he's not going to do any more in an election year."
The May speech was supposed to have been the high point in Obama's effort to push the long-bickering Middle East foes back to the negotiating table, a process he had begun in earnest two years earlier, but which had never come closer than third-party "proximity talks." Instead, it proved to be a persistent and problematic flash-point. In proposing that any negotiations should begin with the pre-1967 borders of Israel, more or less, as their baseline, the speech outraged Israeli leaders and the American right, including presidential candidate Mitt Romney, who declared that Obama had "thrown Israel under the bus."
Within a few weeks, the Israeli Prime Minister Benjamin Netanyahu was invited to address Congress, where his speech denouncing negotiations along the pre-1967 borders received 29 standing ovations.
But the damage was largely done. That same month, George Mitchell, until that point Obama's top Middle East peace negotiator, resigned his post. On Thursday, Ross followed suit, announcing that he would "return to private life."
"It has been an honor to work in the Obama Administration and to serve this President, particularly during a period of unprecedented change in the broader Middle East," Ross, a career diplomat who has worked on peace negotiations since the late 1980s, said in a statement. "Obviously, there is still work to do but I promised my wife I would return to government for only two years and we both agreed it is time to act on my promise."
For decades, the Israeli-Palestinian peace process has been one of the most vexing and intractable problems to face U.S. presidents, Democratic and Republican alike. President Obama took office amid hopes that he might succeed where others have faltered by applying a fresh, empathetic touch to Arab concerns, and a dose of tough love to the Israelis.
Since the summer, however, the peace process has been effectively stalled under the weight of domestic political considerations. Any effort to force the hand of Israel, as the meager offerings of the May speech showed, was immediately seized upon as anti-Israeli, and became a political liability for Democrats, including Obama, ahead of the 2012 elections. The administration has faced a tough reckoning domestically, including the embarrassing loss of New York's 9th district, which is heavily Jewish and Democratic, to a Catholic, pro-Israel Republican in a special election this fall.
"A reasonable observer could say this is a president who expended considerable amount of capital on this and it hasn't paid off," WINEP's David Makovsky told HuffPost in the fall. "He's got a lot of priorities. I don't have an expectation that he's going to spend more capital on it."
Makovsky declined to specifically discuss Ross' remarks to his group, and a White House spokesman disputed the audience member's account of Ross' speech, saying that the president's main disappointment was the lack of follow-through by other parties in the negotiations.
Still, even as Dennis Ross' resignation illustrated the administration's struggles on the issue, another event this week served as a reminder of those ever-present political consequences that have undermined Obama's Middle East ambitions. On Monday evening, foreign news outlets reported on a private conversation that had taken place between Obama and French president Nicolas Sarkozy. Unaware that a hot microphone was transmitting the exchange to reporters in another room, Sarkozy described Netanyahu as "a liar," and Obama replied, "You're fed up with him, but I have to deal with him even more often than you."
The exchange did not come as a surprise to nearly anyone who follows the peace process -- and neither did the subsequent political fallout.
Michele Bachmann (R-Minn.), appearing on Fox News Wednesday, called the comments "derisive" and said that Obama "should be apologizing to Benjamin Netanyahu, but also to the state of Israel."
The end result for Obama is one familiar to each of his predecessors: little tangible progress shown on peace efforts, a pair of bitter combatants irritated at you for the effort, and a line of career diplomats, Ross among them, headed for the exits.
"I think it was clear to Mr. Obama and his staff that they were not going to do anything really practical to advance the negotiations process between the two sides," Shlomo Brom, a senior research associate at the Institute for National Security Studies in Tel Aviv, and longtime Israeli Defense Force peace negotiator, recently told HuffPost. "They are entering an elections campaign."
"There is no peace process," said Daniel Levy, a former peace negotiator now with the New America Foundation. "And to a certain extent Ross' departure further highlights that, that there really is no there there. For the first term, at least, it's too late."

Calling all HuffPost superfans!
Sign up for membership to become a founding member and help shape HuffPost's next chapter