Israeli border police shot dead a Palestinian who stabbed an officer in Jerusalem on Sunday (November 29), a police spokesman said, the latest attack in a two-month wave of violence.
Near a main gate of Jerusalem's walled Old City, the Palestinian pulled out a knife and stabbed a border policeman in the neck, moderately wounding him, before being shot by officers, the spokesman said.
"Moments ago, Israeli police officers responded to a terrorist attack that took place by a 38-year old Palestinian man who stabbed an Israeli border police officer in the area. The terrorist was shot and killed at the scene," Israeli police spokesperson Mickey Rosenfeld said.
Almost daily Palestinian stabbings, car rammings and shootings have killed 19 Israelis and one U.S. citizen since October 1.
Israeli forces have killed 94 Palestinians, many of whom were carrying out assaults and others in clashes with police and troops. Many of those killed have been teenagers.
Palestinian allegations that Israel was trying to alter the religious status quo at a Jerusalem holy site, known to Muslims as the Noble Sanctuary, where al-Aqsa mosque stands, and to Jews as the Temple Mount, have partly fuelled the violence.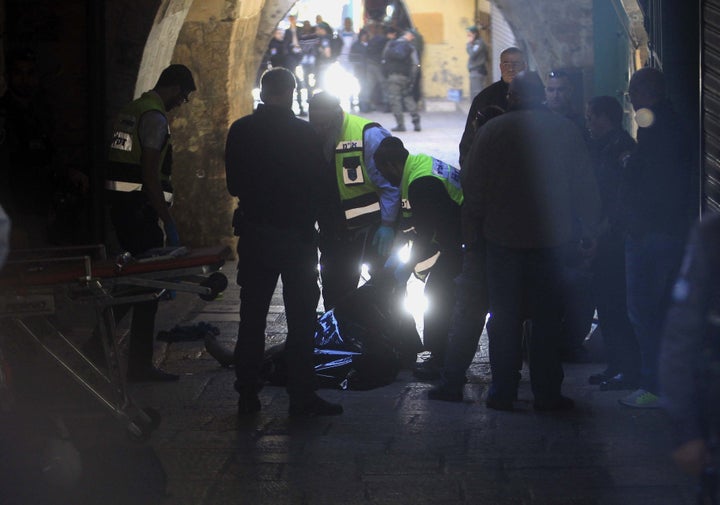 Non-Muslim prayer is banned around al-Aqsa and Israel has said it will not change that. But more visits in recent years by Jewish religious activists and ultra-nationalist Israeli politicians to the complex, where two biblical temples once stood, have done little to convince the Palestinians.
Overnight in the occupied West Bank city of Hebron, Israeli forces shut down and confiscated equipment from a Palestinian radio station, the third in recent weeks, that the military said, "has repeatedly broadcasted content which promotes and encourages terror and acts of violence against Israeli civilians and security forces."
The station owner, Talab al-Jabar, told Reuters that the broadcaster, called Dream, was not inciting, rather reporting on events.
"They want to shut down the free voice and to shut down the Palestinian media. In their statement they say that we are radios that incite people, if they see that we are inciting when we cover everything they do against our Palestinian nation so we are inciting. I can tell you that 'Dream' radio will be back on air very soon and it will be stronger," he said.
A flash visit to Israel and the Palestinian territories by U.S. Secretary John Kerry last week, aimed at quelling the violence, has not shown any sign of success.
Calling all HuffPost superfans!
Sign up for membership to become a founding member and help shape HuffPost's next chapter