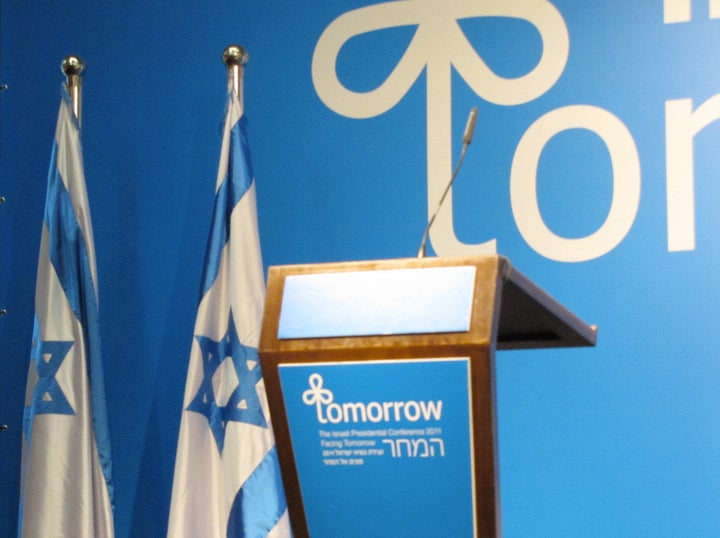 Last week's 2011 Israeli Presidential Conference, dubbed "tomorrow," brought together a who's who in the Jewish world from Dr. Ruth and Matisyahu to academics, politicos, tech company CEOs and Jewish superstars in order to map out what tomorrow really looks like for Israel and the Jewish people. But I, and many other blogger-types, walked away unsure of tomorrow, let alone today.
The big questions of the conference asked about the present and future of Jewish identity, Israel's relationship with America and the greater Diaspora, and, of course, conversion. The disappointing outcome was that most of the panels were mired in the past and present, leaving tomorrow a huge question mark on all subjects.
One of the most popular sessions, "Israel and America: Has the Relationship Cooled," turned into a discussion about the intimacy, love affairs and passion of Israel and the U.S. All of the panelists agreed that the love hasn't cooled, with former top White House aide to presidents Ronald Reagan and George W. Bush Elliot Abrams suggesting that any concerns with the relationship are "about Obama rather than America." The panelists were split on Obama's true feelings, but from the left and right, the panelists agreed that Obama did himself and the U.S. a huge disservice by not opting to visit the key ally. Despite Obama's lack of interaction with the general Israeli public, former Republican Florida representative Robert Wexler said, "The claim that Obama doesn't have the resident care [about Israel] in his kishkes defies the facts."
Perhaps the most enlightening and interactive of the sessions were those reserved for bloggers -- and crashed by many others -- that included the ever-passionate Natan Sharansky. I asked the Jewish Agency head about their recent move to take on Orthodox conversions when the Israeli Interior Ministry views an application for immigration by an Orthodox convert problematic, which he said is a huge step in the direction of removing religion from what is otherwise an issue of citizenship. Sharansky also spoke about Interior Minster Eli Yishai's proposal to get the word "Jew" back on Israeli identity cards. The identifier was removed from the cards in 2002, and although Sharansky said he was happy to have "Jew" on his identity card when he moved to Israel from Russia, in Israel "Jew has a different meaning than it did in Russia." Sharansky said that Yishai's proposal is a "political maneuver in practical terms and it is a non-starter."
Yishai, who was a last-minute addition to the overflowing "Conversion: Who Keeps the Gate for the Jewish Nation?" panel after the only ultra-Orthodox participant, Rabbi Yecheskel Weinfeld of the Center for Advanced Talmudic Studies, canceled, spoke for about five minutes and then fled the room. Sharansky responded to Yishai's call for one halachic entryway into Judaism by saying, "It is essential to have one gate, but it would have to be a very broad one." Yishai agreed, apparently setting a precedent by appearing on the same stage as conservative and reform rabbis. The other panelists, including Rabbi Peter Knobel and Rabbi Gilah Dror, argued that there is no possibility for a solution to conversion without an end to the Chief Rabbinate in Israel. "With so many who want to delegitimize the state, why do we want to delegitimize the destiny of those who want to be a part of fate?" Knobel said. Taking neither side on the conversion battle, Israeli Minister of Justice Yaakov Neeman said that the true problem in Israel is assimilation, not conversion. "Baseless hatred is all around us, including on this panel," he said.
Responding to concerns about assimilation, Dr. Dov Maimon of the Jewish People Policy Institute surprised the audience by suggesting the creation of civilizational conversion to Judaism. "If people cannot belong to the Jewish religious people, but want to be a part of Jewish civilization, then we need this," he said. After a private interview with Maimon, it was still unclear whether this brand of essentially conversion to Secular Judaism would be for born Jews who want to get in touch with their roots, or for non-Jews who love Israel, its history and its people, but aren't interested in religion. Maimon refers to these joiners as "fellow travelers" and said that if we want to be a major player in the future of humanity, "we need to find out who we are and who we are going to be. If we don't adapt, we will disappear. We are a resilient people. We have the ability to rebound." Maimon suggests a diagnostic check for Jews. "The old model doesn't fit the new challenges, so we have to find a new model that fits the new model of the Jewish people: A transnational, cultural community with a nation base."
Dr. Steven Cohen, research professor of Jewish Social Policy at Hebrew Union College and director of the Berman Jewish Policy Archive at NYU, sat on the "Jewish Identity: the Young Generation vs. Ancient Traditions" panel, but he indulged questions about my own fascination with cultural affirmation or conversion for non-Jews. Being a two-time convert myself (Reform in 2006 and Orthodox in 2010), I find the entire idea of secular, cultural or civilizational conversion, for lack of better words, impossible. Religion and peoplehood are bound, according to my understanding of Jews and Judaism. However, Cohen views such affirmation of a Jewish cultural identity to a non-Jew as a potential aid for what he views as the greatest challenge to Jewish identity today: intermarriage.
"Better they should identify as Jews than not, in particular because they're raising children. Children with one Jewish parent rarely identify as Jews when they grow up. Children with two Jewish parents almost always identify with their Jewishness," he said. After discussing the topic with many close friends and converts, the question that most often arises is how is "cultural affirmation" any different than getting a Jewish studies degree. "We're talking about acts of belonging, not just acts of cognitive advancement," Cohen said. Maimon also mentioned belonging, saying that there are two components of being a part of a people: meaning and belonging. The former being tikkun olam (repairing the world) and the later being the member of the Jewish community.
Overall, the conference could be summed up with a quick, "We don't know who we are. We don't know what our future holds. But it's going to be OK." Which, of course, brings to mind the classic Jewish dictum: They tried to kill us, we survived, let's eat.
For Israeli President Shimon Peres, the answer to the Jewish-Israeli identity crisis is simple: It requires a return to the "basic understanding of what Judaism is," which, for Peres, means to readopt the 10 commandments as the moral core of Judaism and to inject the Jewish people with a thirst to learn.
"We didn't build cathedrals or pyramids, but we published a paper 3,500 years ago," he said. Peres said Jews should never tire from pursuing the unknown. "What is the greatest contribution of the Jewish people to the world?" Peres asked. "Dissatisfaction."

Support HuffPost
The Stakes Have Never Been Higher
Related
Popular in the Community