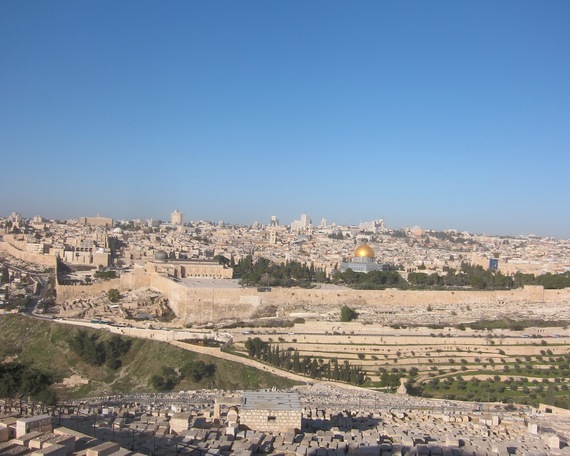 Photo of Jerusalem by Susan Thistlethwaite
"When Jesus approached Jerusalem, he saw the city and wept over it, saying, "If you had known in this day, even you, the things which make for peace!" Luke 19:41
Two weeks ago I stood on the Mount of Olives looking out over Jerusalem and I wept. I did not cry just for Jerusalem, but for the whole region of Israel and Palestine. I was there because my Chicago Theological Seminary colleague, Rabbi Rachel Mikva, and I teach a Study Tour about every two years. This year the whole trip was strikingly different.
The situation is, in short, tense, anxious and unstable. I believe you (and I) are personally involved, not just the inhabitants of Israel and Palestine. The failure to even achieve a peace process, let alone peace with justice, is a flashpoint for the whole world. It is very easy to imagine a major conflict breaking out in that area that could engulf our already tottering world.
What was especially concerning to me this year is the perception, on the part of almost everyone with whom we met, that the hope for peace and justice is almost nonexistent.
One of the people with whom we met on our tour was Gershom Gorenberg, an author and senior correspondent for the American Prospect. He said to our group that today he is often asked, "What has changed to set off the recent set of attacks by Palestinians?" He said he replies, "The problem is nothing has changed." His most recent article from January 21, 2016, is Washington Discovers Occupation is Not a Good Thing.
No, occupation is not a good thing. It is bad for the faith values of a people to be occupiers, as Rabbi Arik Ascherman of Rabbis for Human Rights, and our CTS Honorary Degree Recipient from 2015, often says. Even when he was recently attacked by a knife-wielding settler, it was of soul searching that he wrote. It is bad for the people occupied, as Sami Awad, also a 2015 CTS Honorary Degree Recipient, and who heads the Palestinian peace organization Holy Land Trust also argues.
The occupation, in my view, is a physical, spiritual, political and economic catastrophe. It is an accelerating human rights crisis. Access to clean water (our group did not drink the water in the West Bank as it was unsafe to do so), the denial of building permits to Palestinians, and the horrible practice of home demolitions are only a few of the ongoing violations. In addition, it is a Palestinian political catastrophe, as Palestinians themselves are openly contemptuous of their leadership for its corruption and ineptitude.
There must be peace with justice in this land, and the occupation must end. But how?
Just to further complicate the answer to that question, the accelerated building of settlements only puts more barriers in the way of achieving justice and peace.
U. N. Secretary General Ban Ki-Moon recently said as much in a statement on January 26, 2016. Ban noted, "I am deeply troubled by reports today that the Israeli Government has approved plans for over 150 new homes in illegal settlements in the occupied West Bank. This is combined with its announcement last week declaring 370 acres in the West Bank, south of Jericho, as so-called 'state land'. These provocative acts are bound to increase the growth of settler populations, further heighten tensions and undermine any prospects for a political road ahead."
Yes, this continued and now even more accelerated building is a major roadblock to peace. Can it be stopped?
Our Study Tour met with Israelis and Palestinians across a wide spectrum, from dedicated political activists to Rabbis for Human Rights, to human rights organizations such as the Israel Religious Action Center to Israeli settlers in the West Bank, to the Palestinian peace organization, Holy Land Trust, to Israeli and Palestinian former enemies, Israeli soldiers and Palestinians who have been jailed, who now work together at Combatants for Peace. Literally no one sees a clear path forward.

We met with Daoud Nassar at Tent of Nations in the West Bank on his farm. Despite the fact that the Nassar family has all the original land registration papers and has cultivated the land throughout the Ottoman, British, Jordanian and Israel governance, in 1991 the government of Israel declared it "state land" as Secretary Ban Ki-Moon describes above. So far, the Nassar family has successfully defended their rights in court but it is an ongoing struggle. They follow a path of nonviolence, and are doing remarkable work teaching nonviolence and environmental sustainability.
But as I stood on the slope of their farm and looked out, I saw the hilltops around the property are covered in settlements. They literally surround it. To even get to the farm you have to climb over boulders and rubble that blocks the road. This little farm is being squeezed out of existence.
So many of the people dedicated to peace to whom we spoke in both Israel and Palestine stressed that the situation needs outside pressure for stalled negotiations to be restarted.
Therefore, as an American, I am appealing to every member of Congress and our foreign policy establishment to push again for a settlement freeze as a way to signal a change. External pressure from targeted boycotts and divestment is also needed. I personally do not endorse all the goals of the Boycott, Divestment and Sanctions Movement (BDS), especially as I think engagement with progressive elements in Israel is absolutely essential and that Israel is an established state. I do, however, boycott settlement products and have for a while.
That is why President Obama needs to veto the popularly known "Customs Bill" that, as Eyal Press writes in the New York Times in an article called When 'Made in Israel' is a Human Rights Abuse has a provision that, if it becomes law, means "American officials will be obligated to treat the settlements as part of Israel in future trade negotiations." This will make boycotting specifically settlement products more difficult.
Boycotts are a tactic of nonviolence and are part of the ten practices of Just Peace to which I am a contributor. They are especially effective when targeted, specific, and constantly reviewed so that they do not do more harm than good. The aim is to stop the settlement building, and create the space for genuine peace negotiations between Israel and the Palestinians so that a Just Peace can become reality.
Jesus laments that humanity does not know 'the things that make for peace.' But the tragedy is that we do know, and we don't do them.
It's enough to make you weep.
Calling all HuffPost superfans!
Sign up for membership to become a founding member and help shape HuffPost's next chapter