Earlier this month I had the pleasure of visiting family and friends in Israel. I also participated in the 40th anniversary of Tel Aviv Pride, the largest such celebration in Asia, and an associated global conference sponsored by A Wider Bridge, on whose advisory board I sit, and the Agudah, the Israeli National LGBT Task Force.
This visit was notable for three historic reasons - the recognition of Trans Pride as the theme for this year's celebration, the National Labor Court's ruling in the Meshel case covering trans persons under the country's Equal Employment Opportunities Law (equivalent to our Title VII), and the remarkable caucus meeting held in the Knesset to learn about the Israeli trans community and their campaign for full equality. Also telling was the backdrop to this year's Pride - the growing rift between Israel and the U.S., as well as between the Israeli and American Jewish communities, and the growing BDS (Boycott, Divestment, Sanctions) movement and its gay offshoot. As a result this was a very emotional experience for me and a critical one in the shifting landscape for Jews on both sides of our "wider bridge." A Wider Bridge was created to foster closer relations between the Israeli and North American Jewish communities, and the timing of its first global conference couldn't have been better.
Elisha Alexander, who is in charge of trans issues at the LGBT Center, said it best:
The dedication of pride parade to the transgender community represents a major breakthrough for the community today. Transgender people stood in the past and continue to stand at the forefront of the LGBT struggle and the struggle for gender freedom is not only ours but society's as a whole - the freedom to be ourselves.
"Major" is an understatement. To the best of my knowledge, no Pride Festival/Parade in a major American city has ever been dedicated to the trans community. Nor, even more importantly, has the Congress or any American state legislature held a caucus meeting quite like the one at the Knesset on June 10th. That meeting, which featured testimony from twenty courageous Israeli trans youth from all over the country, with their teachers and parents in the audience, was hosted by the senior leadership of the Knesset, and more than one-quarter of the Knesset Members were in attendance. Speakers included the caucus chair Yael German (Yesh Atid), Opposition Leader Chaim Herzog (Zionist Union) (both seen in photo), ZU rising star Stav Shaffir, Minister for Gender Equality Gila Gamliel (Likud), Meretz chief Zahava Gal-On, other members of the Likud and its governing coalition, as well as Opposition members, including one from the Arab List. Prime Minister Netanyahu sent a message with his Chief of Staff. All of these Members of Parliament spoke in strong support of full trans rights, with the exception of the Prime Minister whose words were supportive yet mentioned neither the trans nor gay communities explicitly.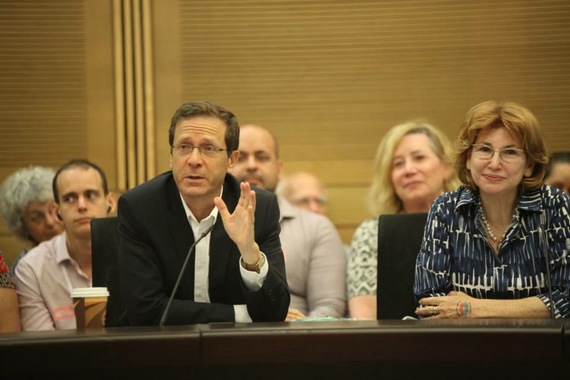 To put this meeting in perspective, the American equivalent would be a Congressional caucus meeting attended by Nancy Pelosi, Steny Hoyer, John Boehner, Mitch McConnell, Harry Reid, Tammy Baldwin, and Jared Polis, all of whom speaking clearly and fluently about the need for full transgender rights. Other senior Knesset leaders, upon hearing of the excitement in the room, rushed to attend and jostled those already in place out of their seats to get their moment to speak.
As we know, such a caucus meeting has never happened here. While we have a President unafraid to speak on behalf of the LGBT community, and we have a strong Congressional Equality Caucus, their numbers don't compare, and they've never fallen all over themselves to support the trans community. The Likud party, the largest on the Israeli right, has a Likud Pride caucus. Anyone ever heard of a Republican Pride caucus? Congresswoman Ileana Ros-Lehtinen (R-FL-27) is it.
The meeting went long over schedule, and included a short, passionate proclamation from my friend, and LGBTQ Task Force board member, Marsha Botzer. Most impressed, though, were the MKs who listened enthralled to the students in attendance, who not only spoke eloquently about their trials and tribulations, but about their surprising successes in places where one would least expect it. And they spoke forcefully, demanding equality, and receiving vigorous head nods form their elected representatives.
All of this, and the celebrations ongoing in Tel Aviv leading up to the parade on Friday, occurred against a backdrop of increasing pressure on behalf of the BDS movement, noted to be growing in strength on US campuses to a degree that right-wing Jewish billionaire, Sheldon Adelson, convened a meeting to dedicate $50 million to oppose the BDSers on college campuses. Putting aside the issue of the Occupation in general, and the recent public split between President Obama and PM Netanyahu, about which I've written before, I'd like to address again the issue of "pinkwashing" raised by the queer Jewish community in the U.S.
The attack on Israel is exemplified by a recent article published in the Washington Blade by Alex Shams. Shams takes the usual tack of lumping all aspects of Israeli life together, claiming that you can't celebrate Israeli LGBT rights, or any other positive phenomenon, because of the Occupation. Solidarity with the Palestinians, including Hamas, requires total isolation of the Jewish state, including its queer community. There is no middle ground. So visitors and speakers like Jenny Pizer of Lambda Legal and Brad Sears of the Williams Institute, Seattle Mayor Ed Murray and Freedom to Work's Tico Almeida, are all condemned, even though all of them may be strong proponents of a two-state solution and Palestinian rights.
The complex nature of this debate, Israeli style, was made evident during the conference's pinkwashing panel. Israelis have passionate beliefs on this issue, including luminaries like prizewinning filmmaker Yair Hochner, filmmaker and writer Gal Uchovsky, and fierce Tel Aviv activist Anat Nir. The two poles in the debate were highlighted by Israeli Aeyal Gross of Haaretz' legal commentator, and American Jamie Kirchick, of the Daily Beast. As is often the case, there was truth on both sides, often lost in the face of the debaters talking over and around each other. What is pinkwashing? To me it means the Israeli government talking about its flourishing LGBT population, particularly in comparison to the homicidal anti-LGBT regimes in many Arab states, to demand American and European support for its government's policies (not Israel's security or right to exist). What infuriates me is when Likudniks visit the U.S. and encourage American gay Jews to support the right-wing Netanyahu government because Israel is so gay friendly. And the American gay Jewish community is supposed to show that support by joining the Republican party, which would, if it could, roll back all rights for the American LGBT community. That, to me, is the height of chutzpah.
The more general pinkwashing debate in the American queer community, though, revolves around the extreme belief that to be truly queer means to oppose the Occupation, and use every tool possible to end it, while ignoring the state of LGBT life in Israel as being quite exemplary even compared to that here in the U.S. I see that kind of totalizing approach to be very dangerous, reminiscent of Bolshevik rhetoric of a century ago, and I am turned off by the open anti-Semitism of some who are strong BDS supporters, including those in the gay and trans community.
I support an end to the Occupation and a two-state solution because it's the best solution for Israel and my family and friends who live there. Occupation corrodes the soul. While I believe in human rights, and support those of the Palestinians (though not of Hamas), I will not join those who choose to dehumanize the Jewish population of Israel once again in an attempt to destroy it. I will take the well-meaning efforts of my pro-Palestinian LGBT colleagues more seriously when their campaign for equality and freedom extends to Libya, ISIS and Saudi Arabia. I choose not to live in fear, overwhelmed by paranoia, but neither will I live in a fantasyland that ignores the general decency of the Israeli people and their efforts, flawed as they may be, to build a free and democratic country.
To Americans who live in a country still riven by domestic terrorism that is driven by racist Confederate beliefs that are over three hundred years old, I simply ask that you look to your own soul before you condemn others in a knee-jerk manner. Take heart from the outpouring of compassion from across the Israeli political spectrum for the country's transgender children, and then note the words of our first female African-American Attorney General said last week:
... an unmistakable message to LGBT Americans from coast to coast: Your country stands proudly with you. Your fellow citizens are by your side. You are not alone - not now, and never again. We will never stop working to spread a broader recognition of the support, consideration, and compassion that all Americans should receive. And we will continue to ensure that this nation lives up to a pledge made to young people the world over: that they can look forward to new days filled with hope, with possibility, with tranquility, and with joy, because over time, and with the help of friends and allies growing more numerous by the day, it will get better.
The LGBT communities of both Israel and America are making progress, and it is my hope that we both can move our own countries forward toward greater freedom and equality, peace and prosperity, for ourselves and our neighbors.
Calling all HuffPost superfans!
Sign up for membership to become a founding member and help shape HuffPost's next chapter