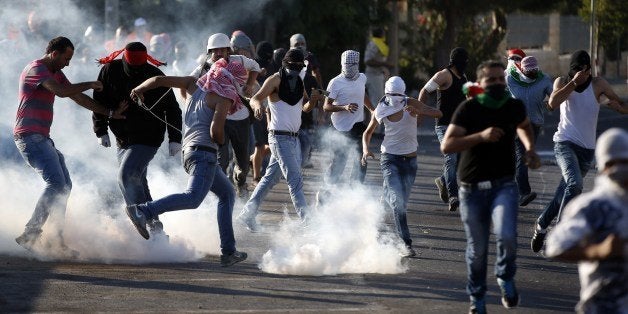 Following the horrific murders of Israeli and Palestinian teens, it is time for people on both sides to rise up in silent joint and simultaneous protest against all forms of political violence.
The dry, brittle and inflammable political and psychological wasteland which stands between Palestinians and Israelis has caught fire and the flames have spread far and wide. The symbolic spark was the gruesome murders of four teenagers, three Israelis and one Palestinian.
The abduction of Gilad Shaar (16), Naftali Fraenkel (16), and Eyal Yifrach (19) on 12 June released a wave of genuine grief across Israel for the disappeared youth and their families. At a certain level, Israel's collective grief and sense of joint anguish was admirable and even commendable.
But there was an ugly underbelly: the mass hysteria and hatred this unleashed. While it is understandable that this kind of high-profile incident should elicit fear, to listen to some Israelis speak, you might have been excused for thinking that the kidnappings, tragic as they were, represented an existential threat to the entire nation.
Whereas the reality is that thousands upon thousands of Israelis live in close proximity to Palestinians and in safety. Take Sheikh Jarrah where I live. Even at the highest points of this crisis, I've seen the local hardcore settlers walking around the neighborhood unprotected and unmolested.
Then there was the cavalier nonchalance with which the Israeli authorities handled Palestinians during the search. This was not only a form of collective punishment, in the view of human rights organizations, but the mass arrest of Hamas members constituted a presumption of guilty until proven innocent.
Perhaps the most galling aspect of the whole tragic affair is the unseemly political opportunism of radicals on both sides. The ultra-rightist Israeli government used the abductions to provide it with moral cover to crackdown on its arch-enemy Hamas, and even to sabotage the recently born Palestinian national unity government.
For its part, the Islamist Hamas juggled with the elusive ingredients for having its cake and eating it. While denying any involvement in the kidnapping, it called the abductors "heroes" and criticized the PA for cooperating with Israel in the investigation.
After a hunt that lasted nearly three weeks, the bodies of the three Israeli teens were located. While the families dealt with their pain and grief, and many Israelis joined them in their mourning, a wave of hate overtook numerous segments of Israeli society. Even some otherwise sensible Israelis have succumbed to the atmosphere of rage.
I came face to face with this hate in West Jerusalem's central Zion Square. It was somewhat surreal to be standing amidst people who wanted me dead for no other reason than an accident of birth, though, fortunately, the small, angry crowd did not recognize me as an Arab, and they were distracted by a bitter argument with those who opposed their racism.
The hate on the streets, though carried out by a minority, has made me, even as an outsider, somewhat nervous. Would talking Arabic to my four-year-old, as I always do, invite a confrontation that would distress and traumatize him?
More hearteningly, around the corner from this hate fest, I attended a rally which paid tribute to the slain teens and rejected racism and hate crimes. I was pleased that people from different backgrounds had come, but what were a few hundred doves to do against the deafening squawks of the hawks?
Hours after the bodies of Yifrach, Fraenkel and Shaar were found, another teen also vanished. But this time it was a Palestinian, 16-year-old Mohammed Abu Khdeir, who was snatched on his way to dawn prayers from outside the family home, which is just 20 steps from the mosque in Shuafat, East Jerusalem. The boy's charred remains were discovered soon after in the Jerusalem Forest, and the police have arrested six suspects who belong to an extremist Jewish group.
On the back of anger at the murder, a long chain of price-tag attacks against Palestinians and the recent Israeli military crackdown -- not to mention the shooting dead of two teenagers in May which was captured on CCTV -- normally sleepy Shuafat erupted into several days of rage unseen in the quiet suburb for many long years.
The morning after the riots broke out, I cycled down to the tranquil neighborhood which we had called home for the better part of two years. The light rail station, widely regarded as a symbol of the Israeli occupation, was destroyed, the glass shattered, the ticket machines burnt. Debris was strewn everywhere, most shops were shuttered, and a couple of buildings defiantly flew Palestinian flags which are banned in Jerusalem.
It shocked me to discover that I was acquainted with the father of Mohammed Abu Khdeir, but knew him as Abu al-Rae'd, the name of his eldest son. He is the electrical contractor who installed and maintains the electrical installations in our building. Mohammed, a quiet, reserved and hard-working boy had even been in our building and flat, helping his father and older brother out.
I offered my condolences to the grief-stricken stricken father who was standing in a startled daze outside his shop in Shuafat, amid the rubble of his grief and the wreckage of the previous night's fury. From this epicenter outside the Abu Khdeir's building, protests and clashes spread to other parts of East Jerusalem and to Arab towns in Israel, including Nazareth, the largest Arab city in Israel.
The rioting goes against the bereaved family's wishes. Having tasted the pain of such unnecessary loss of someone so young with his life ahead of him, Hussein Abu Khdeir, the victim's father, does not wish such a fate even upon his people's enemy.
"I am against kidnapping and killing. Whether Jew or Arab, who can accept the kidnapping and killing of his son or daughter?" he said. "I call on both sides to stop the bloodshed." Rachel Fraenkel, the mother of one of the murdered Israeli teens, shared Abu Khdeir's parental sentiments. "There is no difference between blood and blood. Murder is murder. There is no justification and no atonement for murder," she wrote. Naftali Fraenkel's, Yishai, uncle also called Mohammed Abu Khdeir's father to offer his condolences, even though he was still mourning himself.
In fact, it would seem that compassion is in greater supply among those who have lost loved ones than among those who hate on their behalf. Siam Nuwara, father of Nadeem (19), is convinced that the unknown Israeli soldier who allegedly killed his son in May is probably unable "to sleep or comprehend what he has done" because he is also likely just a teen like Nadeem. "I [want to] believe that he wanted to pay his respects and offer his condolences and ask forgiveness for what he'd done," the distraught father hoped in an interview.
These noble sentiments, especially those expressed by the sorrow-burdened families points to a better path ahead: the full rejection of violence -- whether carried out by the Israeli army, Palestinian militants, or Arab or Jewish extremists -- and its immediate and unconditional condemnation, especially when committed by one's own side.
Objections will immediately be raised on both sides, especially among Israelis who seem to think that state violence is somehow more justified than its non-state counterpart, even though the damage military action inflicts is far greater and it hurts and kills more civilians. But as many Palestinians have (re)discovered, especially after the bloodiness of the Second Intifada, non-violence is far more effective -- and subversive.
Nevertheless, the mentality persists on both sides, fueled by each's particular history of trauma, weakness and oppression, that acting tough through armed struggle can somehow resolve this conflict. But the evidence is against them.
Over the past century, the two sides have thrown everything they have at each other, but neither has prevailed. Palestinians and Israelis, each in their own way, are formidable adversaries who will not be broken, and so violence is futile.
Although I am a pacifist, I am not naïve. I know there are times and places where violence is unavoidable. However, Israel-Palestine, today, is not one of these times or locations.
In short, force of arms cannot solve what is a political, social, class and religious conflict. The peaceful hand of unarmed resistance and arm-in-arm coexistence is the only way out of this quagmire.
For that reason, I believe it is time to break the silence against political violence through simultaneous silent marches across Israel and Palestine in which both sides find common cause in condemning all bloodletting, and continue to do so until it stops.
If this were to happen, the silence would truly be deafening and would, for once, speak louder than the piercing screams of hate.
Popular in the Community