 If you don't know Issa Rae's name yet, you should -- and you will.
The 28-year-old actress and writer is best known for her web series,"The Misadventures of Awkward Black Girl," which first premiered in February 2011 and finished its second season in February 2013. The series follows the 20-something, self-proclaimed awkward and black title character, J, played by Rae, as she navigates life's small hells -- like the aftermath of sleeping with a super weird coworker at the holiday party, contemplating quitting her office job and being told she looks "too gay" when she chops off her hair. (And that's all in the first two episodes.)
"The Internet is where you can find what you're not seeing in TV and film," Rae told Amanda de Cadenet of "The Conversation" in June 2013. "I'm a fan first; I didn't see enough content of color that I could relate to."
Rae's new web series "The Choir" ended its first season in mid-October, and she's currently writing a book of personal essays as well as working on an HBO comedy pilot with Larry Wilmore about a young, black woman (which she's also set to star in). Like we said -- you'll be hearing her name soon.
Why do you do the work you do?
I felt like my voice was missing, and the voices of other people that I really respect and admire and wanna see in the mainstream are missing. Plus, it's fun!
What projects are you working on right now?
I'm writing a book right now -- that is the bane of my existence because it is so freaking hard -- and I'm also writing an HBO pilot. We just turned that in, so we're waiting on notes. And I'm always working on web series.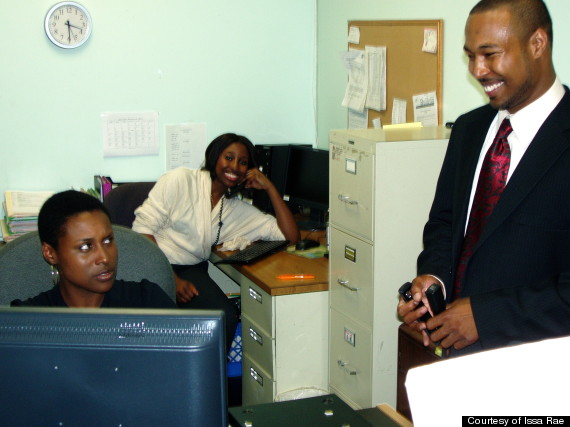 Filming "The Misadventures of Awkward Black Girl."
What work would you do if not this?
Hmmm... that's super hard. I would probably be working with environmental sustainability -- that field really interests me and I was studying that and ecology for a while. I still would be making videos or PSAs surrounding those topics. I would still be producing and writing.
Did you wind up in this profession by accident or design?
Both. It was a matter of good timing, but I was working towards it for awhile. In my current position, the third web series I did, ["Awkward Black Girl,"] happened to get a lot of attention but the first and the second were very slow.
What was your career trajectory leading up to that?
In college I made music videos and created a web series. Post-college I started working for a non-profit theater company in New York and I created a film collective. Before that, I was working at a non-profit to help premature babies. But even then, I was creating web series and web content. I was just working from job to job, trying to find money where I could. And freelancing a lot.
Who are your role models when it comes to work?
Tina Fey, Donald Glover and Oprah. You can't go wrong with Oprah.

With Katie Couric in 2012.
Have you ever had a mentor?
I haven't. I've had really amazing teachers in high school and in college I had an amazing professor, but I haven't had an official mentor that talk to for advice.
Do you feel there's still a glass ceiling?
I choose to ignore it. I feel like by ignoring it, it doesn't really affect me. I've found that the people who acknowledge the glass ceiling feel affected by it and won't surpass it. I feel like more women are going the route where they're just like, "F it, I'm gonna make it happen for myself, whether you think it's gonna happen or not." That's my mentality.
Do women have a responsibility to help other women at work?
Responsibility is a strong word. I just think there should be a natural desire. I don't feel a responsibility to, I just want to. I think that it makes [helping other women] almost undesirable if you have a sense of pressure associated with it. I just find it troubling when people try to put other women down. I don't think that's helpful in any way.
Do you feel like you've experienced that in your career?
Yeah, definitely. It sucks. But I don't choose to focus on that. I focus on the people who aren't doing that, who are helping to build me up and who I'm in turn helping to build up.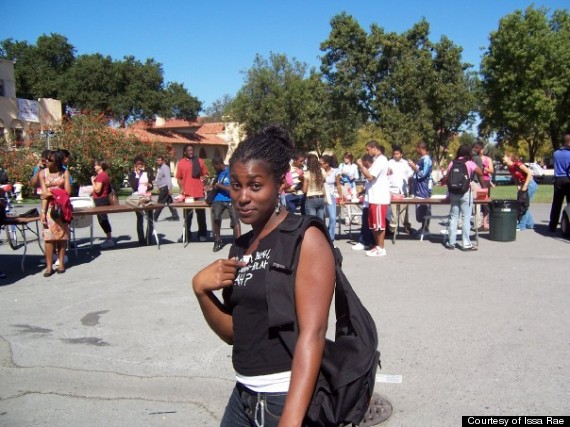 Issa during her Stanford University days.
What were you doing when you were 25? Where did you think you were headed?
At 25 I was really really struggling. Super, super broke and trying to hold onto a job. I was going to go back to school because my dad was really pressuring me, like "you don't have money right now, just go back to school and then you can get a good job." So I took the GMAT and the LSATs, just trying to figure out whether I wanted to go to law school or business school.
What advice would you give to your 25-year-old self?
Hang in there. Do not give up, do not listen to people around you. Keep focusing. And go shopping in mom and dad's fridge.
In your mind what is the word "success"?
I guess success is when you're happy with who you are and happy with where you're going.
According to that definition, are you successful?
I'm happy with who I am, but I'm still uncertain about where I'm going. But I'm happy with the journey. So not yet, not just yet -- but I feel optimistic about it.
Do you keep your phone next to your bed?
Yes.
Do you check it a lot?
Yeah, it's a problem. On the days I'm writing I will put it on silent in another room. I won't turn it off. It's so hard for me to turn off my phone. But I'll separate myself from it to try to get things done.
Do you find that it helps?
Oh yeah, but I still have to get used to the feeling of "oh no, what if someone's calling me or texting me something important, or what if I'm missing something." I think the problem is that we're required to be accessible -- but then who is doing the requiring? Why do we feel obligated to be accessible? I just need to break from that.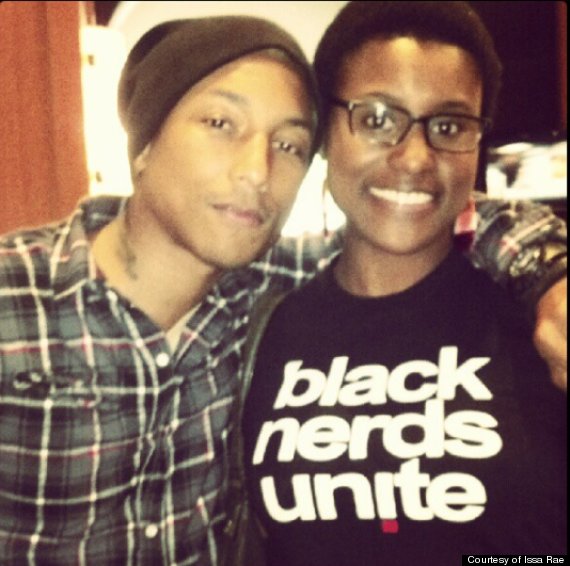 With Pharell Williams.
Do you get enough sleep?
Yes. 5-6 hours. Sometimes on weekends, 7 to 8.
Do you get enough exercise?
I'm starting to be better. I finally just made time in my schedule.
What sort of exercise do you do and how do you fit it in?
I just started getting up like three hours earlier.I've been getting up at like 5, to write and to exercise. I bought a bike -- it's such therapeutic exercise. I also swim. It's exciting to me to exercise. I feel so much better about myself when I do.
What do you consider a perfect weekend day?
A perfect weekend is when I don't have sh*t to do. I can just wake up and call a friend and we go to brunch. But my weekends typically consist of shooting, which is fun, or traveling.
Where do you do your best work?
At a Starbucks or another coffee shop.
How do you relax?
By watching TV or hanging out with friends or my boyfriend. I'm super into "Breaking Bad." I like to watch series a lot -- a lot of Netflix, BBC. Like I just finished watching "Top of the Lake" and that was pretty amazing.
Does your mother understand why you work the way you do?
Yeah, she's a teacher and she gets me completely. It's so funny because I admire her work ethic, and she's like, "What are you talking about? You're such a hard worker." And I'm like, "What are you talking about?" We both think pretty highly of each other's work ethic, even though we might not think highly of ourselves.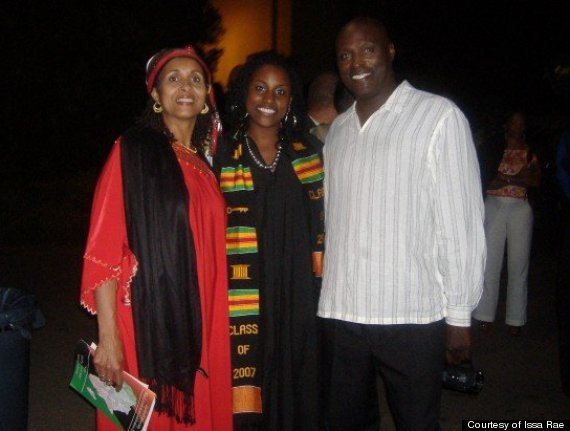 With her parents at Stanford graduation in 2007.
Do you have a work persona and a non-work persona?
Yes. Absolutely. I think it's necessary.
Why?
Just to show that I mean business and to maintain a sense of professionalism. I think if that's clouded, then the quality of work or the quality of collaboration may not be up to par.
So, are you close friends with anyone you work with or worked with in the past?
Yeah! Definitely. Sometimes it can be complicated but only if you're dealing with people that don't understand the line between work and friendship. The kind of people I work with now, they understand we're gonna be friends and socialize, but in a work setting, we're all about our work. I love that. But I have had situations where I've worked with friends and they'll take things that are work-related personally, and that's really detrimental.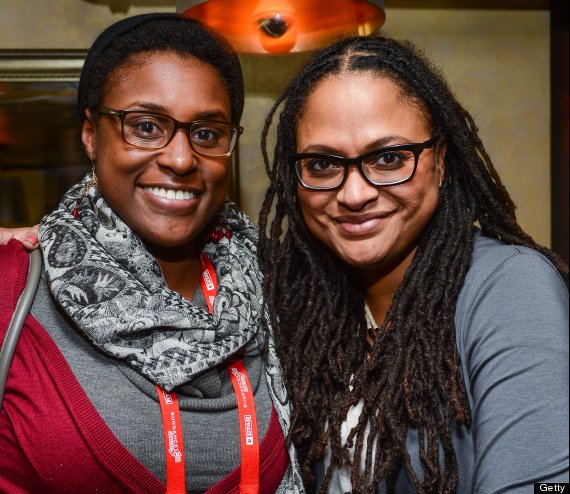 At Sundance in 2013 with director Ava DuVernay.
What is your "work uniform"?
T-shirt, jeans and Chucks.
What would you title your autobiography?
Awkward Black Girl.
Before You Go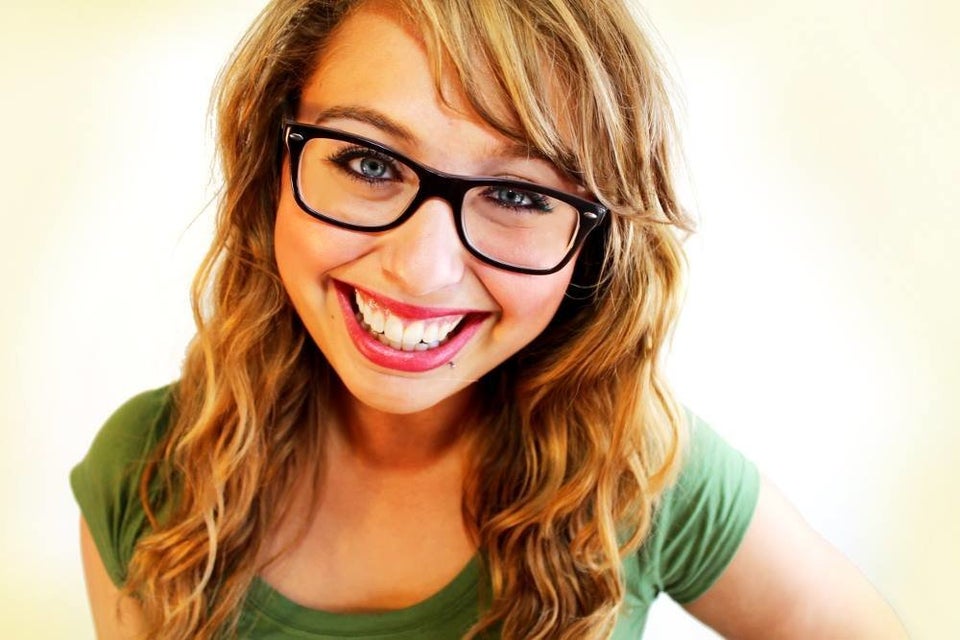 How Amazing Women Are "Making It Work"
Popular in the Community