Issa Rae wasn't playing when she said she's in her mogul era. The two-time Peabody-winning writer, producer and actor has firmly established her feet in the entrepreneurial space a few times over. She's added another notch in her belt with her latest venture into the world of wines.
In October, Rae launched Viarae, a versatile prosecco inspired by her own journey. In a moody underground bar in the Lower East Side of New York City, she explained to a group of journalists and wine enthusiasts that the crisp bubbly "represents some of my best memories."
"It was first introduced to me in a moment when I didn't know that everything was gonna change for me," she explained to the room of journalists and wine enthusiasts. "Insecure" pilot director Melina Matsoukas had taken her out for sushi and asked the waiter for prosecco. That dinner marked a significant leveling up for Rae, so much so that prosecco (sometimes with a splash of vodka) became a part of the show's world.
"It became my signature drink for so many other milestones for me, so it holds such a special place in my heart, and the decision to try to create one on my own came from putting it in the 'Insecure' land, having people come to tell me 'I tried prosecco because of you, I'm drinking prosecco and whisky, prosecco and vodka 'cause Issa Dee does it,'" she said. "If that's the case, then I want you to taste something that comes from me and is of me, and that's where Viarae comes from."
Before Viarae found a home with E. & J. Gallo Winery, the powerhouse behind La Marca, several companies she met with when she first had the idea tried to dissuade her from creating a prosecco. They didn't see the value in it and told her that it's a risk and that she should try to make a different kind of wine. For Rae, it had to be prosecco or bust.
She noted that the launch was long overdue but credits God's timing for it coming out this year.
"This was a time for me in particular, where the strike had me kind of sitting down and celebrating myself, traveling more, spending more time with friends. And anytime that I'm doing that, I always have a glass of prosecco," she told HuffPost during a Zoom interview. "I was forced to sit still and, and also kind of celebrate how far that I've been able to come during my own journey. I rarely take the time to look up and be like, 'Oh, I did that.'"
(Matsoukas hasn't tried Viarae yet, as she's pregnant, but Rae joked that she's relieved since she'd be the toughest critic.)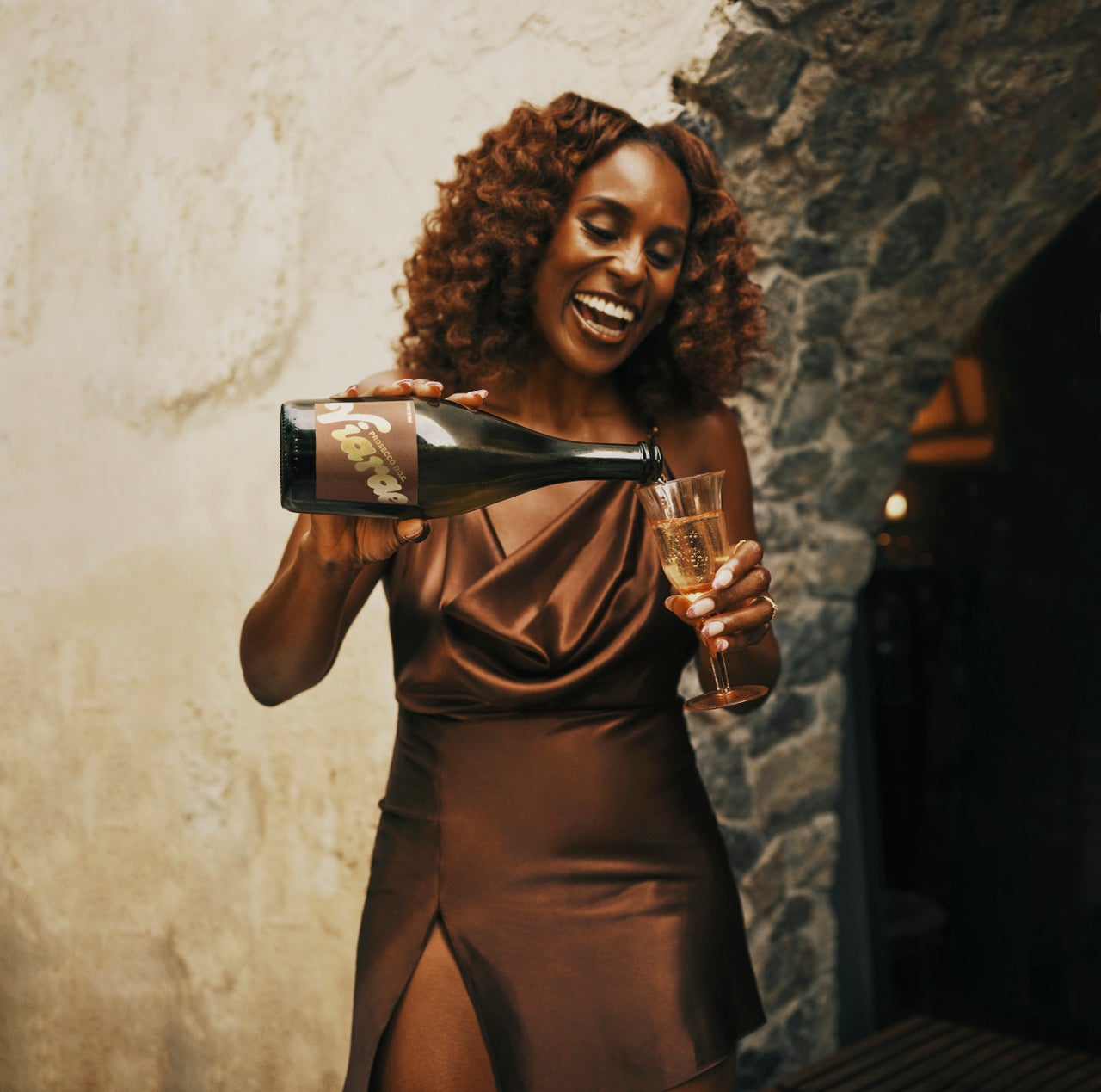 Rae certainly has a lot to celebrate for 2023. This year, she's had roles in the record-breaking blockbuster hit "Barbie," "Spider-Man: Across the Spider-Verse," "American Fiction" and "Young Love," to name a few. On top of her acting work, she's the executive producer behind the revived "Project Greenlight: A New Generation," and her latest show, "Rap Sh!t," premiered its second season on Thursday. On the entrepreneurial front, Rae introduced her inclusive brand marketing business, Fête, and opened up the fourth location of Hilltop Coffee + Kitchen in downtown Los Angeles. She's also continued to invest in her ever-evolving Hoorae, which houses ColorCreative, Raedio and other branches of her media and entertainment brands.
With so much already on her plate, Rae's decision to take on more comes from when she sees an opportunity and "can't resist it."
"I feel like I'm the only one who can do it in this way, the way that I want to. And every single collaboration so far has been because I needed it," she said, giving her coffee shop, audio company and natural hair care line (Sienna Naturals) as examples. "All of these things are things that I was already doing, we were already doing, and that I wanted to extend or that I just had a desire for. That's kind of how I make all decisions. If it doesn't make sense, then I'm not the person to do it."
Outside of monetary gain, how she measures success is simple: If she feels good about it and still enjoys doing it. And when she doesn't, she offloads it. But don't call that a failure. "I don't want to do the thing anymore, and that's OK."
Rae said she wants to continue to expand her storytelling. "There's so much that I wanted to do and that I have not done yet," she said. "And that's an area where I'm looking to achieve success."
She's already made a massive impact in that direction with the critically renowned "Insecure," which ended in 2021. Now two years out, fans old and new have revisited and discovered the show — as it was recently added to Netflix. She said people talking about how the show continues to help them on their journey is "incredibly special." With "Rap Sh!t" Season 2 — which premiered on Thursday — and both the writers and actors strikes over, the field is open for audiences to see more stories from Rae. That includes a comedic relationship thriller, according to Ebony.
"There's so much beauty in collaboration and propping up others."
Rae, who spoke with HuffPost after the writers strike ended but while the actors strike was still going on, also gave her thoughts on what an ideal Hollywood for Black creatives looks like to her.
"It looks like not being relegated to other people's standards of Blackness," she said, explaining that despite the renaissance that she and her peers (Lena Waithe, Donald Glover, etc.) came up in, Black portrayals on screen are still limited. "Like I said before, I felt like we were barely scratching the surface, and now in an attempt to potentially broaden audiences, we may be constrained again in those portrayals. And there's just so many people who haven't had an opportunity to tell their story."
Rae implored Black creators to "continue to open the door" and hold it open for others to tell their stories.
"That's ideal to me," she continued. "Not that, 'Oh, man, there's only a few slots, so I gotta get in.' And I think it's just like, there's so much beauty in collaboration and propping up others. And that's how we continue to elevate our own culture."