A transgender high school student from Pennsylvania who was denied a bid to become prom king is getting support from social media communities advocating for equal rights.
Issak Wolfe is a senior at Red Lion Area Senior High School in York County, Pa. His transition experience at the rural high school was relatively positive up until last week when he was denied a bid at prom king, according to The York Dispatch. Instead of putting his name on the ballot for "king," school principal Mark Shue allegedly put his birth name on the ballot for "prom queen."
The 18-year-old added that he was "humiliated" because he had handed out prom king fliers plastered with his photo at school to promote his bid.
Apparently, Shue said he was not comfortable putting Wolfe's name on the boys' list. "For a transgendered person, it is degrading to have that, and I wasn't even warned," Wolfe told The York Dispatch. "I would like an apology, at a minimum," Issak said. "I wasn't given a fair opportunity. I mean, if I don't win, I don't win but I'm not a queen."
Wolfe's story wound up gaining attention online.
First, it was posted to the Facebook page "Have a Gay Day" on April 20, where it has since garnered over 3,000 "likes." Then, a Change.org petition was set up to get Wolfe's name on the prom king ballot as well as his correct name read at graduation.
We are trying to bring attention to this story so that people out there in Issaks' position know they are not alone, so that my boyfriend has the chance to stand up on stage wearing the crown he deserves, the prom king sash firmly across his shoulder. We must let Mr. Shue know that we will not stand for any discriminatory acts. Every one deserves to be treated with equality and respect that a human being deserves.
The petition, which was shared on Reddit, now has over 2,300 signatures.
Wolfe's father, William Stambaugh, is concerned for his son if the prom issue "blows up," according to the York Daily Record. "His safety is of the utmost importance," he said.
The Huffington Post reached out to Red Lion Area High School for a comment but has not yet received a response. Voting for Wolfe's prom court has since ended. The prom will be held on Saturday.
Issues regarding the lesbian, gay, transgender and bisexual (LGBT) community and high school proms made headlines in February when a group of residents of Sullivan, Ind., proposed having a non-school sanctioned "traditional" prom that would ban gay students.
Before You Go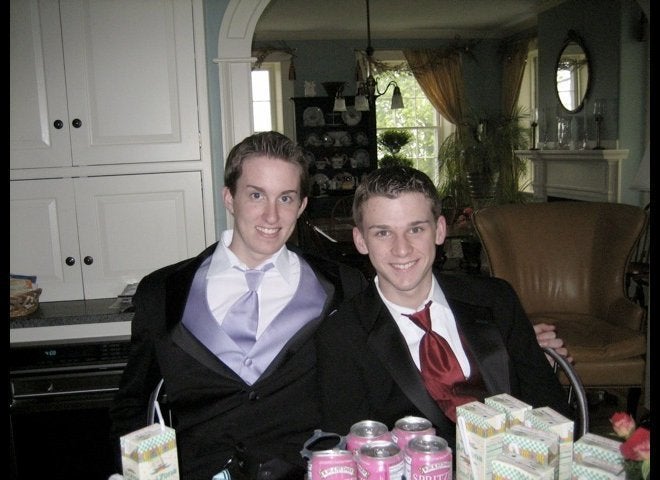 LGBT Prom Couples 2012
Popular in the Community