WASHINGTON -- The defeat of Ohio's Issue 2 on Tuesday spells political trouble for Republican Gov. John Kasich and possibly for the Republican presidential ticket in Ohio in 2012, according to a new poll sponsored by the AFL-CIO.
Since the television networks conducted no exit polls Tuesday, the next best evidence on who voted and why comes from telephone surveys of those who report having voted. While the AFL-CIO is an obviously interested party, its pollster -- the Democratic firm Hart Research Associates -- shared the complete questionnaire and cross-tab data with The Huffington Post and has been transparent about its methodology.
Not surprisingly, given the 61 to 39 percent margin of defeat, the survey shows broad-based opposition to Issue 2. It was rejected overwhelmingly among union members (86 to 14 percent) and public employee households (73 to 27 percent), but also lost by narrower margins among non-union members (52 to 48 percent) and households without a public employee (57 to 43 percent).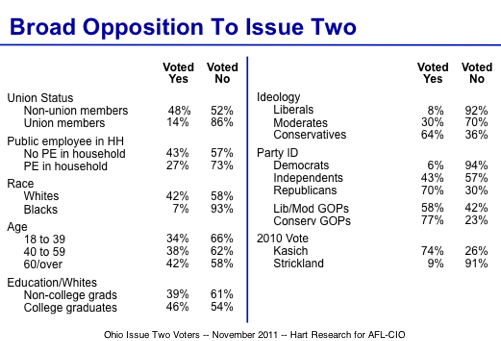 Democrats were virtually unanimous in opposing Issue 2 (94 to 6 percent), but independent voters also decisively rejected the measure (57 to 43 percent). Issue 2 split the Republican coalition, garnering opposition from 30 percent of Republicans, 23 percent of conservative Republicans and 26 percent of those who said they had voted for Kasich for governor in 2010.
The political fallout for Kasich, who was elected by a narrow margin in 2010 (49 to 47 percent), is significant. Among the Kasich supporters who voted against Issue 2, his job approval rating has fallen to just 28 percent and only 12 percent agreed that Issue 2 was "the change that Ohio was voting for when it elected Governor Kasich and a Republican majority in the legislature."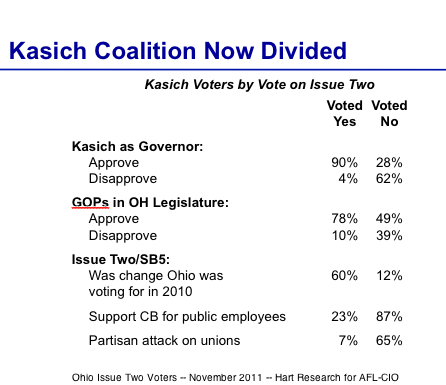 Two more questions suggest the fallout could also affect the ultimate Republican presidential nominee. After hearing that "Mitt Romney and Rick Perry have said they strongly support Issue Two," 49 percent of voters said they would be less likely to support Romney and 51 percent said they would be less likely to support Perry.
The survey also found overwhelming support for the principle of collective bargaining by government employees. Sixty-six percent of voters -- a slightly greater percentage than voted against Issue 2 -- said that "public employees who work for state or city government, or a school district," should be allowed "to engage in collective bargaining over wages, benefits, and working conditions, such as staffing levels." Just 27 percent said they should not be allowed.
The poll relied on random samples drawn from lists of registered voters provided by the Ohio secretary of state. On Nov. 6-7 by telephone, Hart Research interviewed 309 registrants who had requested mail ballots and said they had voted or were certain to vote. On Election Day, Nov. 8, the pollsters called another sample of registered voters who did not request early ballots and interviewed 706 who said they had voted. The interviews were weighted to match the actual proportion of early voters (20 percent) and the actual result (61 percent voting no on Issue 2).
According to network exit polls in 2010, turnout among Ohio voters was evenly divided between Democrats and Republicans (36 percent each). The AFL-CIO survey reflected a similar partisan balance. Democrats edged Republicans on the initial question about party identification (34 to 31 percent), but when independent "leaners" were included, the party division (40 percent Democrat, 41 percent Republican) was as close as in 2010.
Popular in the Community