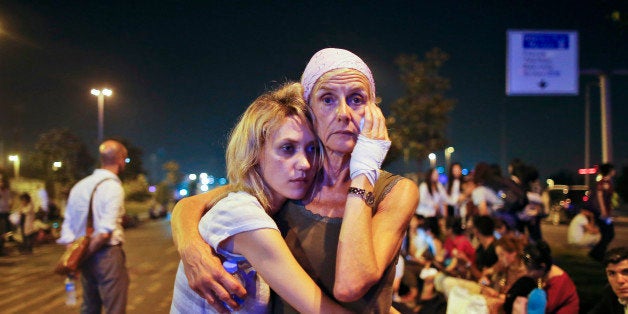 ISTANBUL -- I had returned from a long stroll to my Istanbul flat last Tuesday, when news of an AK-47 rifle-carrying militant shooting randomly at innocent people at Istanbul's Atatürk Airport appeared on my smartphone. I will not describe the attack here, which claimed the lives of 44 people, many of whom were airport staff, and instead try to remember what I was thinking before the attack, during my stroll in this "City on the Seven Hills." The denomination comes from Byzantine Constantinople and the city of Rome, and it was about the future of this city that I reflected on that day. Plans to write a book on the "New Istanbul," a determination to visit the superbly artificial, distant new neighborhoods of this ever expanding city and a mental note to find a photographer to accompany me for the project: those were the hopeful ideas I gathered in my mind. Many a curious tourist had wandered in this city in the last millennia, and I wondered how it would be like for me to wander along the city's new outreaches. Those plans disappeared by 10:00 p.m, when like Istanbul locals and tourists, I was reminded that Istanbul was now a city ruled by terror.
For a long time Istanbul had been the capital of nostalgia, what our great Orhan Pamuk has named hüzün: a city devoted to remembrance of things lost with the arrival of the 20th century and homogenization and nationalism, and all the other ills of modernity. Lately the city had been devoted also to invention of tradition and historical legacies: how we love to dream of an imagined harmony and perfect coexistence under Ottoman rule -- so useful to place political utopias into the past, rather than the future, so that we don't have to work to achieve them.
A Jeremy Corbyn-supporting English teacher tells me how he plans to fly back to London because Istanbul, where he lived for the past three years, is simply too intense: he would rather experience Brexit and Little England than die in the old capital of Orthodox Christianity.
Nowadays, Istanbul is the capital of anxiety and neurosis. Woody Allen would have a difficult time keeping his cool: most of my friends go to therapy and the seeming rise of anxiety disorders we witness in Turkey refuses to go away. A subway ride clouded by the ominous question about whether the city will allow you to reach your life goals, to make it to your next appointment, to arrive at the next station; an expert advising to widen security parameters so that they span around the airports (like Israel's Ben Gurion Airport); a Jeremy Corbyn-supporting English teacher telling me how he plans to fly back to London because Istanbul, where he lived for the past three years, is simply too intense: he would rather experience Brexit and Little England than die in the old capital of Orthodox Christianity.
Walking keeps away such anxious thoughts. It can give you a perfectly romantic view of the city, especially if you follow a nice route by the Bosphorus. "Constantinople is like the scenery in a theatre," Gérard de Nerval wrote when he visited the city in 1843. "It must be looked at from the front without going behind the scenes." Don't go behind the scenes (malls and museums), just keep on walking. Nerval also called Istanbul the "mysterious seal which unites Europe to Asia." There is, unfortunately, no way to walk between continents, since bridges are out of bounds for pedestrians. An undersea rail tunnel under the Bosphorus strait, called Marmaray, allows you to ride in between continents. It is there, when stuck in between continents and political systems, that I feel most uncomfortable these days. There are fears here of an attack to the ferry that shuttles between Europe and Anatolia. Istanbul as a bridge of cultures belonged to the noughties: the 2010s is the decade of ruptures.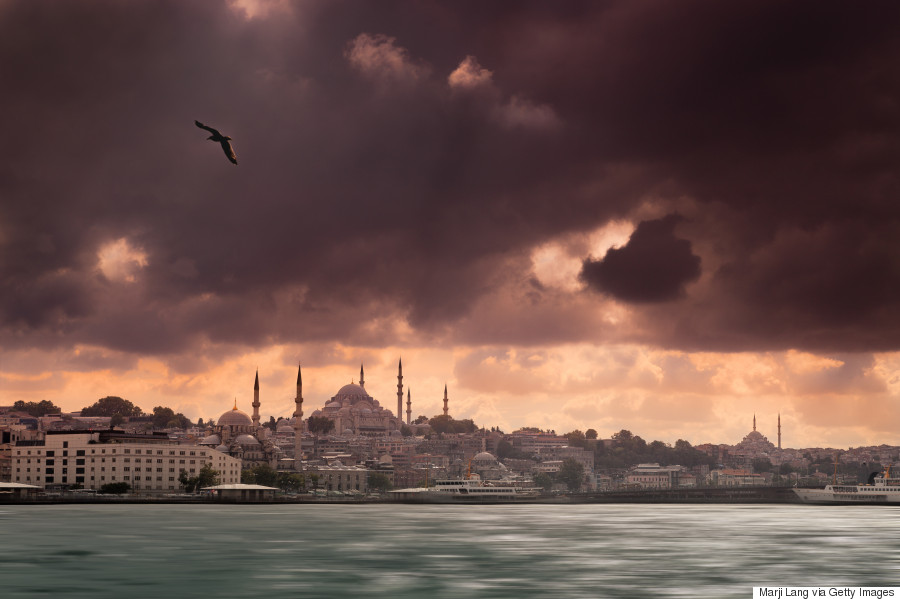 Cloudy sunset on the Bosphorus strait, Istanbul, Turkey. (Marji Lang/LightRocket via Getty Images)
I begin my strolls from the margins of Gezi, a public park close to my apartment. It is an ideal space for introverts like me who can place their backs against an old tree and browse through a new hardback on the grass. People are reading Elif Shafak's new novel "Three Daughters of Eve" these days (the English edition has yet to be published), and the cosmopolitanism of this lover of the city seems increasingly out of place. Reign of the present moment, terror that is, hardly allows to meditate on the past, our habitual consolation.
Looking at the Sea of Marmara in 1852, Théophile Gautier was reminded of the Thames between the Isle of Dogs and Greenwich. "The sky, very milky, very opaline, almost covered with transparent haze, still further increased the illusion," he wrote. These days, Istanbul certainly resembles the London of anarchist terror plots and the Greenwich bombing. For decadents like Arthur Symons who wanted to escape a citadel of modernity and fear, Istanbul offered some welcome relief. When he came to the city, Symons stayed in Kasimpasa, the neighborhood of President Recep Tayyip Erdoğan, and described a sunset he viewed from his window: "Stamboul fades to a level mass of smoky purple, out of which a few minarets rise black against a grey sky with bands of orange fire."
Istanbul as a bridge of cultures belonged to the noughties: the 2010s is the decade of ruptures.
This is the romantic Istanbul that lived only in the Moleskine notebooks of cultured travelers weary of modernity. To that city of dreams we can not return. But it was a nice city and there was joy in imagining Istanbul becoming its previous, romantic self again in the noughties, when people hailed Istanbul as a model city for the Middle East. The Istanbul of my childhood, in the early 1990s, was an anxious, unstable place: fearful of Kurds and Islamists, city administrators took extreme security measures and built glass walls in between different mahalles, or neighborhoods. It was this fragmented Istanbul that changed in noughties, but in the months before the uprising in Gezi Park in 2013, Istanbul again became fixated on order and security. Walking along its hills in spring days once more became unsafe. You simply didn't have the time to reflect on Istanbul's past, or else a molotov cocktail or a bullet or a tear gas capsule could take away your romantic-looking eyes.
Since then, the streets and parks became increasingly dangerous places. For city wanderers like me, this is sad news. This destruction of the present connects me to Istanbul's past: the heart of the ancient city, decorated by the statues of Augustus, Helen, Hercules, saw a militant walk into a group of tourists and detonate his suicide vest in January. Back then I was reminded of all the travelers who walked past those monuments, trying to imagine if they could imagine bombs going off in the city they considered so mystical and romantic.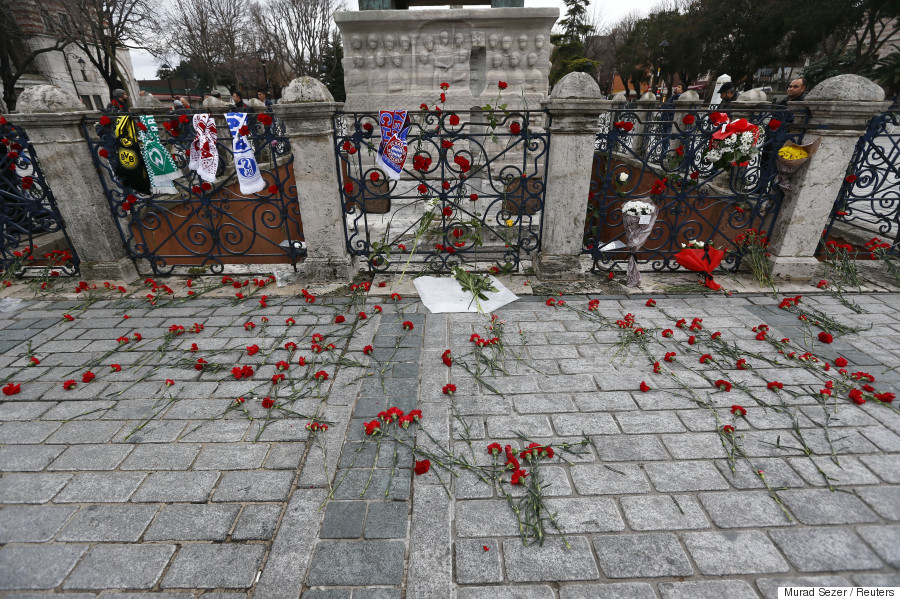 The scene of a suicide bomb attack at Sultanahmet square in Istanbul, Turkey January 13, 2016. (REUTERS/Murad Sezer)
During his visit to Constantinople in 1856, Herman Melville was very impressed by Istanbul's nature, and wrote about a "contest of beauty" between "Myrtle, Cyprus, Cedar--evergreens." When people ask why I insist on living in this dangerous city of terror and do not go to London or a less dangerous Turkish city in Anatolia, I think of Istanbul's steep hills, its conservative and hipster neighborhoods separated by invisible borders, and realize how I have always defined myself as an Istanbullu more than anything else. Dreamers and walkers like me will simply not leave this city, whatever may be in store for us.
PHOTO GALLERY
Turkey's Border Crisis
Calling all HuffPost superfans!
Sign up for membership to become a founding member and help shape HuffPost's next chapter