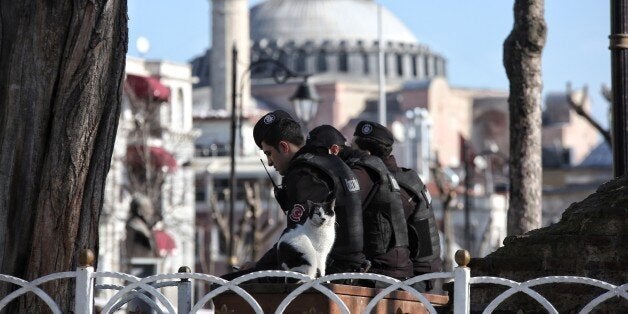 ISTANBUL -- Watching the footage of the aftermath of the suicide attack in Istanbul's Sultanahmet Square this morning brought back memories of three years ago. While researching for my book, "An Istanbul Anthology: Travel Writing Through the Centuries," I had found myself divided between reading rooms of libraries and Istanbul's touristic heart, which I visited frequently in the summer of 2013 when Istanbul's Taksim neighborhood had become a stage of violent conflict between protesters and police officers. I remember taking notes near the spot where the reported Saudi-born bomber detonated his suicide vest amidst a group of German tourists and others on Tuesday. It was once known as the "Horse Square," having being used as a hippodrome in Byzantine times. That the Istanbul represented by Horse Square -- a city of a huge wealth of ancient monuments -- has turned into a Conrad-esque stage of political terror during the past three years, must be surprising to those who had visited Istanbul during its more peaceful times.
It would certainly have shocked the famous 19th century decadent writer Théophile Gautier, whom I quote numerous times in my book. A favorite writer of Oscar Wilde, Gautier visited Horse Square in which "were collected the spoils of antiquity; a population of statues, numerous enough to fill a city, rose on the attics and the pedestals -- everywhere marbles and bronzes. The horses of Lysippus, the statues of the Emperor Augustus and the other emperors, of Diana, Juno, Pallas, Helen, Paris, Hercules, supreme in majesty, superhuman in beauty -- all the great art of Greece and Rome seemed to have sought a final refuge there."
As security personnel cordoned off the area where lay the bodies of the 10 dead and 15 wounded this morning, the square had turned into something else: a political stage.
As security personnel cordoned off the area where lay the bodies of the 10 dead and 15 wounded this morning, the square had turned into something else: a political stage. It was difficult to think that this had, in Byzantine times, been a place for chariot racing. Nor was it possible to remember how the Ottoman sultan and caliph of all Muslims on Earth, Ahmed III, had picked here as the place to commemorate the circumcision ceremony of his four sons in the early 18th century. The exquisite miniatures of the Ottoman book of festivities, "Surname-i Vehbi," depict the square in vivid colors; this is the real heart of ancient Istanbul.
The transformation of that Istanbul to this one has been the legacy of modernity. On July 21, 1905, a carriage filled with explosives was detonated near Istanbul's Yıldız Hamidiye Mosque, leaving 26 dead and 58 wounded. The attack had been planned by Armenian nationalists and carried out by the famous Belgian anarchist Edward Joris, who had been specially commissioned for this mission and transported inside the city. His mission: carrying out the assassination of Sultan Abdul Hamid II, who escaped the attack unscathed.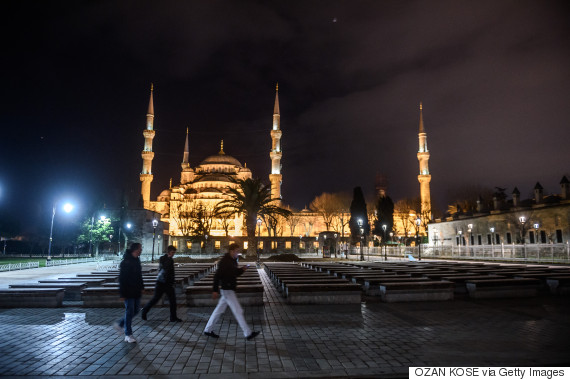 People walk in Istanbul's Sultanahmet district on Jan. 12. (OZAN KOSE/AFP/Getty Images).
Istanbul has always been a city of fires and earthquakes -- there was a big hotel fire at the other side of the city, and Istanbul locals had been waiting for a major earthquake during the past decade -- but terrorism had been mostly a rarity during the 20th century. I remember the death of Turkish author Onat Kutlar and the archeologist Yasemin Cebenoyan in 1995 in a bomb attack at the Marmara Hotel in Taksim. I remember, too, hearing the sound of explosives from my bedroom in 2003 when the HSBC headquarters and the British Consulate were hit by two truck bombs that killed at least 27 people and left hundreds wounded.
What has changed in the noughties and 2010s is the increased frequency of such attacks. On Dec. 23 last year, mortar rounds were fired from a forest to Istanbul's Sabiha Gökçen Airport, killing the 30-year-old airport cleaner Zehra Yamaç, who suffered a fatal head injury. A few months earlier, on Aug. 19, Istanbul's Dolmabahçe Palace was attacked with guns and explosives by militants.
'Everything here is breaking up, as with us.'
What would Gautier, or other decadents and European orientalists who visited Istanbul, make of such events?
"Everything here is breaking up, as with us," wrote Gustave Flaubert, who came to Istanbul in 1850. It was Flaubert's ominous but characteristically precise prediction that came to my mind as I watched the shocked faces of locals wandering Horse Square this morning.
PHOTO GALLERY
Death Toll In Turkish Clashes Rises
Calling all HuffPost superfans!
Sign up for membership to become a founding member and help shape HuffPost's next chapter