Protesters filled the streets of Turkey on Saturday, the second day of intense clashes between demonstrators and police.
One protester was Gokce, 32, a Turkish businesswoman who asked to be identified only by her first name. She said she had been attending the protests in Istanbul's Taksim Square for three days, and plans to keep going back. Peaceful protests began earlier in the week over plans to redevelop a park in the square, but a harsh crackdown by police has prompted violence over the last several days.
Gokce said the mood on Thursday was like a festival, with singing and chanting. She went home at about 1 a.m., and learned a few hours later that police had pepper sprayed demonstrators who remained overnight. It only hastened her resolve to rejoin the protests that night, she said.
"Me, and I think many of the people who are protesting, are protesting for the first time in their lives," she told The Huffington Post from Istanbul. "They're white collar ... normally, these people don't protest in Turkey. Today was the most significant day of my life."
The prime minister said earlier Saturday that, "Taksim Square cannot be allowed to be a place where marginal groups can freely roam."
"He's saying we're marginal," Gokce said. "It's my uncles and aunts, everyone, chanting. No one is marginal. These are real people."
Schuyler, a tourist from Seattle who asked that only his first name be used, was also at the protest.
At first, "it was a very festive mood, people were smiling and shouting and clapping, sharing supplies," he said in an email.
"The southeast section of Taksim Square was practically walled off by buses, police buses, and vans with water cannons," he wrote. "The police were mainly in a tight formation next to the park, and had their equipment ready. Many protesters began to boo the police, and a few empty water bottles were thrown ... The police quickly lined up their riot shields into a phalanx, sort of like in the movie 300, and began shooting gas everywhere."
See photos of the protest from Schuyler, and other HuffPost readers, below: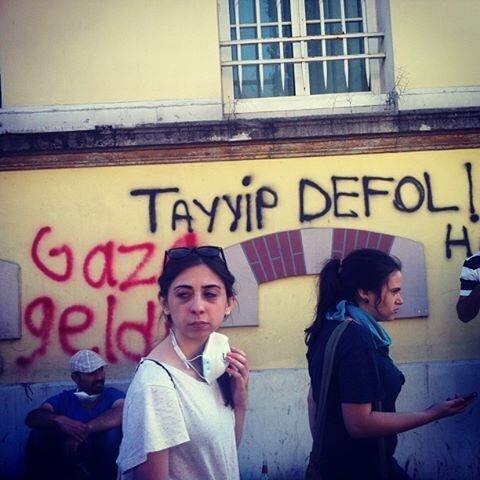 HuffPost Readers' Photos Of Istanbul Protest
Ryan Craggs contributed reporting.
HuffPost Readers: If you're in Istanbul, we want to hear from you about what's happening there. Send your stories, eyewitness accounts, photos, videos, and anything else you want to share here. Include a phone number if you'd like to be interviewed. Let us know if you want to remain anonymous.