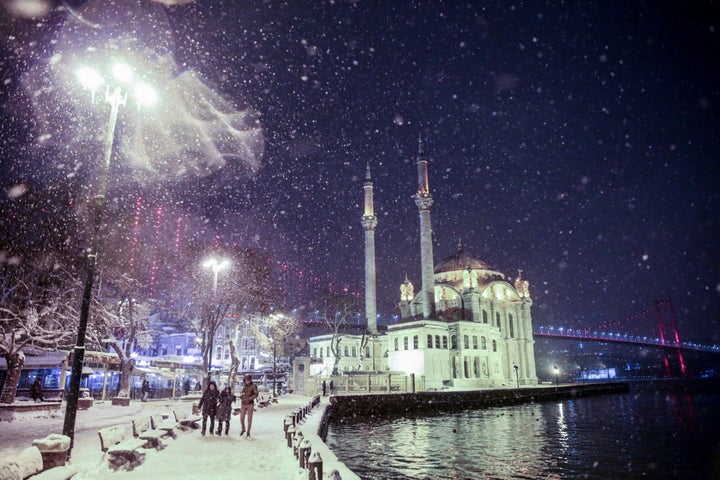 ISTANBUL ― Snow saved Istanbul. For a time, that is. Locals knew that the feeling of bliss snow brought to the city would be momentary, and so tried to make the best of it. As flakes fell from the sky, the city was relieved of its status as the new destination of international terror. Like a short-lived romance, the snow was destined to be experienced in a matter of a few days and charm and leave us, but it could potentially also save us from the anxieties and hopelessness inflicted on this great city in the past year.
The day it began, last Friday, I was in Bebek, and the sun was warming seaside cafes. I sat close to the house once inhabited by Erich Auerbach, the exiled Jewish scholar who wrote his masterpiece on the representations of reality in western literature, Mimesis, in Istanbul where he lived away from the horrors of Nazism of his native Berlin, from 1936 to 1947. Now one could come across refugees from Syria in the same neighborhood, similarly welcomed to their country by Turks.
The Bosphorus seemed calm as I was reading a story from Arthur Conan Doyle's Gothic Tales. The outside tables and chairs were wet from the rain of the previous day, but the first coffee of the day and the sunny view made customers forget about all that. They lit cigarettes and enjoyed the silence of the sea. Before noon, clouds materialized on the skyline, the sun disappeared and a cold breeze rose from the sea. There was a hint of something chilling in the air, and I felt relieved that it was not man-made.
There was a hint of something chilling in the air, and I felt relieved that it was not man-made.
Bebek is about a 10-minute drive from Ortaköy, where 39 people were killed on New Year's Eve. On my way to the seaside café I had passed by Reina, the nightclub where the massacre took place. Still a crime scene, the carefully cordoned place was surrounded by a massive number of police officers. The killer is still on the run. There were rumors that morning that he was seen in Kurucesme, the adjacent neighborhood best known for its laid-back restaurants and expensive houses. The police were stopping pedestrians and buses, body searching anyone who seemed suspicious. Bearded men topped that list, although both the suspected Reina attacker and the assassin who killed the Russian ambassador in the capital Ankara last month were clean shaven men who did not fit the Hollywood image of a terrorist. 
"It takes such a long time for me to get home," a teenager barista told me when I asked him if the police searches on the street got on his nerves. He immediately seemed disturbed by his complaint, however. "This nation is great and nobody will be able to divide it," he added.
Walking under dark clouds, I hopped into a bus. Although the traffic jam from Bebek to Taksim seemed infinite (Auerbach would commute the same road much more easily, by tram, which was later removed), I felt grateful for being safe from the breeze and the rain. The soundtrack of the film "La La Land," that started screening in Istanbul cinemas that day, was on my Spotify and while listening to Emma Stone sing about dreamers, I didn't quite realize what was going on around me. By the time I took off my earphones, all the passengers in the bus were gone. The driver was shouting at me. "The police blocked the road from here to Ortaköy," he said. "Buses are not allowed. Pedestrians are not allowed. You will have to find a different way to go there." He showed me the door and opened it.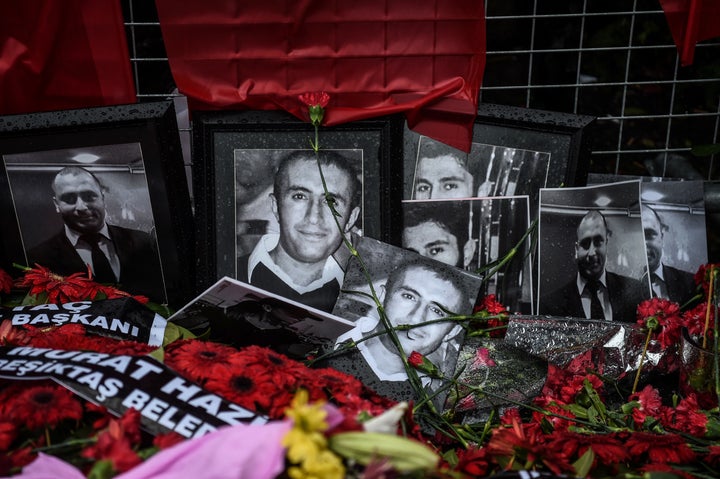 In Arnavutköy, the young waitress of a restaurant where I took refuge brought a plate to my table. "I guess we will need drones to travel in this city this year," I joked. "If only they could carry packages as big as our bodies," she replied, pouring water in my glass. "Perhaps they can transport us limb by limb," I said. None of us laughed.
And then, snow began. In Cihangir, the city's hipster heart, exchange students watched from their windows the whiteness that seemed intent on taking control of the streets. There was something rebellious and sublime about it ― the snowstorm was more powerful than any political organization. It was also alarming, since the decrease in temperatures were so swift that reaching home became the Homeric goal of Istanbul locals. Once indoors, they would see what waited in store for Istanbul and decide on what they would do about it.
They went out. Papers reported that it was the heaviest snowfall to the city since 2009. But my mother said since 1987 nothing of this sort was seen. "We have had to cancel your birthday party that year, it was so sad," she remembered. "As for today, well, we are snowed in. If you visit us today you won't be able to go back," she warned.
It became impossible to see whether the guy next to you had a beard, or the girl in front of you was a progressive or conservative. I imagined that we were living the life we have always imagined living.
Saturday afternoon brought endless pics of snow-covered streets to many people's family WhatsApp groups and Instagram feeds. A calligraphy scholar friend who had just arrived from London, which saw the one of the warmest Christmas seasons in British history in December, was unprepared for the storm. I spent an evening with him and his girlfriend in Nişantaşı, on the lookout for winter boots. By evening this neighborhood, populated by the likes of Gucci and Versace stores, was covered by a thick layer of ice. Wealthy pedestrians walked slowly, their every step put forth with extreme caution, as if imitating an investment decision. On a pavement near Pamuk Apartmanı, the apartment owned by the family of Turkey's nobelist (and featured in his masterpiece The Black Book as "the Heart-of-the-City Apartments"), workers were warning pedestrians about a possible electric leakage. They were told to cross the street, so as to stay alive. Life slowed down for Istanbul's flâneurs that night, and brought about images of snow from films and books. As an old resident of Amsterdam, I was reminded of Dutch painter Hendrick Avercamp's wonderfully mundane depiction of ice skaters enjoying on a frozen river, "Winter Landscape With Skaters."
By Sunday morning, the snow had created labyrinths in Istanbul. There were walls of snow and walking in between them, I came across friends and relatives. I headed to the direction of the public broadcasting building and the military museum in Harbiye, sites of battlefield during last year's July 15 coup attempt. They were now silent, their personnel hidden, their façades symbols of purity. A young girl was getting ready to place some snow near the neck of her boyfriend. An elderly couple walked by them slowly, their careful steps moving mechanically. When the city's mayor announced a few hours later that schools would be closed the following day, children celebrated on streets. The subway was open through the night ― we have had the London-style night Tube thanks to the weather.
The next day, with snow showing no sign of stopping, Istanbul had become "La La Land," a dream world. It became impossible to see whether the guy next to you had a beard, or the girl in front of you was a progressive or conservative. I imagined that we were living the life we have always imagined living. Winter coats served as great equalizers and there was joy in hiding inside them and focusing all our energies to moving forward. Complete strangers helped those who slipped on icy pavements. Shopping malls allowed stray dogs inside at night. People brought food and blankets to them. A cat sneaked into a lingerie store and walked gracefully towards its warm corner.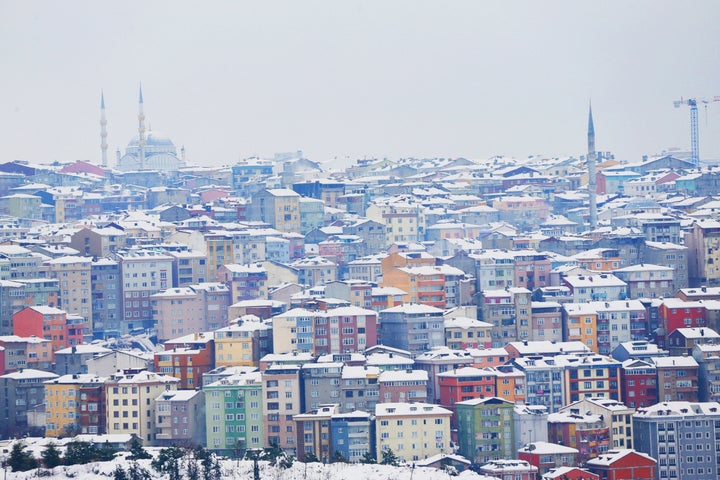 As snow turned to ice, a pharmacist shoveling away cubes in front of his store Tuesday morning seemed unconcerned about all the other issues of the world. But there was also the realization that reality would make a return the next day. Watching the snow-covered city from a café that night I was reminded of "Beauty and Love," the masterpiece of the greatest poet of Ottoman Turkey, Seyh Galip. In possibly the most elaborate and dense poem of 19th century Turkish literature, Galip wrote about the mysteries of snow in Istanbul. He had devoted a section of the work to "Night and the Violence of Winter" and wrote about losing one's path in a land black and wild. During "the long night of winter," Galip wrote, "Despair and terror welded as one / At times snow, at times black darkness rained down."
As the city waited for morning, when the snow was expected to leave the city, a group of youngsters was drinking on the street. Tomorrow the streets would be covered with mud and this brief intermission of snowy days would turn into a memory. But it was still out there, covering all our pains and anxieties beneath it, like miracles one only finds in musicals.   
Kaya Genç, a Turkish novelist, is the author of Under the Shadow (I.B. Tauris).
Calling all HuffPost superfans!
Sign up for membership to become a founding member and help shape HuffPost's next chapter
BEFORE YOU GO
PHOTO GALLERY
Istanbul Nightclub Attack