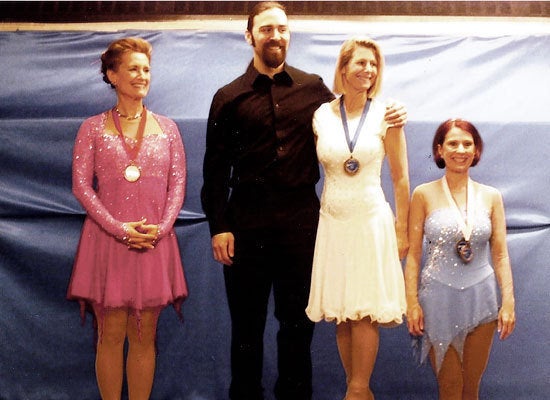 One of the reasons I started my website, is that I wanted a place for women to come together and dream. Women should know that they don't have to hang on to an old dream that has stopped nurturing them -- that there is always time to start a new dream. And sometimes an old dream can be brought back to life. This week's story is about a woman who put her dreams to rest for decades before skating back into the spotlight where she belongs. – Marlo, MarloThomas.com
From the time Paula Shuman was four years old, she knew exactly who she wanted to be. It all came to her in an instant. The instant she heard the swooshing sound of skates on ice, and saw a blur of beautiful women swirling onto an Atlantic City stage in ballroom dresses.
"My parents had taken my older sister and me to see the Ice Capades," Paula remembered, "and I was mesmerized. So much so, that I remember my mother saying, 'Sweetheart, the people who are skating don't know you like what they're doing unless you clap.' But I just couldn't take my eyes off the stage."
Despite her young age, Paula had already tried a few spins of her own -- out in the backyard of her West Hartford, Connecticut home. Each winter, as the temperature dropped, a gully that ran through the neighborhood, would freeze up and create a path of ice.
"After seeing that show, I knew I had to get to work!" she laughed. "At the time I only had starter skates -- the kind with the double blades. But my sister had the grown-up kind, single blades that allowed you to glide, the way the dancers did on stage.
"I was just in kindergarten, so I'd come home at noon, and after lunch I'd sneak into her closet and slip on her skates. I'd stuff a couple pairs of socks inside, to make sure they fit snugly, and then I'd bundle up in a snowsuit and hustle out the door. I had to get outside and into the deep snow before my mother could see what I was doing!"
Paula would spend the entire afternoon trying to recreate what she'd seen on stage. There were areas of the gully that narrowed to only six inches of ice that other kids saw as obstacles, but for Paula, they provided the perfect platform for her to practice skating on one foot.
"I always wondered why my mother would call me in after just a few hours," Paula said with a smile, "but eventually I realized she was watching the entire time. She wanted to get me back inside before the school bus pulled up and my sister saw what I was doing!"
As the years passed, Paula began to outgrow the frozen gully -- but not her dream of one day performing in Atlantic City. She begged her mother for skating lessons, but there simply wasn't money to spare. And with her eye on her daughter's future, her mother would gently ask, "Honey, where do you think that training is going to take you?"
As Paula graduated from high school, she took her mother's words to heart. She enrolled in classes at the local hospital and began studying to become a radiographer -- putting her dreams of becoming a professional skater on ice.
"I still skated for fun, just not in the backyard anymore," she said. "I'd go to the ice rink the way other people would go to the gym. But then one day a coach noticed how comfortable I was on skates and offered to work with me."
With a little practice, it wasn't long before Paula was teaching other students. It was supposed to be a part-time job -- just something to do until she graduated from the hospital's X-Ray program. But all of that changed when the Ice Capades came to town. And they were auditioning.
"The job market was tight," Paula recalled, "and I couldn't find a position in radiology, so I thought, 'why not?' And there I was -- up on stage skating for JoJo Starbuck and Ken Shelley. They were Olympic champions. It was like a dream come true."
Paula aced the audition and got an offer -- with one small caveat: she had to take off 20 pounds, in spite of the fact that she was already a size five. She'd also have to cover her own costs on the road. Somehow it didn't seem like the glamorous life she'd always imagined. So she hung up her skates for what she thought would be the very last time -- opting for a more secure situation as an X-ray technician. Until 23 years later, when it all came circling back.

"For years I'd have dreams that I was on the ice," Paula said with a hint of sadness. "But I'd boxed up my polyester skating skirts and I was busy working and raising a family. Until one day I was in the operating room, preparing to X-ray a patient's gall bladder, and I overheard a nurse talking about skating."
As it turned out, her colleague was taking lessons at the very same place where Paula once taught: "We started to talk and when I told her I used to skate, she suggested that I come by. But I just wasn't sure; it had been so many years. Then one day I ran into her and she started flapping her arms and clucking like a chicken. She was bringing me a message from an old friend who still skated at the rink. He was calling me a coward, and I'm way too competitive to just shake that off!"
So more than two decades later, Paula laced up her skates. And that old friend, who playfully coaxed her back not only greeted her with open arms, but offered to become her coach.
"I spent a lot of time on the ice," she admitted, "sitting on the ice. Every time I tried to skate the way I used to, I'd fall down. You know what they say about learning to ride a bike again -- that it all comes right back? Well, it's nothing like that. I had bruises on my body the size of dinner plates, all over my hips and my butt. It took three weeks for them to go away! But I still loved that feeling of gliding across the ice."
Paula loved it so much that she began skating several times a week, eventually sharpening her skills enough to compete in national ice dancing events. She trained with world-renowned figure skating athletes Melissa Gregory and Denis Petukhov, and even learned to do the kinds of lifts and spins she first witnessed on that Atlantic City stage.
"The girls at the rink say I'm the only one on the East Coast doing death spirals at my age," she said with delight. But I can't say this has always been easy, physically or emotionally. There were a few times I wanted to throw in the towel and others where I thought I should be saving all the money I'm spending on training and competitions. But this is a part of my soul and it's about what you do with your life."
And this past April, at the age of 59, Paula did something spectacular. She and her coach Garrett Brockert took first-place, for the second consecutive year, in the Southern Connecticut Skating Club's Pro Am competition.
"When they put that medal around my neck, it wouldn't have mattered to me if it was made of tin foil. It was a moment like nothing else in my life; a moment of pure accomplishment.
"It's the most wonderful feeling ever," she said, "to have a dream and to be accomplishing it."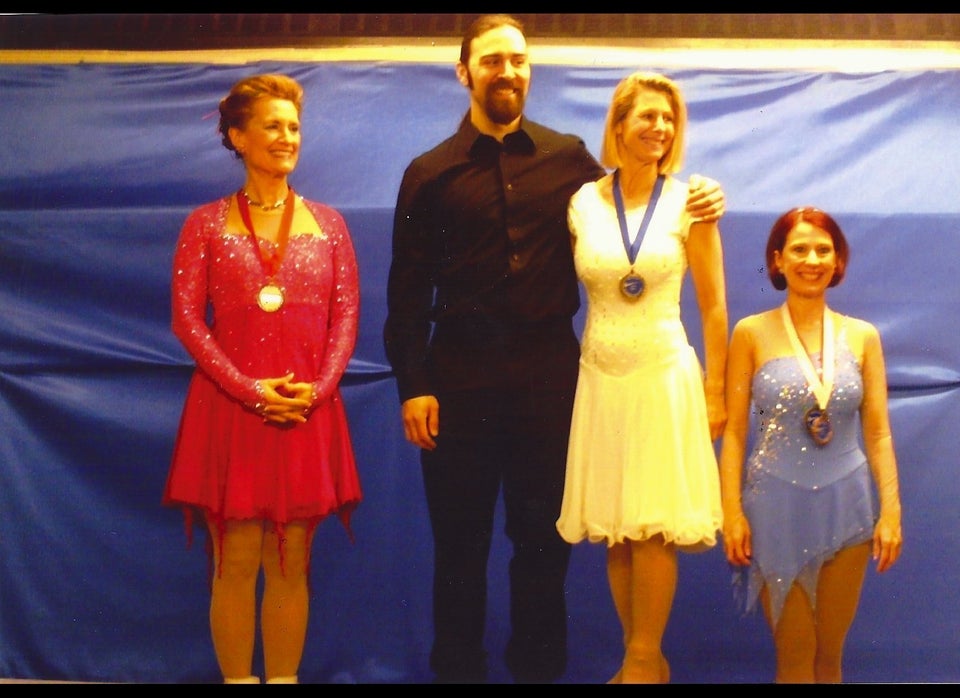 It Ain't Over: Paula Shuman
Sign up to receive my email newsletter each week - It will keep you up-to-date on upcoming articles, Mondays with Marlo guests, videos, and more!
Related
Popular in the Community