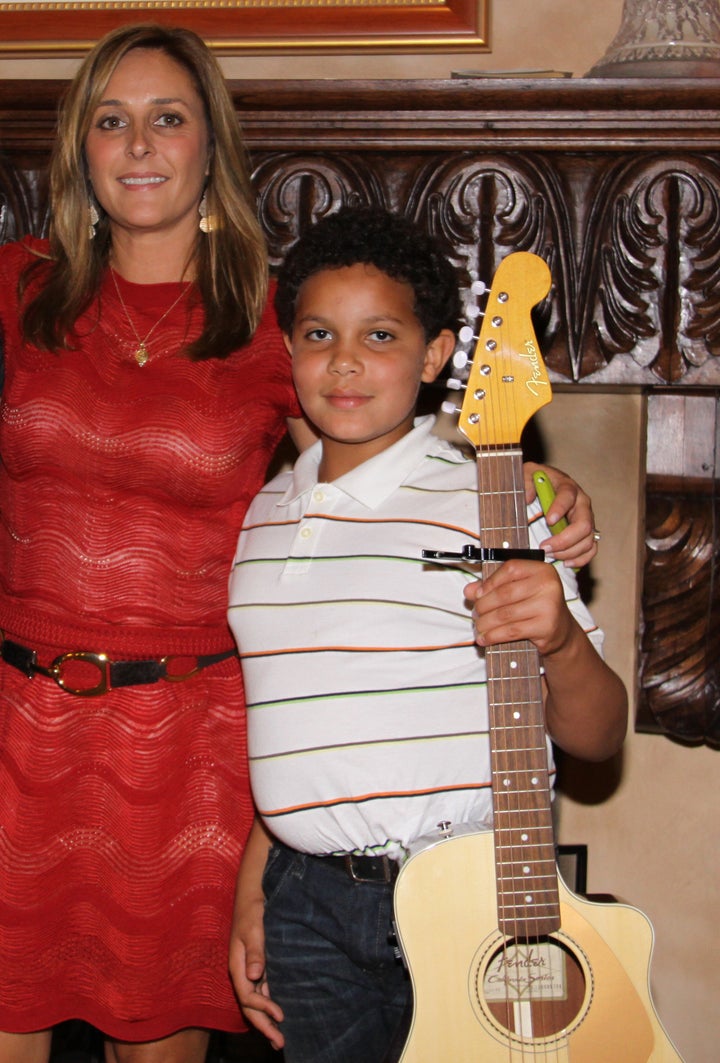 One of the reasons I started my website, Marlothomas.com, is that I wanted a place for women (including me!) to come together and dream. Women should know that they don't have to hang on to an old dream that has stopped nurturing them - that there is always time to start a new dream. In that spirit, I'm so excited to introduce a new series called It Ain't Over, profiling women who have pursued -- and fulfilled -- their dreams and passions, no matter what their age or circumstances. I find these stories endlessly inspiring. I hope you do too.
It was a beautiful summer night, and as Karyn Scott tucked her two little girls into bed, she could hear the music playing just below their windows, lullabying them to sleep. Karyn had lent her backyard to a friend for a fundraiser and fully expected a local church group to be providing the entertainment-- but when she heard a song that took her breath away, she began to wonder just who was behind the mic.
"It was a song called Star of Wonder and it was about clinging to hopes," Karyn explains. "Little did I know that's exactly what the guys in the band were doing."
The band, Alpha Rev, was one of thousands in the Austin, Texas, area. They'd been struggling to get attention, playing any gig they could land, while Casey, the lead singer, lived out of his car.
"I couldn't get them out of my mind," Karen remembers, "so a year later, when we were planning a Christmas party for my husband's employees, I tracked them down and booked them. I was stunned to find out that they still hadn't been discovered. And then, that night at the party -- as I heard them play again -- I don't know what came over me, but I heard the words come out of my mouth: 'You know that record deal you want?' I said to Casey. 'I think I can get it for you.'"
And with that, Karyn became the band's manager, despite the fact that she'd never worked a day in the music industry.
Karyn was an attorney by trade, but had left the Austin District Attorney's office, where she had worked with troubled youth years earlier, so she could devote her time to her children. What she didn't know that first night, as she listened to these young men play under the stars, was that their music would bring her full circle -- that she'd not only be helping them fulfill their dreams, but the experience would lead her to change the lives of children others had given up on. But first, she'd have to do what most people in the music industry considered impossible.
"I've had managers tell me that they've worked ten years before getting a record deal," she said laughing. "I had no idea how difficult it really was. I didn't know what to be afraid of. Had I known, I don't think I would have done it!" So at 40 years old, this stay-at- home mom forged ahead, learning everything she could about the music industry -- studying the faces of record executives, just in case one might show up at a performance, and even financing a record for the band. "We named the label Flyer Records -- because we thought we'd just 'fly it' and see where it lands."
Every step of the way, Karyn hid the fact from music industry colleagues that, as she was booking the band, she was also baking cupcakes for her kids. "There was a band called Blue October that I really wanted my guys to open for; and the day their manager called, my kids were out of control. I had to lock myself in a closet and put a load of laundry over my head while my kids were banging on the door. When the manager asked about all the noise, I told him I lived next to a daycare center!"
One gig led to the next, and Karyn's persistence quickly landed Alpha Rev a coveted spot at a college music festival. But it was her attention to detail that helped her scope out a music scout who was sitting right behind her. She quickly introduced herself and, within weeks, she landed the group an audition.
"I got a call while I was on the playground with my kids. The president of Disney's music group wanted to hear the band. All I could think about was how to schedule this around my daughter's debut as the Thanksgiving Corn Princess at the pre-school pageant."
In the end, both the band and the Corn Princess got rave reviews -- and the band got a record deal. It had been less than one year since Karyn had begun representing them.
And yet just as things were taking off -- the band began touring, and was even spotlighted on VH1 -- Karyn walked away from it all. "It didn't take long for me to become disillusioned with the business of the music business," she says, somewhat wearily. "I was tired of all the fighting and back-stabbing, and I just wanted to do something positive. For some reason, I kept thinking about the kids I used to see coming into juvenile court when I was at the D.A.'s office -- kids who had no real support. While I was managing the band, I had heard about an organization called Magic Music, which matched up music teachers with students for a fee. And I couldn't help but wonder what kind of magic might happen if we could give children without families the same opportunity to realize their dreams that I'd given Alpha Rev."
So once again, Karyn jumped in without a real plan. She started culling her contacts in the juvenile court system and connecting them with her new friends in the music business. Before long, she founded a non-profit, Kids in a New Groove, and was funding music lessons for 60 foster kids in Austin, Houston and Dallas.
"There are a lot of programs that target disadvantaged youth," Karyn explains, "but they don't reach children in foster care because the kids keep changing schools. I have one girl in our program who's been in six homes in a year-and-a-half. These kids have a lot of trauma. They face a lot of abuse. The music gives them something positive to focus on, goals to reach, and mentors they can count on."
And now Karyn has a new goal of her own -- to see the kids in her program continue their education. The national average of foster kids who make it to college is currently two percent. Four of the 60 children mentored by Kids in a New Groove are already on their way.
"We've got a long waiting list, but we've also got a long list of people who want to help," Karyn says with a smile. "In 2010 we threw a fundraiser and expected to raise $15,000. By the end of the night, we'd raised $70,000. So we set our sights on the $100,000 mark for our 2011 benefit and we brought in every penny!"
Grants are also beginning to roll in, and last year, the legendary Moody Blues partnered with Kids in a New Groove to collect gently used instruments. Today, Karyn is touching the lives of foster children in Texas, but it won't be long before she starts having an impact nationwide.
"I always thought that other people could do big things -- not me," Karyn says. "But now I see what's possible. I had no training in these areas, but I listened to my heart and took a leap of faith, and it led me to where I am now.
"Follow your passion. It may not work out with the exact fairy tale ending you envisioned, but it could lead you to something even bigger."
Sign up to receive my email newsletter each week – It will keep you up-to-date on upcoming articles, Mondays with Marlo guests, videos, and more!
REAL LIFE. REAL NEWS. REAL VOICES.
Help us tell more of the stories that matter from voices that too often remain unheard.