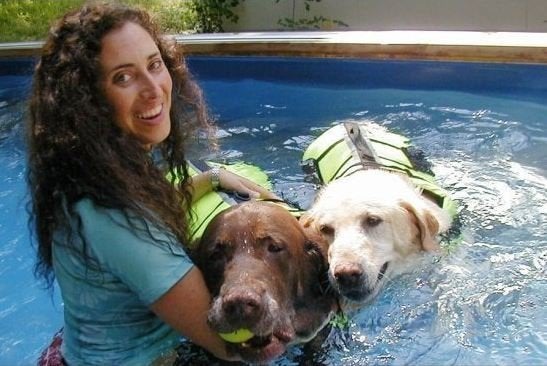 One of the reasons I started my website, Marlothomas.com, is that I wanted a place for women to come together and dream. Women should know that they don't have to hang on to an old dream that has stopped nurturing them -- that there is always time to start a new dream. This week's story is about how one woman's life and career were forever changed by her beloved dog, Sylvester. -- MT
From the time Randy Handwerger was a child, she had a magical connection with her pets. At four, it was as if she communicated telepathically with her Golden Retriever Norna, silently signaling to the protective pooch each time she even considered tackling the big stairway. Norna would stand guard, sensing a big tumble, always ready to lick away Randy's tears.
By the age of 10, she was teaching Charlie, her Black Lab and Beagle mix, to take turns with her on a giant slide at the local playground. And when Sugar Bear, the family's White Shepherd, lost his hearing, she trained him to respond to hand signals.
So no one was surprised when Randy announced in grade school that she wanted to become a veterinarian.
"But there was one little problem," she says, laughing. "I couldn't bring myself to dissect a frog."
Instead she became what some might call the Dr. Dolittle of East Hampton, New York -- but with a camera instead of a stethoscope: a professional photographer who specialized in pets and could "talk" to the animals in ways most pet owners found amazing.
"I'd photograph dogs on the beach, dogs by the bay -- wherever they were the happiest," Randy says with a playful smile. "It's funny, I was always nervous about setting the camera right or finding just the right light, but I was never anxious about getting the animals to do what I wanted them to do. I always knew how to make them laugh."
So when it was time for Randy to adopt a new little friend of her own, it was natural for her photographer's eye to be drawn to the pretty pups of a pair of silver Shiloh Shepherds she had photographed for a client. Yet one little guy, the most unpretentious of the playful group, kept nuzzling up to her ear -- almost as if he was whispering that he was choosing her. She named him Sylvester and, overnight, he was her everything.
But what Randy didn't see coming was that her affectionate little friend was about to change her life. She was on her way to becoming more like Dr. Dolittle than she ever imagined -- not only "talking" to the animals, but healing them.
"Sylvester became my best friend, my roommate, my constant companion," Randy recalls. "He loved to come to work with me, and as he grew to 115 pounds, he kind of became my assistant. He'd shepherd the little dogs I was photographing to make sure they'd stay in place, or he'd bring me a new lens when I needed it. And he was my very best model! He got so used to being photographed that he'd wait until he'd hear my camera rewind before he'd get up and come over for kisses.
"I went cross-country skiing one day during a major snow storm," Randy continues, "and I took Sylvester along with me on a very loose leash. Every time it looked like I was about to fall, he'd jump in ready to catch me! As it began to get dark, he started to follow behind me -- or at least I thought that's what he was doing. But actually, he had put his paws and front legs on my skis, so he could get a free ride!"
But as it turned out, Sylvestor wasn't playing. He was struggling.
"That was the first sign that something was wrong," Randy remembers, trying to hold back the tears. "Sylvester seemed lethargic, like he didn't want to do anything. At first I thought it was Lyme disease because we spent so much time hiking in the woods. But when I took him to the vet, I found out it was much worse."
Sylvester had degenerative myelopathy, a disease that affects animals in the same way multiple sclerosis affects humans. He was losing the use of his legs. Worse yet, he was given three to six months to live.
"At first I cried -- but then I said 'No way!' I wasn't going to give up that easily on my guy. I searched the internet for answers, until I found something that I thought might work, a website that suggested trying exercise. That's when I decided I was going to become Sylvester's personal trainer!"
Randy began walking Sylvester every other day until he built up some strength. Soon he was up to two miles daily and even began skipping. So, next, Randy did what any other trainer would do; she mixed up his work-out and decided to take him swimming in the bay.
"He didn't like that so much," she says giggling. "He'd hold on to me like a child! I think it was the waves. So I did the next best thing -- I took him to my dad's pool. I just made sure the pool guys got all the dog hair out before my stepmother arrived for the weekend."
Randy's idea paid off. In the pool, Sylvester didn't have to carry his body weight. "It was so much easier for him. I'd tell him to take a lap and he'd do it; I'd say 'come to me' and he loved it. It would make him so happy that, when he got out, he'd shake off the water and run laps around the pool."
But with winter around the corner, Sylvester's little paradise was about to shut down. Desperate to keep her friend swimming, Randy was determined to draw attention to his plight. So she papered the town with fliers that included a photograph of herself -- in a bikini -- swimming with Sylvester, and asking for help from anyone with a pool.
And to no one's surprise, she found one -- a portable swim spa that a new homeowner was trying to get rid of. The only hitch: the spa, which had been disassembled, had to be transported across town. But nothing stands in the way of a woman and the dog she loves, so Randy enlisted her entire yoga class, who came to her aid with a caravan of trucks.
"I had friends from all kinds of trades," she says. "One helped me draw up plans. Another helped me dig the hole. Every day, I'd work on putting the swim spa back together, and at night, I'd watch the video from the spa company and learn what to do next. I just wanted to get water in there. I just wanted to save my dog."
Two months and a home equity loan later, the swim spa was ready. Randy was, too. So on a chilly January afternoon, dressed in two wet suits, boots and a hoodie, Randy introduced Sylvester to his new heated spa. And despite the cold air, he happily dove in.
It wasn't long before word got out about Sylvester's exercise routine, and other pet lovers came calling. Suddenly Sylvester had lots of friends coming over -- dogs with aches and pains, dogs with a little extra weight, and dogs who just needed to chill out.
And Randy found herself with a new profession -- as a "personal trainer for pooches."
"I think Sylvester was actually relieved to get a break," Randy says with a grin – "that is, until he'd hear me say, 'Silly boy!' to another dog. Then he'd start moaning. He wanted me to know that he was jealous!"
Sadly, Sylvester lost his battle. But he lived a year longer than anyone expected, swimming even on his very last day. And in his honor, Randy enclosed the area, creating the S.S. Aqua Dog Swim Spa -- a place where she could heal other dogs, as Sylvester's memory continued to heal her.
"I wasn't setting out to change careers at 40," Randy says softly. "I just wanted to help Sylvester. But he helped create a new life for me.
And maybe that's the lesson. Follow your heart and it will take you where you need to be."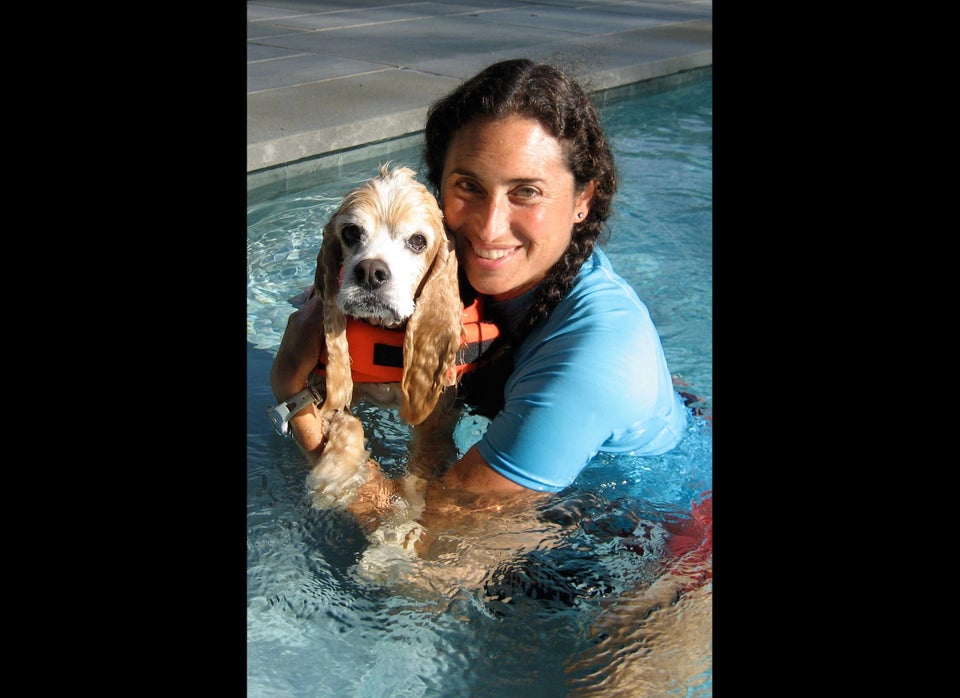 Saving Sylvester
Sign up to receive my email newsletter each week - It will keep you up-to-date on upcoming articles, Mondays with Marlo guests, videos, and more!
Popular in the Community