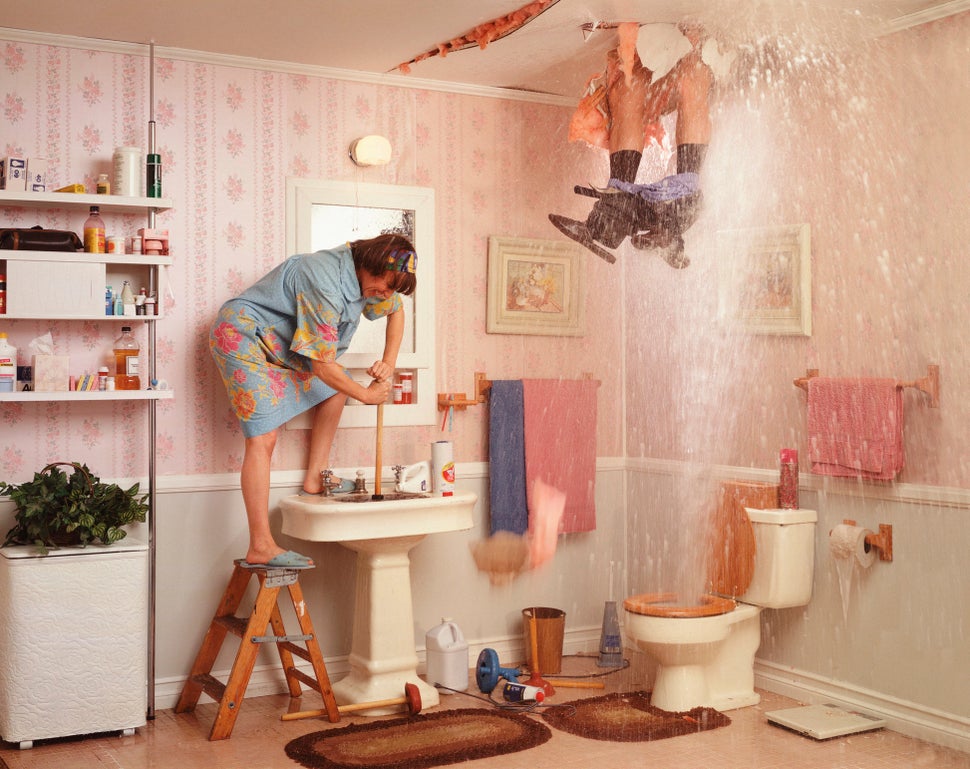 There is nothing more terrifying than watching as a bowl full of (dirty) toilet water threatens to rise up, flow out of the bowl, and cascade onto your bathroom floor. At first sight, you think, "Oh, I hope it stops," which quickly turns to self-questioning, "It's going to stop, right?" and then the real panic sets in: "Oh, no — it's definitely not stopping."
But even scarier than the dreaded overflow are some of the downright crazy stories we've heard that have caused these drain debacles in the first place. We've teamed up with Liquid-Plumr® to share a few of the most hair-raising tales of terrible clogs, from plumbing professionals and average joes alike.
Giving New Meaning To "A Chicken In Every Pot"
"I caught my significant other trying to dispose of a roast chicken carcass using our toilet. He thought a toilet could act like a garbage disposal. Yes, we're still together." — Julie T., Westchester, NY
#PartyFoul
"I had a friend visit me at college during the biggest drinking week of the year. I took him to a party where he got drunk [and sick]. However, when he went to take care of his business, the toilet was occupied, so he [threw up] in the shower. The drain wasn't big enough, so we had to get a plunger and a dustbin to clean out the shower. My friend never visited me again." — Hazel S., London
Salad Spinner
"At [my work], we get calls for a lot of crazy clogs. A few of the wilder ones have included candle wax, toys [think marbles, Hot Wheels, and tiny action figures], all dropped down the kitchen drain. One technician found lettuce clogging up a washing-machine pump — the owner wanted to spin-dry a large bunch of lettuce to get ready for a big party." — Larry Costello, Hoffman Estates, IL
The Hit List
"[At my office] we keep a running list of all the crazy things that we've found clogging up pipes. Among our most unbelievable include false teeth, an entire mophead, a snake (yes, an actual snake), the family goldfish, and a pair of men's briefs. We once found an entire bedspread while doing a drain cleaning. We still don't know how that was even possible." — Paul Abrams, OH
The Ghost Of Freshmen Past
"During my freshman year of college, I was living in student housing. About a week in, I turned on the shower, and poop started coming out of the faucet! The plumbers came and found an entire beer bottle inside the shower pipe. How? I still have no idea." — Elise V., FL
Medal Of Honor
"[I once] went to the home of a retired U.S. Army veteran to repair his washing machine. He asked me to be on the lookout for a St. Christopher medal — a gift from his wife 50 years prior, from when he had been deployed to Korea. The medal had gone missing from the man's wallet when he accidentally ran the wallet through the wash cycle. I went to work on the washer, but saw no trace of the missing medal. Later on, I decided to take another look, dismantling the old tub and basket that were still on my truck. And buried in a small hole, in one of the ports at the bottom of the tub, was the lost medal! I didn't want to risk putting it in the mail, so I decided to [drop it] off. They were overjoyed when I showed up on their doorstep with the medal in my hand." — Tim Parrott, Morrisville, VT
To avoid ending up with your own plumbing horror story, always keep your bathroom stocked with Liquid-Plumr® to go with the flow.
Related