Do you remember Libby and Pearl, the adorable toddler and pig who forged a special bond? Well, now their animal-loving family has two precious new members.
The Bonnice family adopted two baby goats, Calvin and Hobbes. Libby's mom, photographer Lindsey Bonnice, told HuffPost that the goats are 5 weeks old and getting a lot of love from their humans.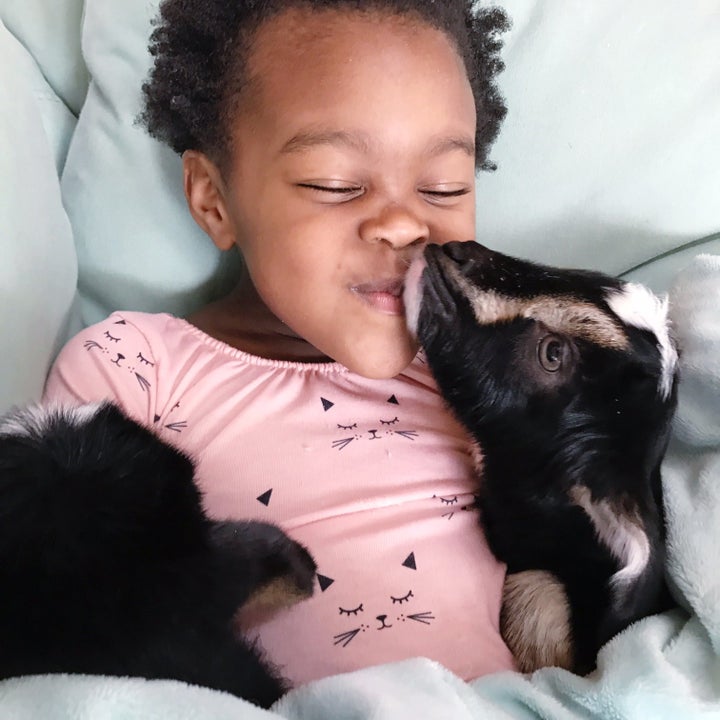 Calvin and Hobbes joined the Bonnice family when they were just 1 week old. "A friend told us that they had heard of a local farm who had a mom goat who had babies," Lindsey told The Huffington Post. "She was neglecting them and wouldn't feed them, so they were looking for someone to bottle feed them. So off we went to rescue these sweet boys!"
The rural Pennsylvania family named the goats Calvin and Hobbes after one of their favorite comics "and because goats are silly and always getting them themselves into trouble like Calvin and Hobbes do!"
Over the past month, Lindsey has been posting adorable Instagram photos and videos of the goats snuggling with now-4-year-old Libby and Lindsey's two sons, 8-year-old Noah and 1-year-old Finn.
"Noah is my big helper, he helps make the bottles and feed them, helps take them outside and loves playing with them," Lindsey explained, adding that Libby is their "little mama."
"She gets their diapers for them, calls them 'her precious babies' and holds them all the time!" the mom said. "Whenever they wake up, she shouts, "Mama the babies are awake!" And every morning when she wakes up she says, 'Mama do you think the babies are up? We need to give them their bottles.' She is completely enamored and loves them to pieces!"
Meanwhile, Finn is rather unamused. "He tries to steal their bottles, and they try to steal his," said Lindsey. "Having all three of them in diapers and drinking bottles at the same time is like having triplets! I change about 20 diapers a day and make about 10 bottles or more!"
At this point, the family has three cats, three dogs, two pigs, three rabbits, two baby goats, a hamster and a tortoise who live inside their home. Additionally, they have four goats, a sheep, chickens and ducks in the barnyard.
"I love our growing little farm, it gives me life and brings lots of smiles and laughter every day!" said Lindsey. "My husband just said today as he was going outside, he opened the door and one of the goats was on the front porch and he said, 'I don't know if I'll ever get used to there being a goat on the front porch when I open the door!'"
"There are goats on the front porch, pigs in the front yard, chickens running everywhere," she added. "It's how we live now, and I wouldn't have it any other way!"
The mom and blogger, who has over 126,000 followers on Instagram, has received countless positive comments saying her photos and videos of the goats and children are brightening people's days.
Lindsey said she's happy these images are spreading joy to others and bringing light into a sometimes very dark world. And she's glad Calvin and Hobbes have become part of the family.
"Goats are really some of the sweetest animals," the mom said. "They are loving and cuddly and really bond with their owners. They are so fun to watch run and jump and play and are like joyful and naughty little toddlers. They're just happy little things and they make us laugh all day long!"
Keep scrolling and visit Lindsey's Instagram for more adorable photos and videos of their family.