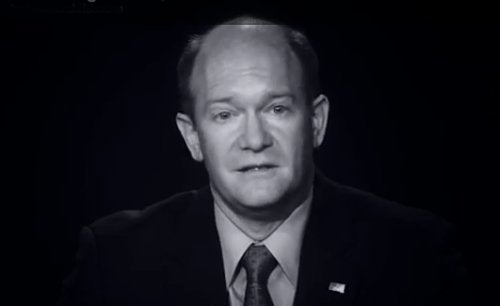 It's remarkable how much three words can say.
The right three words can be the difference between hope and despair and, miraculously, "it gets better" has, for many gay, lesbian, bisexual and transgender youth, meant the difference between life and death.
That's why I worked with 12 of my Senate colleagues over the last two months to record a video for LGBT youth and the It Gets Better Project. You can watch it below:
It Gets Better has quickly morphed from a compelling message into a powerful movement. Organized last fall by nationally syndicated columnist Dan Savage and his partner, Terry Miller, after a rash of tragic suicides by gay, lesbian, bisexual and transgender youth, the It Gets Better Project has emerged at the nexus of two LGBT movements: the one that has spent a lifetime trying to convince the world that homosexuality was nothing to fear, and the other that has grown up unable to understand how anyone could think otherwise.
To its credit, It Gets Better is completely nonpartisan and shies away from getting involved in legislative politics.
But as legislators, it is our responsibility to try to build a nation that not only tells our youth that 'it gets better' but actually helps make it better. All of the senators who participated in our video are cosponsors of the bill to repeal the Defense of Marriage Act. Most are cosponsors of the Student Non-Discrimination Act, the Employment Non-Discrimination Act, or the Uniting American Families Act. All supported the repeal of "Don't Ask, Don't Tell."
As my Senate colleagues and I say in the video, it's up to me, it's up to you, it's up to Democrats, it's up to Republicans, and it's up to every American who believes that equality for all is an equality indifferent to sexual orientation.
The fact is, gay, lesbian, bisexual and transgender youth have more reason for optimism about their place in this country than ever. The equality movement has more momentum than it's ever had.
In just one year, national support on same-sex marriage has gone up 11 points. For the first time, a majority of Americans -- 53 percent -- believe same-sex couples should be allowed to marry. That percentage has doubled in just 15 years.
New York's dramatic adoption of same-sex marriage last week showed that not even partisan walls can stand in the way of this movement. Becoming the sixth and largest state to allow same-sex couples to marry, New York did so with a Republican-led Senate and with the support of four Republican Senators.
It was, I believe, a turning point in our nation's fight for equality. Fear is giving way to hope. Bluster is giving way to reason. As Senator Al Franken says in the video, the political climate on equality in Congress has gotten so much better in recent years. There is a swelling feeling that marriage equality is no longer a question of "if" but a question of "when."
Popular in the Community