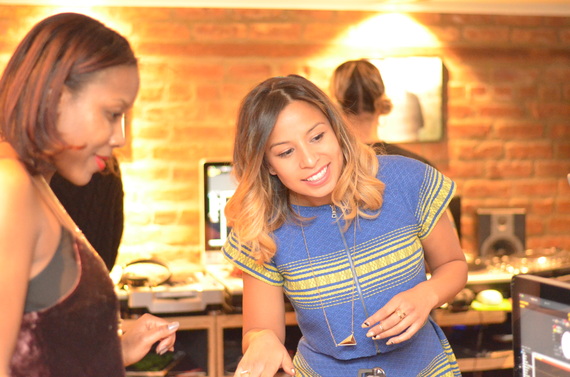 A few days ago, JSMN hosted a ladies-only master DJ class for social influencers at DubSpot, a place for people to go and learn the history of electronic music and turntable art. JSMN is a professional DJ who lives, works and breathes music so when I got the invite I was eager to see her work in an intimate setting. At the beginning of class, which commenced around 10pm, JSMN presented this whole Powerpoint presentation, talking through the history of herself via the cutest throwback pictures of a baby JSMN, holding bejeweled microphones in vintage Nike tees. She spoke passionately about her radio station roots, love for traveling and her favorite places she has DJ'd, including the boat on top of the Marina Bay Sands and UK's Glastonbury Festival for her Electric Punanny tour with Melo-X.
The master class included a brief discussion from Dubspot instructor OP! about carrying crates filled with hundreds of records to gigs before the digital age and a crash course on how to operate the turntables and soundboard with chic Caeden headphones, and obviously champagne. JSMN also reinforced and schooled us on the most important job of a DJ: to keep people dancing, so I chose a song by SBTRKT to play at my station.
JSMN represents female empowerment on and off the turntables and she owns the room with her style and inviting personality which made learning her craft less intimidating. By the end of class, we were pretty much proficient in serato-speak and my respect for DJs increased after realizing scratching is harder than it looks, not to mention a mini-elbow workout. One amateur DJ (who actually plays at Baby's in Brooklyn) was able to get in a good lesson from a pro and others (including myself) were just happy to feel like an IT girl for an hour or so! We were sent home with JSMN's "survivor pack" for raves, which included organic lip balm, Tarte's Maracuja oil, and a pair of wooden wayfarer sunnies from an Idaho-based sustainable lifestyle company called Proof, among other stylish essentials.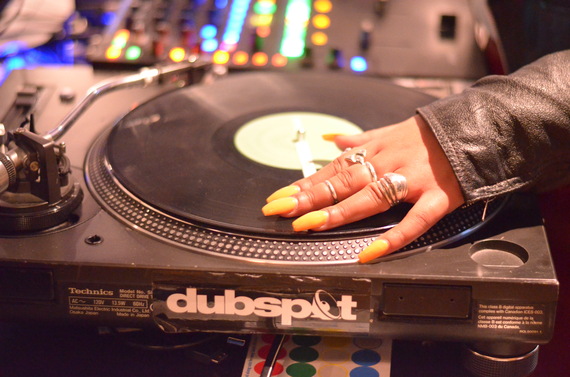 Basically, you're gonna want to be JSMN's best friend at some point because there's nothing like having a BFF to always be on-hand to DJ your casual hangout sessions or maybe your cycling class- true story, this happened at Soulcycle Soho with Emma Lovewell. You can hear JSMN's mixes if you happen to be shopping at a Fendi store anywhere in the world (because who doesn't like a good song to get you in the mood to buy a cute bag) or visit her website and soundcloud to find out where she'll be playing next.