The recent gathering in Selma, Alabama to mark the 50th anniversary of "Bloody Sunday" offered a chance for Americans to look back in horror and shame, as well in wonder, at how we have continued working to achieve "a more perfect union." While "Bloody Sunday" was a major event in the civil rights movement, President Obama sagely noted that it also opened a door through which the women's rights movement, the disabled Americans movement, and the LGBT movement passed on their way to proving that increased diversity can build a stronger American society.
Under the Obama administration, the progress made by the LGBT community has been remarkably rapid as well as poignant, profound, and provocative. It's often hard for younger LGBT men and women to understand that, prior to the August 1966 riot at Compton's Cafeteria in San Francisco or the June 1969 riots in front of the Stonewall Inn in Greenwich Village, gay people often lived in a secret society with few friends who would publicly acknowledge their sexual orientation. There were no circuit parties or all-gay cruises.
In the following clip, Anthony Newley sings "Who Can I Turn To?" from the 1965 Broadway production of The Roar of the Greasepaint -- The Smell of the Crowd. If you watch closely, you may notice certain "Streisandian" mannerisms in Newley's performance. But you'll also realize how much this song could have been an anthem for a severely oppressed LGBT population that had no political clout whatsoever.
Fast forward to today and ask yourself how much progress has been made since 1965. Watch this clip of Dan Savage being interviewed on CNN recently and see for yourself.
Two recent dramas about gay men trying to live their lives without apology recently entertained Bay area audiences. One dates back to the 1940s, focusing on the life of a gay mathematician who made major contributions to history, science, and is often described as the father of modern computing. The other is a documentary which focuses on two gay men in Seoul, South Korea, who are determined to have their wedding cake and eat it, too.
Alan Turing's reputation has undergone a major rehabilitation in recent years, to the point where there are now several plays, movies, and even an opera about the mathematical genius who, after being forced to endure chemical castration by British authorities, committed suicide on June 7, 1954 (a little more than two weeks prior to his 42nd birthday). Following a highly effective Internet campaign in 2009, Britain's Prime Minister Gordon Brown issued a formal public apology for Turing's treatment by the British Government. In 2013, Queen Elizabeth II pardoned Turing posthumously.
I first saw Hugh Whitemore's play, Breaking The Code, during a June 1987 trip to London, when Derek Jacobi was starring as Alan Turing. In my review for the Bay Area Reporter, I noted that:
"Although Breaking the Code poses several provocative questions to audiences. whether or not to commit suicide is the least disturbing of them. More to the point: Once you've accomplished something unique, savored the best there is, or achieved the impossible, what do you do for an encore? If, because of the very uniqueness of your situation, you don't create new challenges for yourself, do you mark time until life is over -- or take action to end the meaningless years of waiting to die?"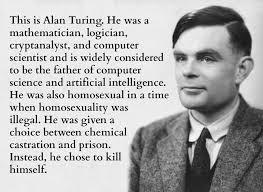 Watching the Theatre Rhinoceros production of Breaking The Code (directed by and starring the company's artistic director, John Fisher, as Alan Turing), I was reminded of Turing's intense stuttering, social awkwardness, and his useful connection with Winston Churchill. The production also brought home (in a horrifyingly poignant way) the inability of petty bureaucrats to think outside the box when confronted by a man whose intellectual brilliance far outshone their own.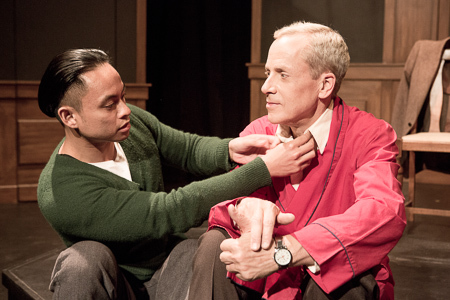 Ron Miller (Justin Lucas) teases Alan Turing (John Fisher) in
a scene from Breaking The Code (Photo by: David Wilson)
Turing's pitiful naivete in reporting a minor burglary to the local police placed him square in the clutches of law enforcement. By admitting that he had been having an affair with Ron Miller, he essentially confessed to a crime of public indecency at a time when homosexual acts were considered criminal behavior. Borrowing from Wikipedia's timeline, it's interesting to note that:
In 1967, the Sexual Offenses Act decriminalized homosexual acts committed in private in England and Wales.
In 1972, the first Gay Pride Rally was held in London.
In 1975, a documentary about Quentin Crisp entitled The Naked Civil Servant premiered on Thames Television.
In 2000, Britain's Labour Party abandoned the practice of barring homosexuals from serving in the nation's armed forces.
In 2002, adoption rights were granted to same-sex couples.
In 2004, the Civil Partnership Act of 2004 was passed by the Labour Government.
In 2014 same-sex marriage became legal in England and Wales and received Royal Assent. Queen Elizabeth II stated "Well, who'd have thought 62 years ago when I came to the throne, I'd be signing something like this? Isn't it wonderful?"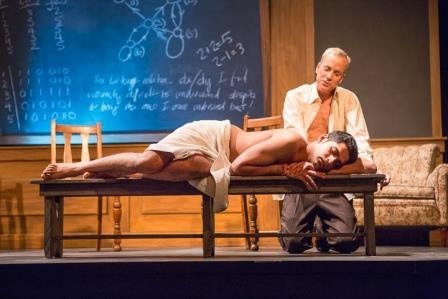 Alan Turing (John Fisher) relaxes with Nikos (Heren Patel)
in a scene from Breaking The Code (Photo by: David Wilson)
More than 60 years after Turing's death via poisoned apple, Breaking The Code may seem a little quaint and stuffy to contemporary audiences who live in a world filled with rainbow tchotchkes, gay marriage in an increasing number of countries, and can turn to the Internet for any number of LGBT-related purposes. But with a cast led by John Fisher (who is steadily transforming into an old-fashioned actor-manager), Theatre Rhinoceros did a solid job of examining Turing's nervous downfall.
Celia Maurice was sympathetic as Turing's mother, Sara, while Kirsten Peacock scored strongly as his research partner, Pat Green. As the gay men in Turing's life, Justin Lucas shone as Ron Miller with Heren Patel delivering sweet portrayals of a very young Christopher Morcom and a slightly giggly young Greek named Nikos. Patrick Ross, Michael DeMartini, and Val Hendrickson appeared in smaller supporting roles.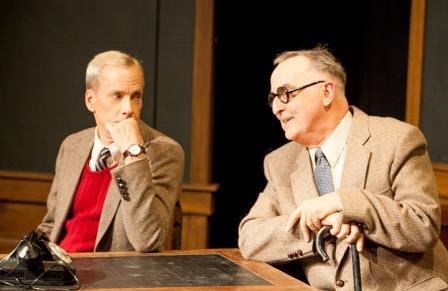 Alan Turing (John Fisher) chats with Dillwyn Knox (Val Hendrickson)
in a scene from Breaking The Code (Photo by: David Wilson)
Directed by Jang Hee-Sun, My Fair Wedding is a curious, but ultimately triumphant documentary that was screened at CAAMFest 2015. Potential viewers should be aware that a huge amount of text is thrown up onto different parts of the screen so that, at times, it almost seems impossible to follow the film.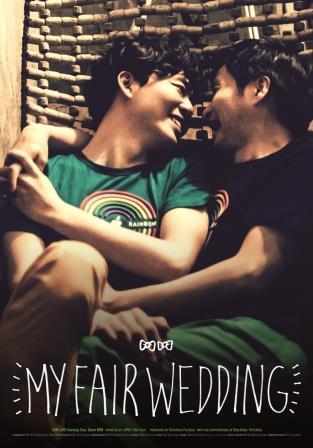 Poster art for My Fair Wedding
My Fair Wedding follows the events leading up to the marriage of two gay men on September 7, 2013 at the Kwangtong Bridge in Seoul. At 49, the mercurial Kimjho Gwang-soo is well known throughout South Korea's LGBT community as a gay rights activist. His partner of nine years, Dave Kim, is 19 years younger and handles stress very differently.
Because both men are involved in South Korea's film industry (one as a director and screenwriter; the other as a producer), their preparations for a same-sex wedding (which could also serve as an in-your-face political statement in a country that does not yet recognize marriage equality) are drenched in doubt, introspection, playful needling, and a lot of micromanaging.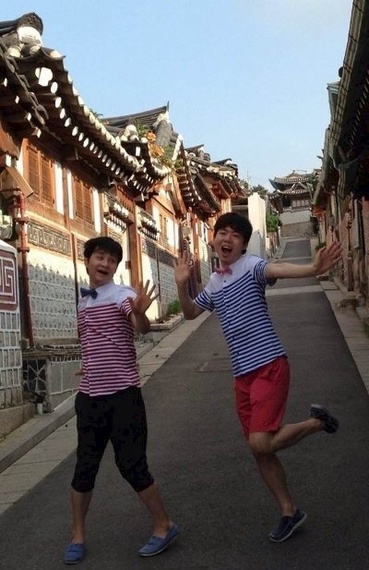 Kimjho Gwang-soo and his husband-to-be, Dave Kim,
shoot a trailer for their upcoming nuptials in
My Fair Wedding
Heterosexual couples preparing to wed rarely have to make plans for how to handle angry protesters crashing their nuptials. Nor would they stymie the efforts of their close friends to throw a surprise party for the two men on the night prior to their wedding ceremony.
When the protagonists say their vows in public (and perform a small musical theatre number), their friends and family happily take part in celebrating their union. Some hyperreligious Christians, however, try to ruin the event by angrily crashing the ceremony until they are forcefully removed from the festivities.
Dave Kim and Kimjho Gwang-soo during their wedding in Seoul
There are long sequences in which the two men (who change costumes throughout their wedding from creamy white uniforms to black tuxedos and white wedding gowns) sit on a couch in their apartment and dissect their feelings and apprehensions. As the filmmaker explains:
"This documentary shows how two such different people manage to resolve conflicts between them when faced with a big problem. Also, it will show, through Dave Kim's perspective, how he suddenly grows up while chasing after Kimjho Gwang-soo, whose life is full of ups and downs. You will also see how Kimjho Gwang-soo grows to realize a great love together with Dave Kim, who is 19 years his junior."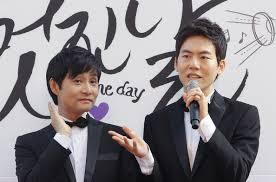 Kimjho Gwang-soo and his husband, Dave Kim
There are times during the last half hour of My Fair Wedding when a viewer can easily start tearing up. As the two men candidly discuss their hopes and fears for the future, one realizes that their relationship is just as emotionally, physically, intellectually, and spiritually intimate as that of most newlyweds.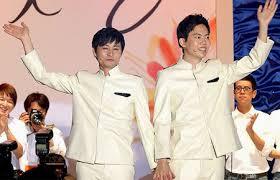 Kimjho Gwang-soo and his husband, Dave Kim
REAL LIFE. REAL NEWS. REAL VOICES.
Help us tell more of the stories that matter from voices that too often remain unheard.