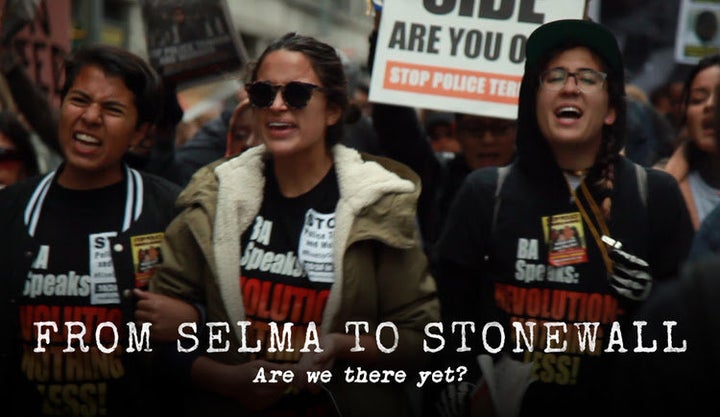 "See that place in the road where the boulevard starts, there at the end of the bridge?" Reverend Gil Caldwell and I were standing in the memorial park by the Edmund Pettus Bridge in Selma, Alabama. "See?" he said,
That is where the AL State Troopers stood, about 20 of them in gas masks, each one wearing a belt loaded with tear gas canisters, backed by mounted lawmen; and there is where John Lewis and Hosea Williams stood in their overcoats, ties peeking out, and shoulders back.
The space between the groups held that moment, that pause, before the troopers started striking down the peaceful protesters. Even though the violence was already familiar to black Americans, the images of the beatings hit the media, and millions of White Americans viewed awful scenes of unbridled hatred for the first time and right from their living rooms.
I watched this same footage 50 years later during post-production of our documentary "From Selma to Stonewall: Are We There Yet?" The standoff is emblazoned in my mind. While it likely lasted for less than a minute, that pause was the moment before change began to unfurl for full voting rights for blacks.
Where Gil and I stood in the park we could see the length of the bridge. I pointed to the middle of it and asked, "Is that where Martin Luther King knelt and prayed the day you were here?"
Yes, I was in Selma for what is known as 'Turnaround Tuesday' (March 9, 1965). We started across the bridge but then we stopped. King and others at the front knelt in prayer, stood and turned back around. We went back to Brown Chapel. The plans for our security had not been completed, and we could not continue. We foot soldiers didn't know that we weren't to go all the way, but, still, our presence was significant.
Gil and I had been to Brown Chapel once before when we filmed part of "From Selma to Stonewall: Are We There Yet?" there in 2010. At that time Gil had not been back since 1965; as we stepped into the sanctuary I saw tears come to my friend's eyes, and watched the memories wash over him.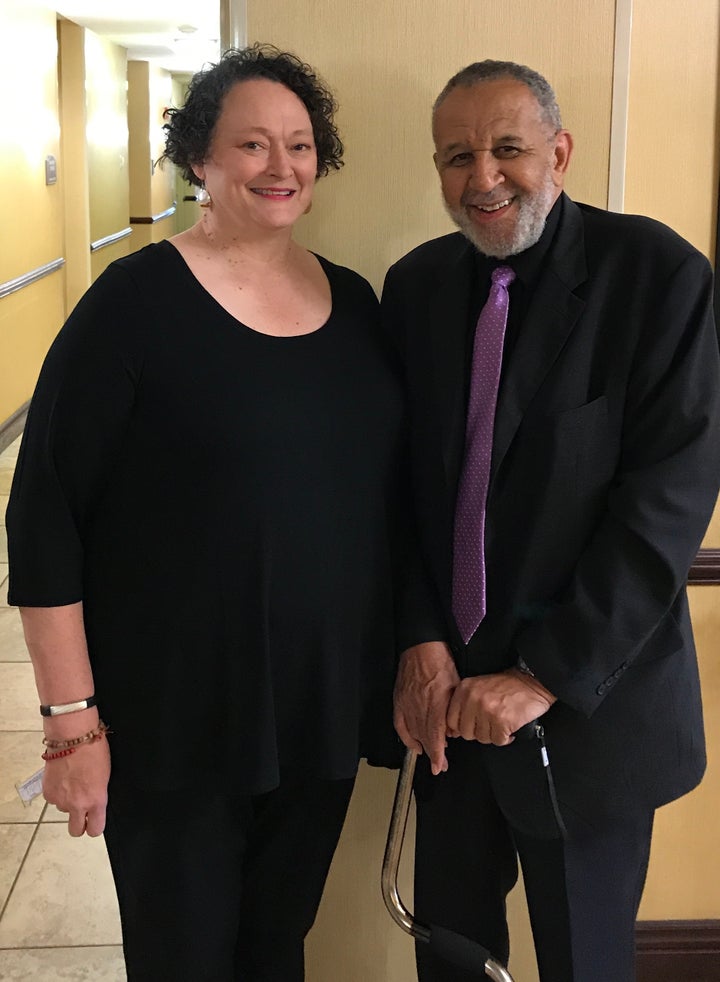 Now, seven years later, Gil and I were standing outside Brown Chapel, and again I saw the tears well up in his eyes. We couldn't have imagined this moment. As Gil described it:
Then the buses arrived with police escorts, lights blinking, even a siren or two. It was like a presidential escort. This time with a chorus of 300 LGBT people and their allies ― who understand America and love it far more than the present occupant of the White House. Their arrival evoked emotions in me that are difficult to describe. When Marilyn and I had gone to Selma a few years ago to film, the response to the two of us was lukewarm because of some hesitation in linking the LGBTQ rights struggle to the black rights struggle. But, as the buses rolled in, I realized Marilyn and I had 'set the table' for their arrival. In the black Church we say, 'God may not come when we want God. But God always comes on time!' God, whatever you call or don't call God, was present in the envisioning, planning, implementing, and on the buses! And then the music! I have never been as moved as I was when the two groups let loose, and lifted the roof of the Chapel with their music. It is said, 'Music has charms to soothe the savage beast.' The savage beast we know as homophobic heterosexism was more than soothed by the music. It was rendered helpless and irrelevant. I found myself in my mind and heart paraphrasing the words of a song, 'If loving someone of the same sex is wrong, then our theological understanding of love is wrong!'
Back at the edge of the bridge, we crossed over, a human ribbon of purple shirts unfurled down the sidewalks on both sides of the bridge as the members walked across, past where King and others knelt to pray before turning around on that Tuesday in 1965. We paused for a group photograph, a quick gathering in the street, a pause before we continued walking, crossing the line where troopers beat protesters on Bloody Sunday. There were tears, laughter, awe and a deep awareness of this profound moment where we had brought Selma and Stonewall (and the Castro) together.
As we begin a week of screenings of our film in North Carolina, we hope you will join us to continue the conversation ― now, more than ever, as our country seems more divided and very much in need of substantive conversation about intersectionality, what we share and how we can make progress together.
Marilyn Bennett and the Rev. Gil Caldwell
Executive Producers, From Selma to Stonewall: Are We There Yet? will be in North Carolina this week, October 17-20, screening the film in Raleigh, Durham, Charlotte and Wilmington. For more information please go to fromselmatostonewall.com
REAL LIFE. REAL NEWS. REAL VOICES.
Help us tell more of the stories that matter from voices that too often remain unheard.
BEFORE YOU GO