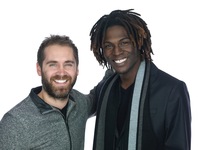 The premise of why we celebrate Christmas is that it is the time of giving, spending time with loved ones, and for some, celebrating the birth of Jesus. In the midst of giving gifts, making gingerbread cookies, sipping on eggnog and decorating the Christmas tree, it is easy to lose sight of the true meaning of Christmas and why 2.1 billion people, or about a third of the world, celebrate this holiday.
The Cappons are a family that has done something great during the holiday season this year. This story is a true inspiration of generosity and love, which is why we all come together and enjoy a national holiday away from our busy lives.
Jeff Cappon, the founder of a real estate brokerage in Manhattan, began volunteering at a homeless shelter earlier this year in Hoboken, NJ. Jeff then looked to extend his charity to a shelter in New York City, and it was there that Jeff met a young man by the name of Eric Jefferson. Jeff was able to learn about Eric and his past in a few meetings.
Eric was taken away from his mother at birth, and then put into foster care. In his early years, he lived in a volatile home with many foster children and little supervision. There were many instances that Eric was abused in the foster home. At 18, Eric had no other choice but to move onto the streets of Chicago, where he lived homeless for six months until taken in by a generous woman named Yolanda.
Then Eric found a dream, but with many dreams we have, it can be hard to develop a plan. However, Eric just went for it. Eric recently moved to New York City at the age of 21 with little money to start, which once again put him on the streets.
Jeff was moved and struck at how despite it all, Eric had a positive attitude, strong faith and sense of purpose to become a model. Jeff was also overwhelmed by how much Eric had overcome mentally in despite his circumstances. Eric's charismatic personality also won over Jeff, and the two of them developed a bond very quickly.
Prior to meeting Jeff, Eric went to every talent agency in New York City to see who would help him become a model, but no agent would see him. Eric even stood in front of Bryant Park with a large sign hoping to be discovered.
Looking at Eric's headshots you can see that his radiant smile and inner joy is contagious, and this is why Jeff wanted to do whatever he could to help him realize his dream. As Jeff got to know Eric, he learned that this young man also had the biggest heart. Eric would often sacrifice the little pocket change he had to help others in need. Upon arriving to NYC, Eric even sacrificed his own needs in order to buy another homeless man without shoes, a new pair of sneakers.
As soon as Jeff and his wife Johanna decided to bring Eric into his home, things began to change for both Eric and the Cappons. Finding out that Eric had been robbed of all his belongings in the shelter, Jeff decided to take Eric to the Kenneth Cole on 42nd Street to get some new clothing. Once Eric put on his new clothes, the Kenneth Cole staff and Jeff's eyes lit up. Eric began doing runway walks in the store and everyone was captivated, it was as if Eric became a model instantly. Jeff immediately Googled top fashion photographers in New York City because he wanted the best for this new found talent and his friend, upon researching he chose Peter Hurley.
When arriving at the studio, Peter was so excited to find out that this was Eric's first photo shoot, he began video taping and interviewing Eric during the initial photographs. While Eric was changing into a new outfit, Peter had asked Jeff where he had found him. The story won over Peter's heart and he decided to donate his services at no charge to Jeff.
Two days later, on December 14, Jeff drove Eric to the America's top model casting in Washington, D.C., to meet one of the great America's next top model casting agents, Paul Wharton.
Jeff's acts of love, investing into Eric, and welcoming him into his home, is beyond the ordinary. Eric has made it past the first elimination round for the 2014 America's Next Top Model contest. He is also enjoying the holiday season with the Cappons and their family in Texas.
This story unleashes the spirit of giving, love, and the true meaning of Christmas. It is an inspiration in the midst of all of the holiday festivities. Look around and see whom you may be able to bless. It is said that with love, the return is a hundredfold.
Eric is currently a candidate for the DC Top 50. He needs votes to make it to the next round; the Cappons are doing everything they can to help Eric fulfill his dream and to inspire others with his story of faith, hope, and perseverance!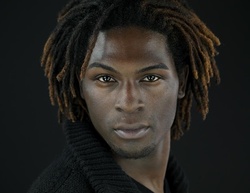 You can vote for Eric at http://www.socialnewsdesk.com/facebook/contesttabiframe.aspx?id=792
and be sure to write #13. A close friend of the Cappon's, Carla Rood, http://www.polusdigital.com/about/ has also helped Eric build a website that just recently went up. You may visit Eric's site at www.ericjeffersonmodeling.com to see more pictures and sign up to his twitter/blog in order to hear more about Eric's story as it unfolds.
Calling all HuffPost superfans!
Sign up for membership to become a founding member and help shape HuffPost's next chapter