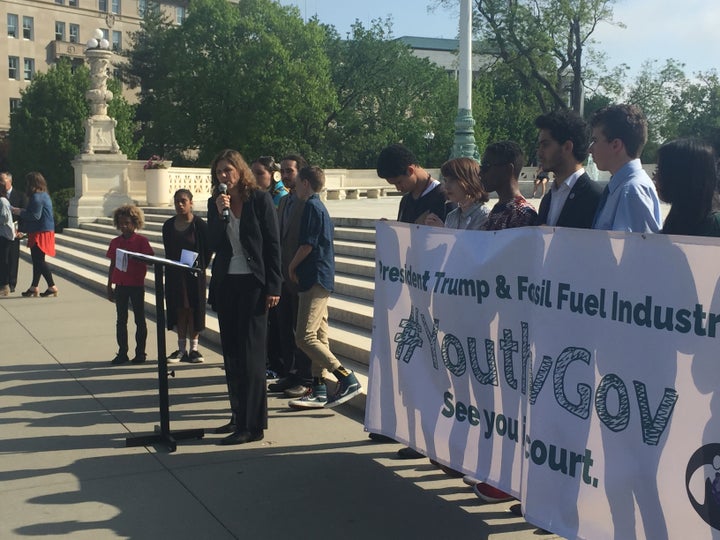 Yesterday, I had the opportunity to speak alongside several U.S. senators, lawyers, activists and the youth plaintiffs in Juliana v. U.S. who are suing the federal government over climate change. Below are my remarks from the rally, which took place at the steps of the Supreme Court before supporters and the media.
Human rights abuses such as rape, slavery, torture, and crimes against humanity. As such, over the course of my career, I have had a lot of experience with injustice.
I am honored and proud to be standing here with these brave young people, their bold lawyers, and elected representatives who are standing up to the injustice of climate change.
To borrow Judge Aiken's words . . . "this is not an ordinary case." I, too, am familiar with cases that are not "ordinary."
My colleagues and I at EarthRights International have represented some of the most marginalized communities across the planet against some of its most powerful corporations, and won!
So let me say one thing to everyone involved in this lawsuit—and maybe especially to those who they are suing: The American system of justice is blind to the power of money, and sometimes—just sometimes—the good guys win!
While this case may not be "ordinary," it is absolutely necessary.
Nobel Laureate Bishop Desmond Tutu has called climate change the human rights challenge of our time, and he's right.
And our time is running out.
We have our work cut out for us. Present company aside, our government is doing worse than nothing.
Our government has been hijacked by corporations, hijacked by fossil fuel companies and hijacked by big oil like Exxon and Chevron.
They are pushing us backward, greenlighting pipelines and rolling back environmental regulations.
But let us not make the mistake of thinking that this pattern began with Trump (though he may have perfected it). The truth is, our government has been under the influence of big oil for as long as I can remember!
"This case has been called the trial of the century... any lawsuit that aims to vindicate the rights of our children... can be nothing less."
API, the American Petroleum Industry, has "intervened" in this lawsuit and they and their members have been "intervening" in our democracy for years.
For decades, oil, gas and coal industries have paid hundreds of millions of dollars to "intervene" in our rights and our futures, and that needs to stop right now.
That's why these young people had to bring this historic case.
All that they are asking is that our government do its job to protect their rights and their futures, and as Judge Aiken stated, to protect their "constitutional right to life and liberty."
These most fundamental of rights are threatened by our government's failure to protect our public trust—including a stable climate.
The government has failed these kids.
Instead, they've protected the rights of the polluting fossil fuel companies who have a stranglehold on Washington.
We need a separation of oil and state. But until that day comes, I believe that our courts—state courts, federal courts, and yes, this Supreme Court—are our last great hope for protecting our precious American democracy from an all-out corporate takeover.
I stand here on the steps of the Supreme Court as a parent who wants my representatives to care about my kids, my neighbors, and me.
I stand here as a lawyer, who respects facts—real facts, not alternative facts, and science—real science.
And I stand here today as an American who believes in the rule of law and the independence of the courts as the key to saving our democracy from corporate control.
Like I said, corporations have hijacked our democracy, and these kids are standing up to take it back. They are standing not only for themselves but for the rights of all the world's children who are threatened and who are already facing the injustice of climate change.
These kids are raising their voices and saying "ENOUGH."
They are demanding that our government provide a science-based solution to climate change, and that our courts protect their human rights over corporate rights. They are what we, at my organization, call Earth Rights Defenders and we thank them.
EarthRights International has litigated against corporations on behalf of Earth Rights Defenders who have been raped, tortured and killed, while corporations like Chevron, Shell and Exxon made billions. So it comes as no surprise to me that those who would abuse human rights in pursuit of their dirty business would not think twice about trashing the planet.
But every one of us should be shocked when our government fails to regulate these companies and protect our public trust. We should be outraged that these kids have to go to court, to get the government to simply do its job.
This case has been called the trial of the century and it is—any lawsuit that aims to vindicate the rights of our children, safeguard our constitution and planet can be nothing less.
It is the first climate lawsuit in the U.S. to make it this far, but let me say loud and clear, it won't be the last.
As a lawyer from an organization that has no problem challenging the biggest, most abusive, most polluting companies in the world, I say one thing: there will be more trials of the century.
We know who caused this problem.
We know who covered it up.
We know who procured bogus science to obscure the truth about their dirty industry, and we know who made billions doing it.
Make no mistake: The lies, the cover ups, the fake science, and the lobbying does not make you above the law. Justice is blind and I still believe that our courts are the last great hope to protect the rights of living breathing human beings—like all of you–and all of us. Thank you.
Popular in the Community