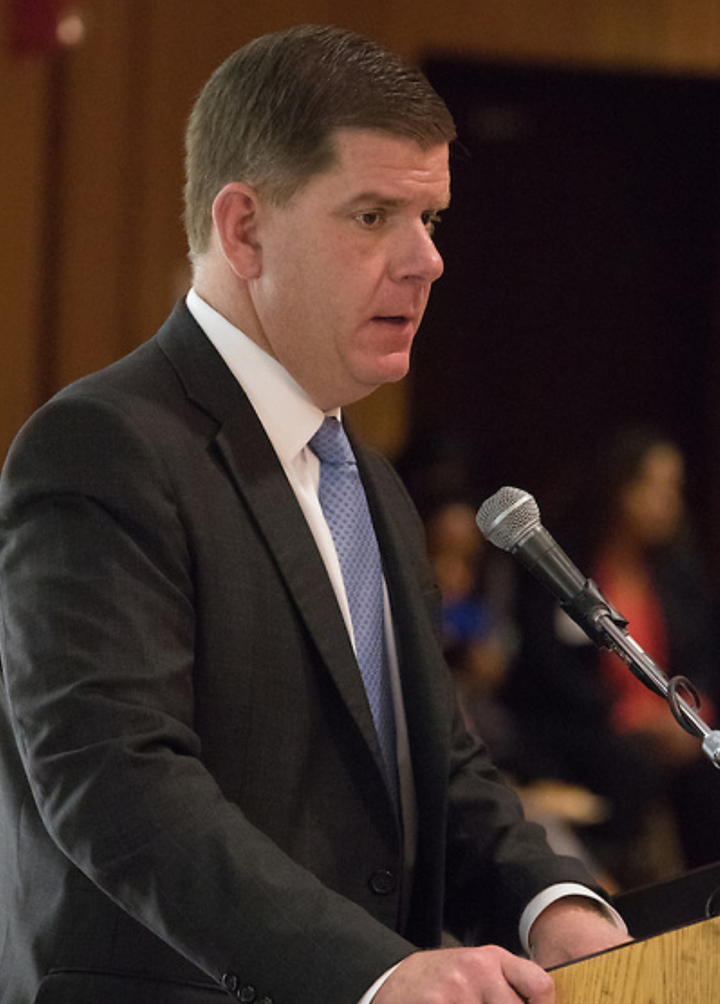 Boston Mayor Martin J. Walsh said it wasn't courageous.
He told attendees at the Jewish Alliance for Law and Social Action (JALSA)'s Jan. 29 annual meeting that he deserved no credit for bravery in standing up to Donald Trump.
It was two days after the President's executive order that halted the admission of all refugees to the US for 120 days, and all Syrian refugees indefinitely. The order also imposed a 90-day ban on citizens of seven largely Muslim countries, with green card holders denied reentry.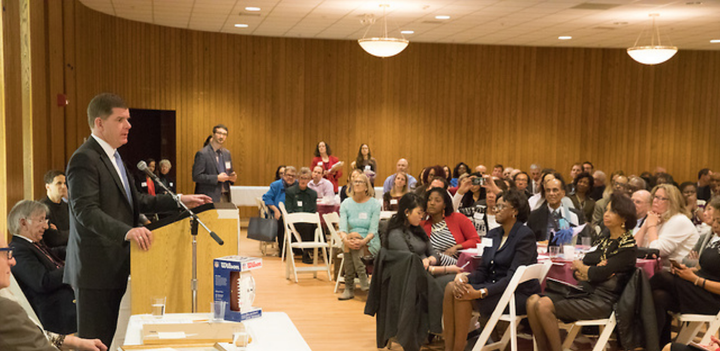 Walsh was the keynote speaker at the event, entitled "Joining Together for Social Justice," at Temple Israel in Boston. He had quickly emerged as a national figure of opposition to the new strictures, proclaiming that he would protect Boston's immigrant communities, and if need be, even house them in his own office and use City Hall as a sanctuary.
He wrote a CNN op-ed denouncing the travel ban, and took on Boston's caustic talk radio hosts Kirk & Callahan on WEEI over his capability to safeguard his city's targeted residents.
On Feb. 7, Walsh appeared on The Daily Show with Trevor Noah, where he discussed Boston's plans to provide sanctuary for undocumented immigrants, and on the next night, Walsh was featured in a Full Frontal with Samantha Bee segment on sanctuary cities.
"In the end, it was Boston Mayor Marty Walsh who reminded us what's at stake," she said, returning to Walsh reading a letter from a 7-year-old fearful of being separated from his mom. The letter, Walsh said on the clip, "is why I'll stand here with my colleagues any day to protect the people that can't protect themselves."
At Temple Israel, he recalled his surprise when he first learned about the ban while going about his daily duties as Mayor of the City of Boston.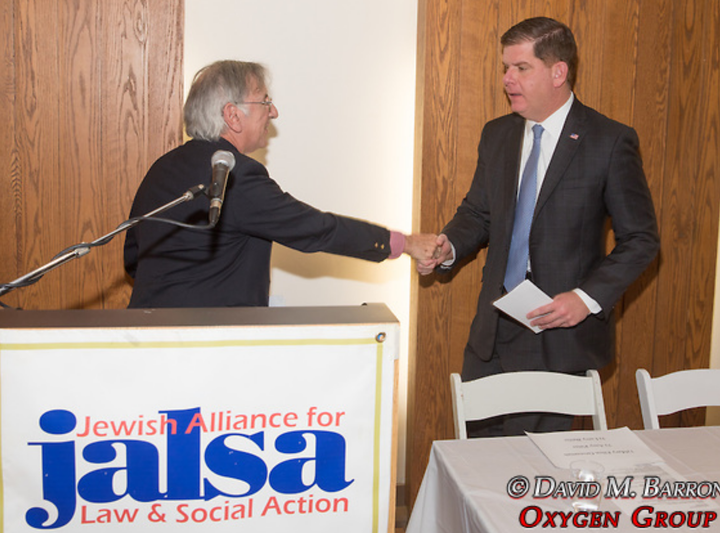 "I didn't know that there were people trying to come into our country, who live here, being detained at airports in the United States of America," he said. "I didn't know that there were people from other parts of the world who weren't allowed onto planes to come to the United States of America.
"These are people who are scientists, doctors and students. These are people who pay taxes — pay federal taxes, by the way — that help pay for the federal government."
He reassured the hundreds of attendees that nothing would change for Boston's immigrant communities under his watch.
But brave? No. "I appreciate that when Larry introduced me, he said 'he took a courageous stand this week,'" Walsh paraphrased, before detracting.
"I didn't take a courageous stand," he countered. "That's not a courageous stand. A courageous stand is by some of our young people fighting for this country, fighting for other countries overseas for their freedom. That's a courageous stand.
"What I did," he continued, "and what my colleagues did this week," he said, acknowledging City Councilor Michelle Wu, City Councilor Ayanna Pressley, City Councilor Josh Zakim and other elected officials in the room.
"That's our job," he said.
"It's not courageous. It's our obligation."
But nonetheless for him, it was a necessary stand of resistance. "You know, our nation is in the middle of enormous change," Walsh said. "And what I don't mean by change is allowing the federal government to do what they're doing," he added, to loud applause.
JALSA, which marked its 15th-anniversary last year, honored outgoing President, Mass. State Rep. Frank I. Smizik and elected Lawrence Neil Bailis, an Associate Professor at the Heller School for Social Policy and Management at Brandeis University, as Board Chair and Incoming President.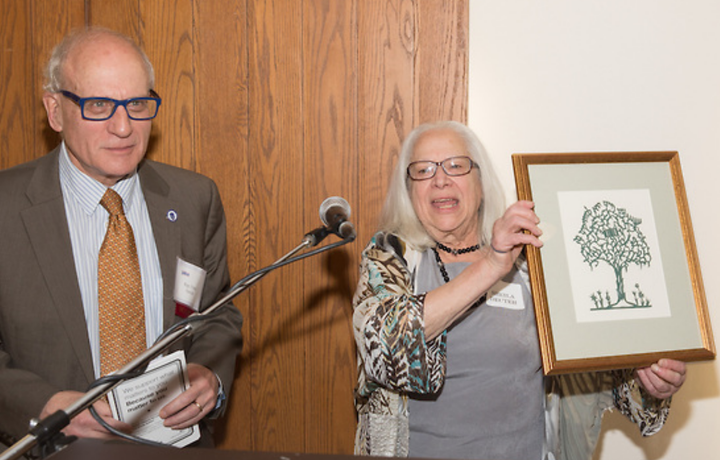 The Too Klez For Comfort band provided a backdrop to the kosher brunch from Brookline's Catering by Andrew.
Before Charles J. Ogletree, the Jesse Climenko Professor of Law and Director of the Charles Hamilton Houston Institute for Race and Justice at Harvard Law School, received JALSA's Lifetime Commitment to Justice and Equity Award, JALSA Executive Director Sheila Decter said the organization "would not stand idly by while our Muslim brothers and sisters were being detained and barred from entry to the US." She reminded the crowd, however, that she could recall Joseph McCarthy, the civil rights era, the 60s and other tough times: "We will get through it if we all do our jobs."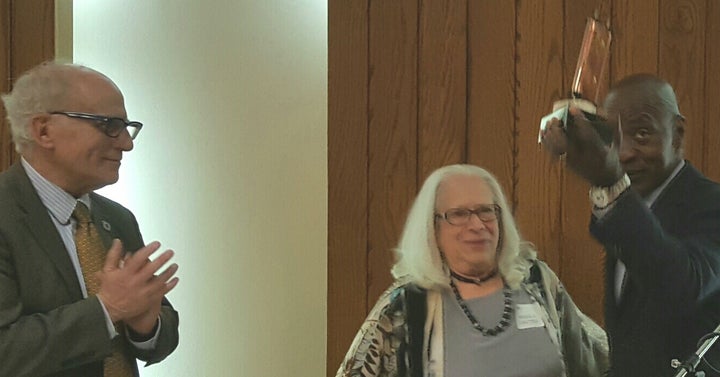 Deputy Director Cindy Rowe handed out awards and introduced the other honorees: community organizer Colette Phillips, City of Boston housing official Sheila Dillon, and fair housing advocates Joseph Kriesberg and Thadine Brown.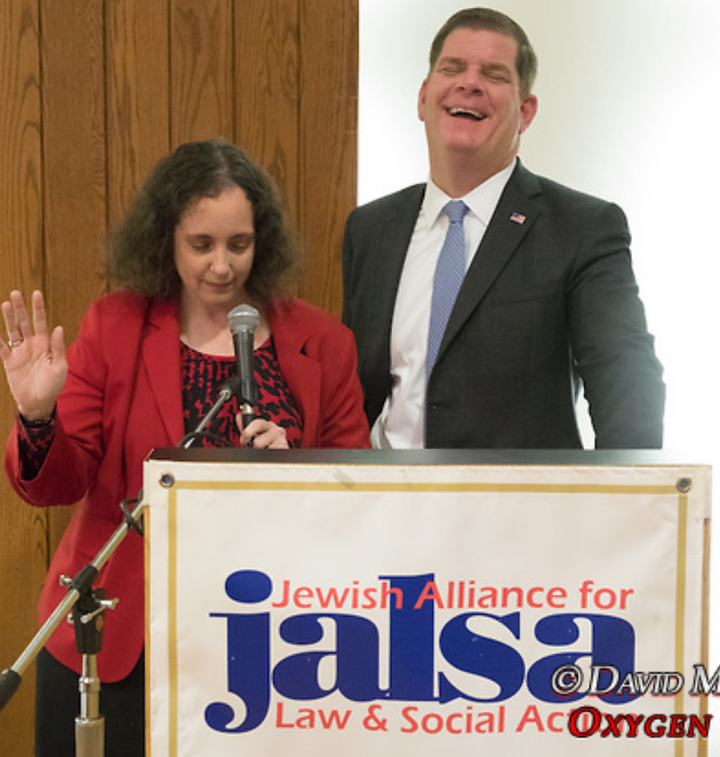 "We have some big hurdles to overcome," said Walsh, who praised JALSA'S long history of activism. "But then, as I look around the room here, I see a lot of people who stood up for civil rights," he said. "Many people didn't think that was ever going to be successful," he added, noting that some like himself who were younger and weren't around in the 50's and 60's read about it in history books. "So this is our time — this is our opportunity to make sure that we rise up, on every single issue that JALSA fights for," he said.
The Mayor was correct — JALSA's ranks are filled with veteran activists. But milling about as well were younger board members such as Commission on Law & Social Action Chair Jonathan Sclarsic, Community Organizer and Program Manager Hannah Klein, Assistant Secretary Daniel Fishman, and Assistant Treasurer Noah Hodgetts. It is their time as well to take on an administration arguably the most regressive in their mentors' memories.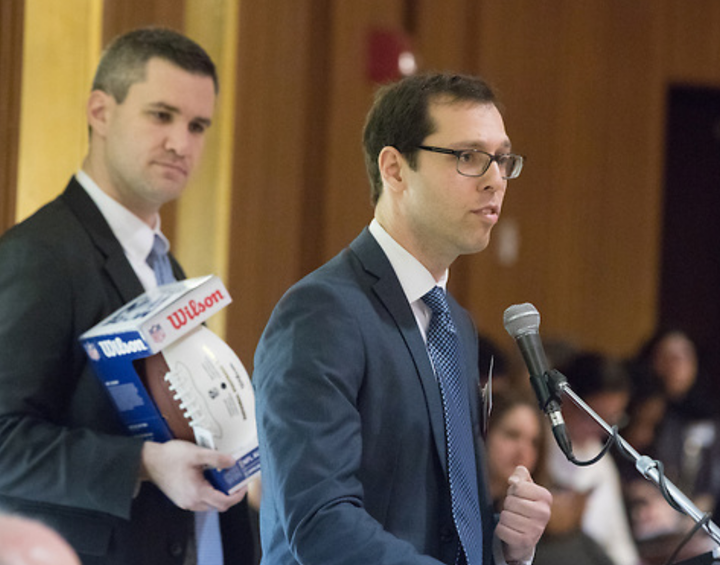 "The reason they fight for them is that it's not an easy get," Walsh continued. "It's a complicated get."
Walsh said there was a lot of light in the room. "And a lot of good will as well," he said, adding that because of the work JALSA had done, there wasn't a need to begin anew.
"We don't have to start over," he said, "because JALSA has fought for immigration rights for a long time. JALSA has fought for religious freedom for a long time. For fair law enforcement practices for a long time. And all of this just happens to be center stage, so the beauty is that we don't have to recreate organizations to start to fight back. We have organizations right here," he said.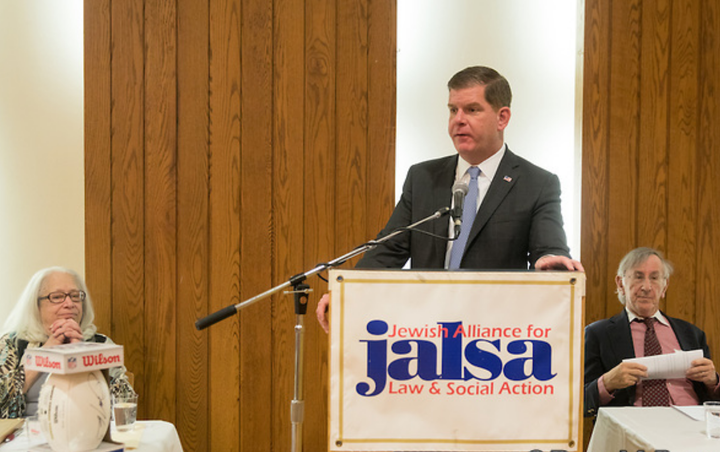 "It just so happens that this is happening on our soil, and we're not used to it. So it's important for us to adjust quickly and to move forward — because that's what we do as Americans," Walsh continued. "That's what we do as a country that was built by immigrants, that was founded by immigrants, where immigrants were allowed to come in regardless of your religion, regardless of the color of your skin, regardless of where you came from."
He praised JALSA as emblematic of that legacy. "JALSA's values are those values. What JALSA fights for — affordable housing, fair wages, racial justice, that's what we try to do in the city of Boston too, every single day," he said, with pride:
"This week, certainly after troubling executive actions coming out of Washington, I think we made it clear where Boston stands. And we're going to keep all Bostonians safe, no matter what.
"In Boston, we go beyond welcoming immigrants," he said. "We work to ensure that immigrants thrive in our city."
And nothing — not even the current Administration's edicts — was going to stop that. "Long before we had a President Trump, we had immigration clinics in City Hall, helping them on a pathway to citizenship," Walsh continued. "Long before we had a President Trump, we had immigration corners at 24 of our public libraries in the city of Boston. Long before we had a President Trump, we had free translation services throughout City Hall. Long before we had a President Trump, we offered free community college and free universal pre-K, and we built a record number of affordable housing," he said.
"We have a great country, we have a great city, and we're going to continue to move our agenda forward, and we're not going to let anybody stand in our way to accomplish what we want to accomplish," he promised. "And we are proud and grateful to have JALSA as a partner who helps us fight, and work on these issues every step of the way, to protect immigrants and defend civil liberties."
Walsh appealed to the assembled to join in. "We will need socially conscious advocates and legal experts like many of you in this room," he said. "If you're a lawyer and you have a little extra time, sign up," he advised, adding that they could make a huge difference in someone's life.
"Our city is stronger because it's full of leaders who know how to, and what connects us. And we also know what divides us," he cautioned.
"And we're not going to let that happen."
Following the meeting, many attendees proceeded to Copley Square to join that day's mass rally supporting immigrants and refugees.
SusieDavidson tweets at @SusieDavidsonMA.
Calling all HuffPost superfans!
Sign up for membership to become a founding member and help shape HuffPost's next chapter
BEFORE YOU GO