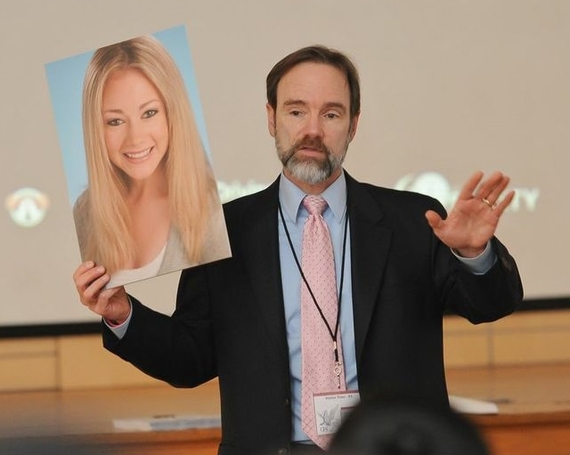 July 17th will be the 7th anniversary of my 21 year-old daughter Casey's death. She was killed by a distracted driver. In the days, weeks and months following Casey's death I wondered whether her short life would be remembered and whether her life would have made a difference in the world.
Fear that she would be forgotten was the driving force for me to learn about distracted driving and establish a Foundation in her memory and EndDD.org (End Distracted Driving ). Through EndDD.org, and our network of volunteer speakers, we have provided science-based distracted driving presentations to more than 300,000 teens and adults across the country and Canada. We have been able to provide presentations to elementary, middle and high school students without cost. I have personally spoken more than 400 times since 2010 and close to 100,000 people.
I no longer fear that Casey will be forgotten. Her face has become a national symbol of the senseless loss of life caused by distracted driving. I no longer fear that Casey's short life would not have made a positive difference in the world. Telling Casey's story, and the stories of the thousands who have been killed, is saving lives.
After presentations many people praise and congratulate me for being able to stand up in front of an audience and talk about how Casey was killed. Many tell me that they would not be able to do so. I am uncomfortable hearing those statements even though I know they are well-intended. For me, not telling Casey's story would be harder. And the tragedy of Casey's death would be even worse if good could not come from it. I suspect many feel that telling Casey's story reminds me of her loss and the way that she died and that's why they feel it must be so difficult. But regardless of whether I am speaking publicly I think of Casey every day. It is never necessary for me to have a reminder that my child is dead.
So it is not "difficult " to speak about Casey. What is difficult is to think about how many young people will be killed or injured because of distracted driving, how many promising young lives will be taken because of senseless preventable crashes and how many families will suffer from the loss of a child, sibling, spouse, parent or friend. We think of the drunk driver as a bad person but since so many of us drive distracted it is difficult to think of ourselves as bad, or selfish or irresponsible. But all of us need to honestly look at how we drive if we are to stop these tragedies. It is difficult knowing that there is so much more that could be done to save lives and we are not doing it. Until we change the way we view distracted driving, more and more young people will die and more parents will be telling the stories of their dead children.
Joel Feldman is an attorney in Philadelphia with the law firm of Anapol Weiss. After his daughter Casey was killed by a distracted driver he obtained a masters in counseling and co-founded EndDD.org (End Distracted Driving) with his wife Dianne. EndDD.org has a network of speakers across the country and provides presentations without cost to schools. For more information about scheduling presentations or learning what you can do to end distracted driving e-mail Joel at info@EndDD.org.
REAL LIFE. REAL NEWS. REAL VOICES.
Help us tell more of the stories that matter from voices that too often remain unheard.