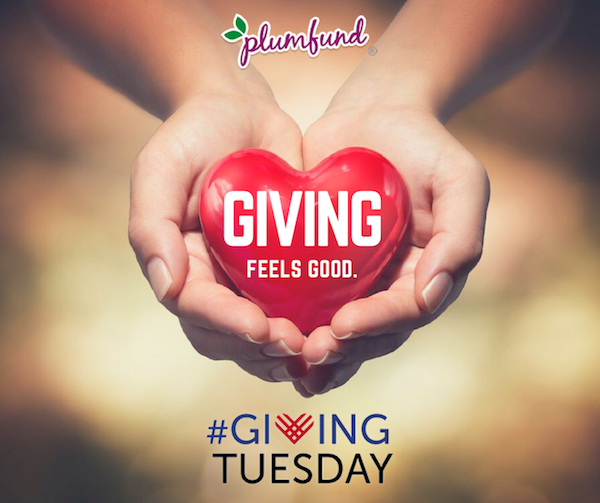 By Sara Margulis, CEO Honeyfund & Plumfund
Giving Tuesday is one of my favorite days of the year. It challenges us to look at the meaning behind the season of giving, and forces us to find some moments in the busiest time of year to serve others. In that spirit, here are three easy ways you can dedicate yourself to service today, and beyond. In other words, here's how to easily win Giving Tuesday in just 15 minutes!
1. Make a Difference for a Cause You Care About by Giving to Charity – Five Minutes
It doesn't matter if you have $5, $50 or $500, the act of giving to an organization that does work that is meaningful to you is extremely rewarding. Here are some common categories to get your wheels turning and power a Google search. Add your city name to the search — you can often find a local organization which will be very grateful for your donation, however small.
Animals – Shelters and Rescue Organizations
The Arts – Music, Theater, Dance, Fine Arts, Galleries, etc.
Community Organizing & Human Rights – One of my favorite genres of charities! Often supporting basic civic rights, housing, elderly, and the poor. Homeless shelters really need food, clothing and gift items this time of year. This year, consider supporting the ACLU.
Education – Your local schools' foundation organization is one. Or how about funding speciality educational programs like girls in STEM, music or language?
Environmental Conservation – International organizations work hard to clean the air, water and land by working with local groups and lobbying governments.Nature.org is a popular one.
Health & Disease Research – Try The Parker Institute, which is making break-throughs in cancer treatments using the body's own immune system.
Religious Organizations – Think about making a pledge, or increasing your existing annual pledge to your church, temple or mosque.
2. Support a Cause in Lieu of Gifts – Six Minutes
In this day and age we have more than enough "things" – don't we? If you have friend and family that would normally give you a wrapped gift, you can gently request they donate to your favorite cause instead. Open a Plumfund campaign and spread the word. Friends and family near and far can donate online. It's more convenient for them than shipping a gift!
3. Make a Phone Call to Find Ways to Volunteer – Four Minutes
Ask a local shelter, religious center or charity if they have opportunities this season. If not, schedule some volunteer time for next year to. You can also find opportunities online at sites like http://www.volunteermatch.org/. If you have kids, ask if you can involve them!
This post is part of a series produced by Plumfund, in conjunction with Giving Tuesday. In the series, we'll feature inspirational stories of giving and receiving from users and friends of Plumfund, the free crowdfunding site. You'll find one post every week in November leading up to Giving Tuesday. To start your own campaign, visit Plumfund.com.
Related
Popular in the Community