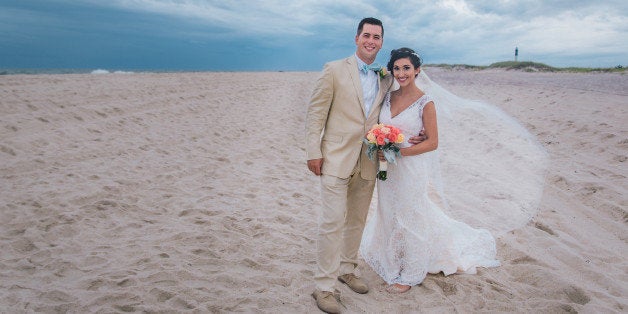 My husband Adam and I are Long Island natives who basically grew up on the beach, had our first kiss on the beach, spent our summers together sailing to the beach on Adam's sailboat, and got engaged on the beach, so it was no question that our wedding would be held on the beach in Fire Island, NY (our usual sailboat destination). We planned the perfect beach wedding -- fully equipped with starfish aisle markers, sunglasses and flip-flops as favors, mini beach balls to throw instead of rice, a steel drummer for ceremony music, and seashell-filled Mason jar centerpieces. Our big day would be September 12, 2015 which, historically on Fire Island, is a dry time of year with mild temperatures in the 70s -- perfect!
The day began beautifully with the sun shining bright and a nice ocean breeze. But as we got to the beach for our bridal party portraits, the clouds we knew were coming (according to the past week of weather forecasts) started rolling in, dark and ominous. It began drizzling lightly during our photo session, and eventually the sun disappeared completely. Later, at the ceremony, the rain gradually became heavier, the winds stronger, and my dress wetter. When none of our guests could hear a thing we were saying anymore, we decided to cut the beach ceremony short and finish our vows at the reception venue, which was held outside but under a tent. By the time we reached the venue, the evening had turned into a full on wind-and-rainstorm of torrential downpour.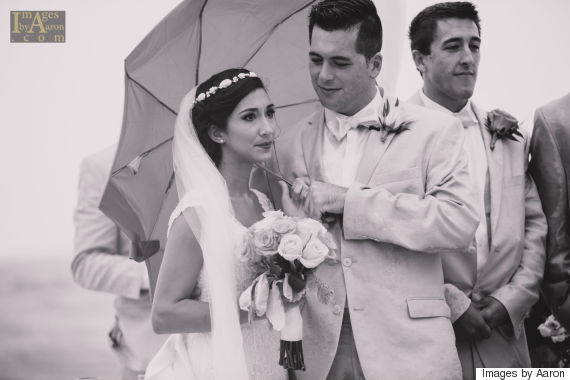 Since our wedding, quite a few people have made comments to us that they "feel bad" that it rained on our wedding day, or how "great" we were for handling it "despite the rain." Let me make one thing clear: September 12, 2015 was the single most perfect, fun, and love-filled day of my life, and I would not change one thing about it, especially not the rain.
As you can see from the photos, I got upset when it started raining at the ceremony. But I swear that the SOLE reason I was upset was that I was so afraid our guests would be wet and disappointed and have a bad time. If it were just me and Adam, it could have been a blizzard and I would have happily held my best friend's hand and laughed through our vows about another one of our crazy life adventures. In fact, our first kiss was on the beach, in the rain, while drinking pina coladas (yes, like the song), and it was magical. We picked our wedding venue knowing full well we risked weather issues, but we didn't care because we are Long Island beach bums and wouldn't have had it any other way. The weather would never have stopped us.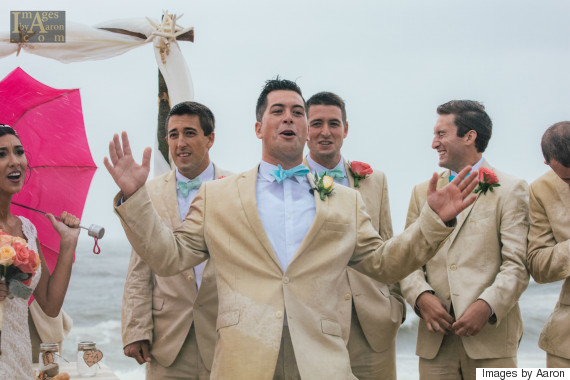 The one mistake I made was doubting our absolutely wonderful friends and family who, it turns out, love us so unconditionally that not only did they NOT give two $&@%s that it was pouring rain and gusting 37 mile per hour winds, they actually squeezed closer together and walked right up to the altar to hear better. They didn't care about the rain -- they just wanted to hear our vows! I will never forget turning around and seeing all our guests, umbrellas up, winds gusting, smiles wide, and tears of joy in their eyes for me and Adam (okay, maybe it was just rain). It gave me an adrenaline rush of love and happiness in a way I cannot explain.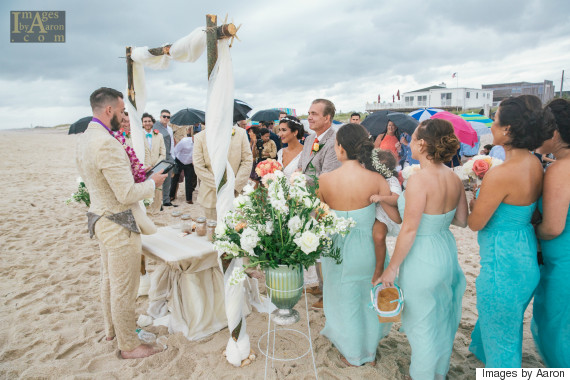 From that moment on, I realized how silly I was being, how awesome our friends and family are, and how I needed to continue enjoying the best day of my life, marry my man, and stop worrying about everyone else! Oh, and not to mention, after all this "worrying," there wasn't a single moment of our reception (other than the speeches and cake cutting) that the dance floor wasn't jam-packed with people dancing and partying harder than a Memorial Day Sunday at Flynn's Fire Island.

Let me make one thing clear: September 12, 2015 was the single most perfect, fun, and love-filled day of my life, and I would not change one thing about it, especially not the rain.
Come to think of it, one of the greatest moments of the night would not have happened if not for the rain. During our bridal party entrance, where each bridal party "couple" gets introduced by the MC and dances in the spotlight to some fun background music (for us, it was "Uptown Funk" by Mark Ronson featuring Bruno Mars), the storm cut off the DJ's power RIGHT as my husband and I were about to be introduced. Epic fail, right? Nope. On cue and without hesitation, the entire room of 180 guests finished the song a capella to give us the most epic entrance we could have ever dreamed of: "UP-TOWN-FUNK YOU UP, UPTOWN FUNK YOU UP!"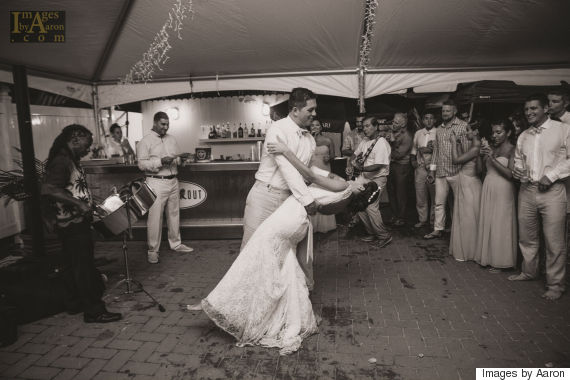 So this is my thank you to all who were there to make our wedding day the BEST DAY EVER. Nobody better ever think again that our wedding day wasn't everything we both dreamed of, because it was that and more. Thank you especially to our parents and our bridal party, who had our backs through it all. And of course, thank you to my wonderful husband Adam for holding my umbrella and agreeing to be my forever adventure partner. I love you ALL with every part of my heart and soul.
"Life isn't about waiting for the storm to pass... it's about learning to dance in the rain." -Vivian Greene. And dance in the rain we sure as hell did!