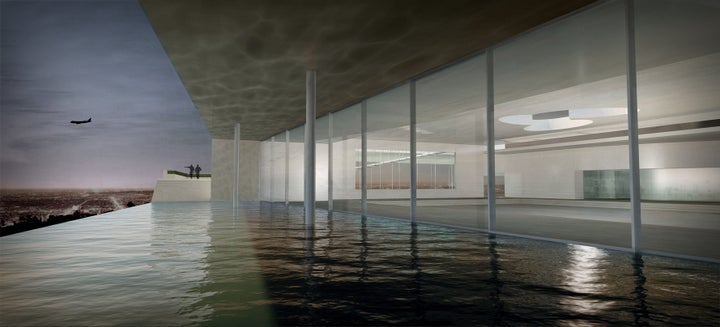 SNAPSHOP! Fundraising Benefit | SNAPSHOP! is a photography workshop program for at-risk Los Angeles youth organized by the Lucie Foundation, creators of Month of Photography LA (MOPLA). SNAPSHOP! aims to cultivate the photographic minds of the future and provide the opportunities for high school students to acquire skills that might not be readily available to them in their schools or communities. Students are paired with established photographers who will impart practical, technical and aesthetic knowledge on crafting a photographic image. Program partners include the Santa Monica College, Lomography and Julia Dean Photo Workshops, who provide the dynamic locations where students learn. The four-day program culminates with an exhibition of each student's work during the closing night of MOPLA.
To benefit SNAPSHOP! the Lucie Foundation will host a fundraising event April 23 at the Factory Place Events Complex in Downtown Los Angeles from 7pm to 10pm. For more information and tickets click here.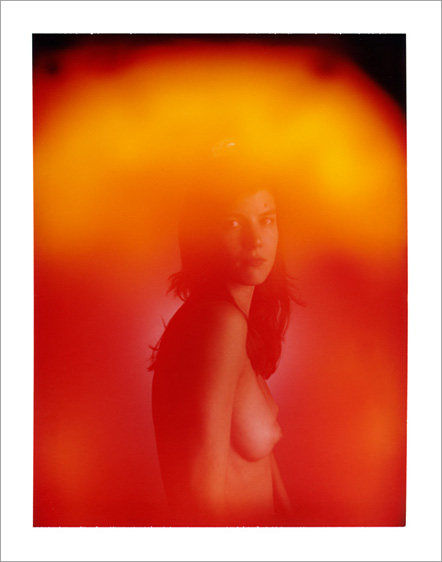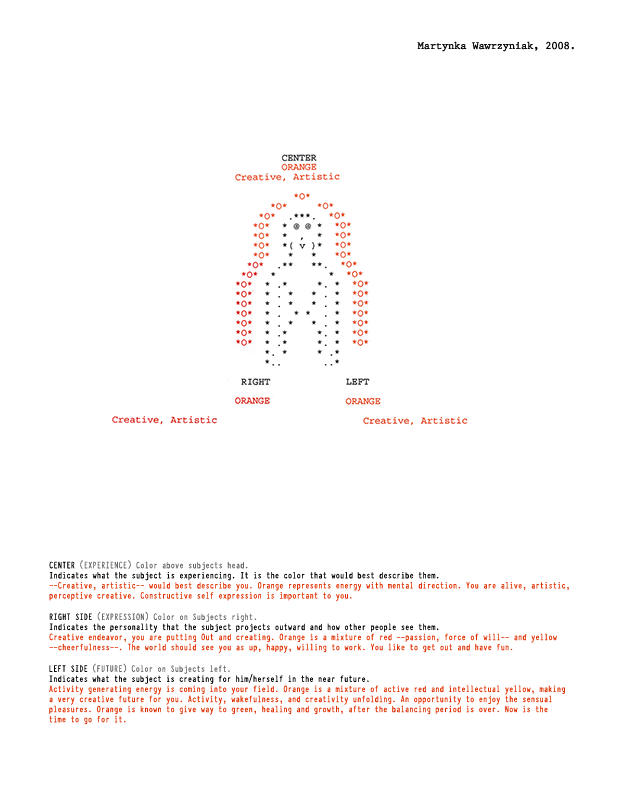 Copyright Carlo Van de Roer, courtesy M+B gallery
Carlo Van de Roer: The Portrait Machine Project | Portrait Machine Project explores the idea that a camera can reveal an otherwise unseen insight into a subject's character and their relationship with the photographer and viewer. These portraits are made with a Polaroid aura camera developed in the 1970s by an American scientist in an attempt to record what a psychic might see.
The subject is connected to the camera by sensors measuring electromagnetic biofeedback. It translates these readings into information about the subject and how they are seen by the photographer and others -- suggesting the camera bypasses the control of the photographer and subject in making the portrait. The camera generates a printed description of these views of the subject, which are also depicted aesthetically in the Polaroid. This printout is presented to the viewer along with each photograph in a similar manner to a caption.
Carlo Van de Roer: The Portrait Machine Project opens April 16 at M+B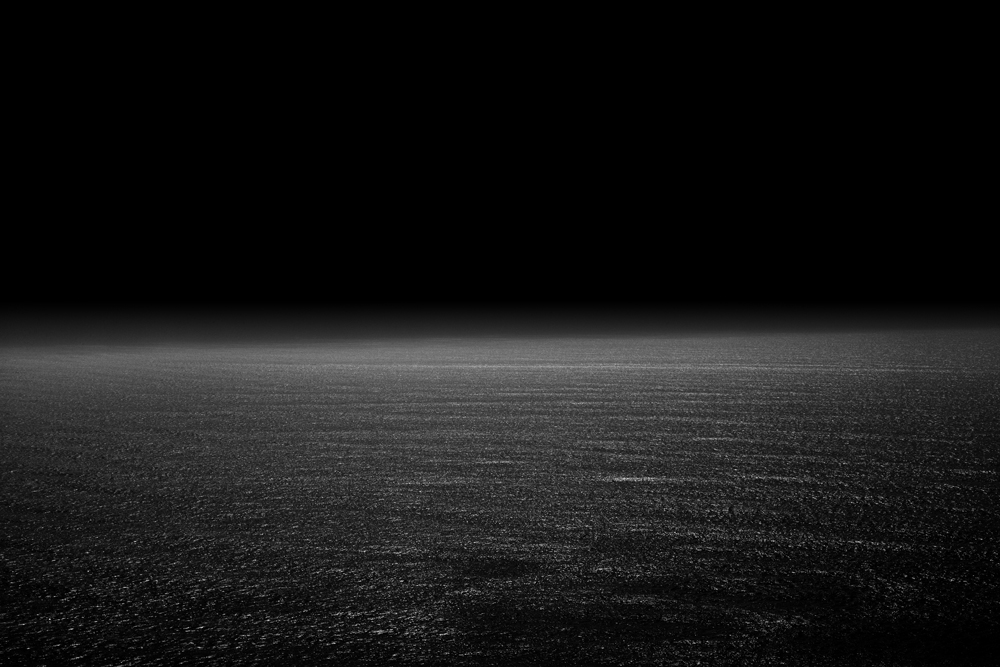 Big Sur d9j0499c Photograph by Pej Behdarvand
Pej Behdarvand: Dreaming California | The artist describes Dreaming California as "the longing for elsewhere. My intention for this project is to elicit the feelings of both beauty and uncertainty that arise when one yearns for another time, place, or circumstance. The Golden State has evocated yearnings for riches, fame, leisure and warm weather from the time of the Gold Rush to the creation of films from the movie studios to songs of surf and sun. This landscape series employs an old Hollywood technique known as Day for Night to create an illusion as well as to capture a different perspective on the "sunny California" landscape. All the images were digitally photographed during the light of day. Dreaming California is not a commentary on the state itself or a pessimistic stance against hopes or dreams. It is more of an exploration of the abstract notions of yearning and desire and the moments before actualization or disillusion."
Pej Behdarvand: Dreaming California opens April 16 at drkrm/gallery

Log Cabin, 1988, 10 x 8 Chromogenic print 1/1, and Pure Maple Syrup container camera (metal with pinhole). Used by permission, Duncan Miller Gallery. Copyright Jo Babcock.
Jo Babcock: The Invented Camera | Babcock uses each homemade camera to create a single photograph. Often the container seeks out its real-world companion -- a log cabin maple syrup tin locating an actual log cabin, a coffee urn camera discovering a neon coffee pot sign. Some pairings allow the viewer to suspend disbelief and become the object -- as a Band Aid box viewing its patient; a detergent box studies a coin-operated washing machine; a gasoline can observing an abandoned gas station. After its brief career, each camera becomes a sculptural art object, as presented and offered together with its photograph. These one-of-a-kind paired sets keep the codependent relationships intact.
Jo Babcock: The Invented Camera runs through April 23 at Duncan Miller Gallery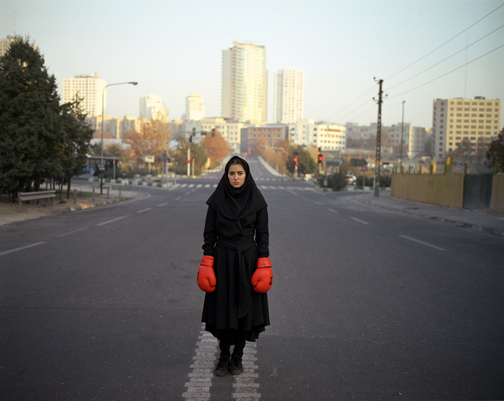 Newsha Tavakolian, My Superhero, C print, 41x51". Courtesy of Morono Kiang Gallery.
My Super Hero | An unprecedented exhibition presented simultaneously at Morono Kiang Gallery and Aaran Gallery, two leading galleries in their respective cities, Los Angeles and Tehran. My Super Hero features new works created exclusively for this exhibit by a diverse group of over 30 artists from Iran. Says curator Nazila Noebashari, founder and director of Aaran Gallery, "...For centuries Persian artists have used mythology and poetry to depict a wondrous world, loyal to ideals of beauty, truth and perfection. A world where they have found the redeeming answer to brutality, chaos and frustration that have been a part of daily life. Artists have created sanctuaries, providing consolation, delight and revelation for their audiences. They have preserved the Persian legacy, enriched our lives and inspired us as a nation to become better than we are."
My Super Hero runs through April 30 at Morono Kiang Gallery

REAL LIFE. REAL NEWS. REAL VOICES.
Help us tell more of the stories that matter from voices that too often remain unheard.