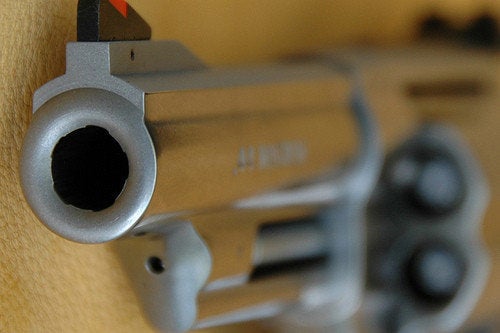 "The number comes from the Center for Disease Control because it's considered a public health issue," says Lance Orchid, the campaign manager for the Mayors Against Illegal Guns 'Fix Gun Checks' Tour. It is more like an epidemic. When a large, red billboard truck pulls up outside City Hall in Trenton, New Jersey at 8:30 am on May 9, 2011, the last stop on a fifty city tour intended to raise awareness and support for the urgent need to change the ineffective laws surrounding background checks to purchase firearms, the digital, constantly updating number on the mobile billboard truck reads 4,109. That is 4,109 people murdered in preventable, illegal gun deaths since the Tucson shooting this past January. The CDC number averages it to thirty-four shootings a day.
The tour began on February 16, 2011. Sponsored by Mayors Against Illegal Guns, a national, bi-partisan coalition of nearly six hundred mayors started by New York's Mayor Michael Bloomberg and Boston's Mayor Tom Menino to create a comprehensive approach to combat growing gun violence and fix our background check system, most people seem confused why the issue on its own doesn't get more attention. Richard M. Daley, former mayor of Chicago, asks, "Why aren't Americans more outraged? Why does it have to affect you personally before you get behind the issue?" Orchid sees "a consistent national narrative. Gun violence is not just isolated incidents in isolated cities that you read in the newspaper and then turn the page; rather it's tragic it's going on in all cities. This is the story of America." And the reason it's happening is simple: guns are easily, too easily, tragically easily, getting in the hands of the wrong people. The Virginia Tech shooter was able to purchase a gun despite a court ruling that he was mentally ill and "imminent danger;" the Tucson shooter purchased a gun within a year of admitting to the U.S. Army he was a drug user.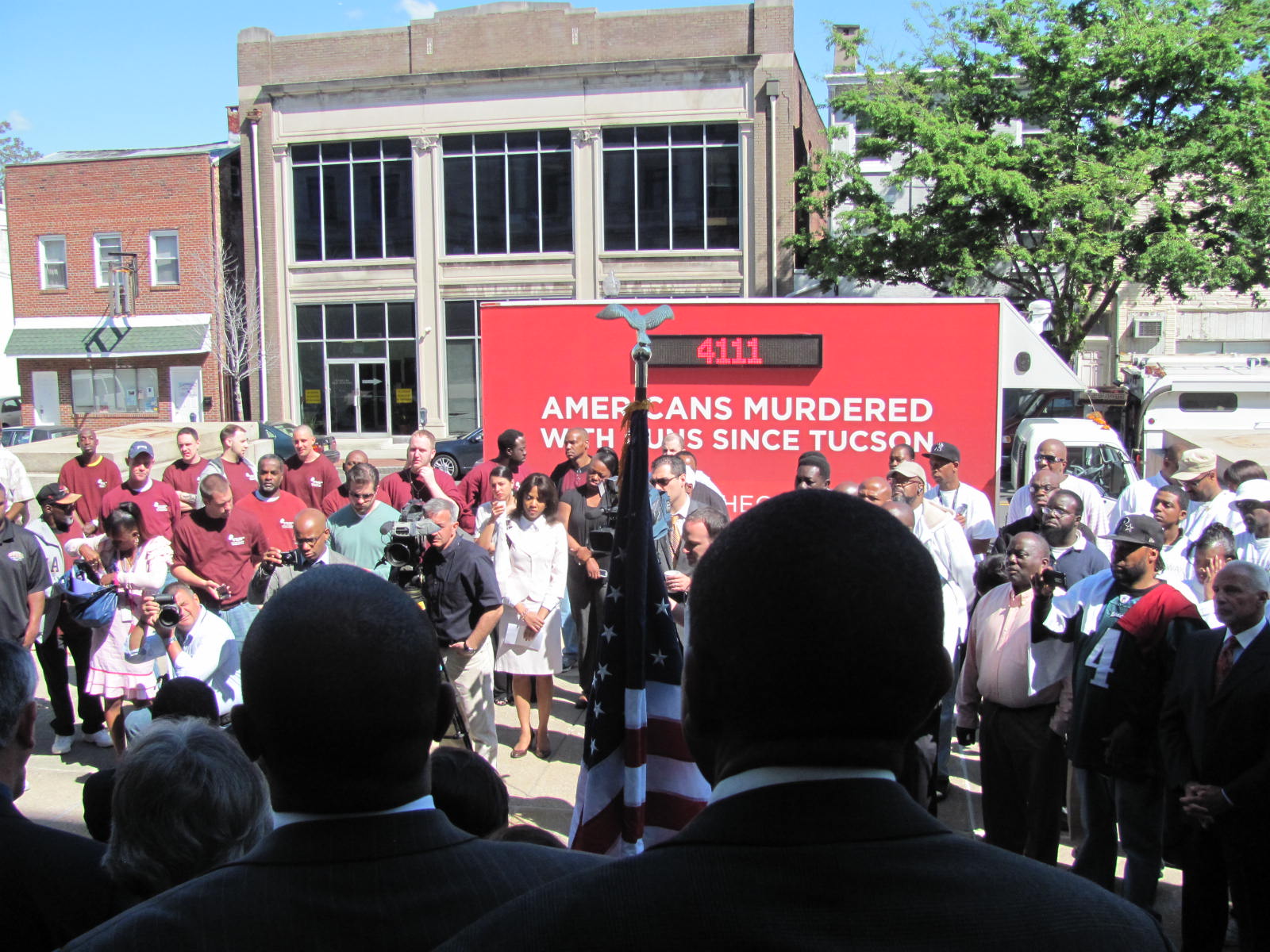 The Fix Gun Checks Tour is basically a mobile billboard accompanied by its driver and four others: Lance Orchid, formerly of the Obama campaign and Repower America, is the campaign manager; there is a new media director, and a spokesperson, Omar Samaha, and a hardworking assistant. Omar's role is an emotional one -- his sister, Reema Samaha, was killed in the Virginia Tech Massacre -- and he, only in his mid-twenties, has left behind a career in real estate in DC to go on the road for three months to promote this deeply personal issue. The events at Virginia Tech completely changed the trajectory of his life, and when the tour stopped in Blacksburg, he led a group through Norris Hall, where the massacre took place, including the French classroom where his own sister was killed. It was only his second time being in that room since it happened, as he vividly recreated the events of that day. The area where it happened has now been rechristened The Peace Center, dedicated to the study of peace. "The news can often desensitize people," Orchid says, "but it's impossible not to understand the profound human tragedy that took place there, when one visits the site, and the Drill Field were 32 stones are each laid out and dedicated to each of the students lost, including Omar's sister." The tour also included stops at Columbine, Tucson, Northeastern Illinois University, and Iowa.
The Fix Gun Checks Tour's mission is simple -- to mobilize awareness. Working with partners across the country, the Tour holds press events, usually at City Hall, attended by the mayors, as well as local groups, activists, council members, community and religious leaders, and those who have been personally affected by the issue. The mayors usually speak, and then various others step up to the podium, always including a statement from Omar. He is not new to the media. He was featured in a 20/20 episode called "If Only I Had a Gun," in which he attended a Richmond, Virginia gun show, purchased and loaded up his car with ten guns in under an hour, including assault rifles, without undergoing any background or ID checks or questions asked. It is quite simply, harder in this country to buy cigarettes.
If there is a no-fly list, one could ask, then why isn't there an effective and uniformly utilized no-gun list? Illegal gun violence is, after all, terrorism. And as the truck sits outside the Trenton steps on this early May day, more people have been murdered since January 2011 than were killed in 9/11. As Senator Shirley Turner says emotionally during the Trenton conference, "How can we live in a country where children can pick up a gun easier than they can pick up a book?"
Al-Qaeda has certainly taken notice: a video released on June 3rd of Adam Gadahn, a spokesperson for the terrorist organization, instructs American Muslims to buy guns. "America is absolutely awash with easily obtainable firearms," he states. "You can go down to a gun show at the local convention center and come away with a fully automatic assault rifle without a background check, and most likely without having to show an identification card." Inexplicably, the NRA seems less concerned with Al Qaeda trying to exploit the gun loopholes in this country -- in the same week the video was released, they criticized proposed Delaware legislation aimed at closing the gun show loopholes, citing this as a move toward an ultimate ban on all private sales, and a violation of Second Amendment rights.
"It's a common sense issue," says Mike Pohle. "Update the national background check system database, and require a background check on every single gun sale nationally." But it's hard to watch Mr. Pohle speak. Soft-spoken and intelligent, he wears dark sunglasses as he for the first time takes the podium, speaking slowly and wiping away tears. His son Mike Jr, a senior, was killed in Virginia Tech. "Close one of the easiest pathways to get illegal guns," he urges, his passion for the issue matched by the unbearable sense of loss one hears in his voice. After, a reverend stands up and says he's sick and tired of attending funerals. The director of the police department comments how just 'one small step could save so many lives.' "We need every effort possible," says Carole Stiller, who heads the New Jersey chapter of the Million Mom March, and is constantly meeting the families of victims. "It's nice to meet them, " she says, "but it's a tragic way to meet them."
"The NRA should be joining us, " says Mr. Pohle. "I don't understand the opposition to our argument. The NRA says it's not the guns that kill people; it's the people behind them. So then why -- if you have the opportunity to close off the availability of guns to people who shouldn't use them -- why wouldn't you? Why don't they join us?" On a positive note, he is genuinely moved by the alliance of Mayors Against Illegal Guns. "I view the mayors signing on as very courageous. That they're taking a stand against this issue as opposed to worrying about their next election and afraid to alienate their voter base."
And city by city, mayor by mayor, there is growing support. 280,000 Americans have signed the Fix Gun Checks petition since Tucson. There is the Senate bill, and the recently introduced house bill that includes the support of the head of the DNC. Maybe finally there is growing momentum towards change, and this is a crucial moment in the campaign. It will take a country to save a country.
"The challenge, says Orchid, "is getting people who have not been directly affected by gun violence to care. Thirty-four Americans die every day. And it's not only just the typical stories of drug trade and gang violence." He cites besides the massacres like Tucson and VA Tech, an eighteen month baby killed by a stray bullet in a car seat while his father pumped gas in Pittsburgh, or a young girl in Milwaukee killed while playing with kittens at her grandmother's house, or the honors student in Chicago who jumped toward a bullet heading towards his friend on a city bus. The list goes on. At the press conference in Richmond, Virginia, Mayor Dwight Jones questioned, "How many deaths will it take for us to see change ushered in?"
Or as former Mayor Daley asks, "why aren't Americans more outraged?" It's a sentiment echoed by all mayors. After all, they are the ones who often have to deliver the tragic news to the families. Mayor Bloomberg says he became involved and affected by this issue because of all the experiences he had telling family members of the NYPD who had been killed while on the job.
As the press conference comes to an end on the Trenton steps, civic and business leaders shake each other's hands, victims' family members give each other hugs, reporters leave, and City Hall aides start to strike the podium. Some say it takes a village to raise a child; in this case, it will take a country to save a country. When the truck pulls away, the number reads 4,113. By the end of the day, it will read 4,143.
Calling all HuffPost superfans!
Sign up for membership to become a founding member and help shape HuffPost's next chapter