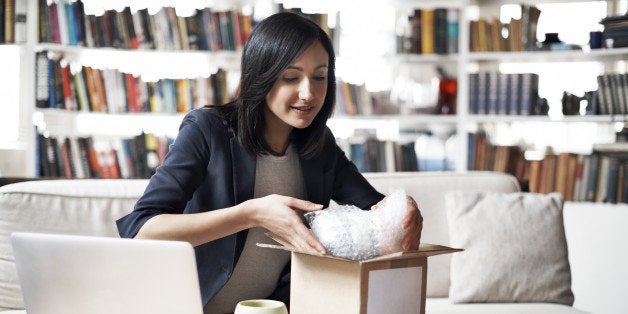 My first words of advice when considering an online purchase for anything, but especially something large like a chair, or lighting, or any home décor, is to know the return policy. If you prepare yourself for the possibility that the purchase will not work out, you can actually relax a little.
Here's how it goes: I'm working with a client and they want to visit a showroom to look at lighting for a simple table lamp. Before they even hired me for their renovation project, they had gone to their local brick and mortar store and were disappointed in their findings. I come into the picture and we discuss going to a couple of stores together to select that perfect lamp. And now comes the conversation I find myself having over and over again with clients: stores are just not stocking every single thing they offer and no matter which store you visit, your search can begin to feel like a fool's errand. The major furniture retail outlets like Crate & Barrel, Pottery Barn, etc. do typically stock almost everything you'll find on their websites. But even they cannot possibly display everything. Plus, twenty-first century alert here folks, people are shopping from their computers more than ever before. In the business of interior design where texture and quality mean everything, it can be a challenge to guide a client toward the right product which they won't see in person until it arrives in a big box at their front door. Such a commitment to shipping costs, return policies, and then crossing one's fingers that the color looks just like it did on their computer screen causes hesitation and dare I say, anxiety in the design process.
Here's how I propose we look at the situation. As I said, know your return policy. But before you even click "Buy", or confirm an order with your interior designer, know that before on line purchasing was a thing, we did in fact have catalogues with little pictures and we had to take the same leap of faith as we do now. I think part of the equation here is knowing which manufactures to trust. And I'm not necessarily suggesting to not buy anything that says it was made in China, although I know many who vigorously avoid such products. What I am saying is when it comes to quality of materials and workmanship, this is where your designer should know their stuff. With the allure of ridiculously affordable vinyl upholstery for example, I have had to steer many a client away from some serious crap that would have torn in a matter of days with no option to repair the damage. Vinyl is not leather, does not perform like leather, will not hold up like leather and you'll hate it ten minutes after you receive it. Look at any cheap restaurant chair with holes in it and ask yourself if you want that in your house. Crate & Barrel is one of the few retail stores that sells commercial grade vinyl that will hold up very well in a typical residential environment.
Just because you come across a great deal online and the color is pretty does not mean you should buy it. Your interior designer knows this and understands the rub counts on fabrics, attends lighting seminars, and has seen the mistakes of others. Before you buy, decide how long you expect to have the item. If you're good replacing in months rather than years, go right ahead and make that purchase. It's a quick thrill, I know. And that too, is part of the dilemma we all face. We want it now. We want it yesterday. But we don't necessarily want to pay a fortune and even if we do, there is always the possibility that you purchase a quality item and something goes wrong.
In our world of warehouse shopping (and shipping), stuff gets damaged. We must understand that sometimes things don't arrive just right and we have to make a phone call and get it taken care of. Your designer has a big advantage here because suppliers do volume business with them. A designer should be the one to handle returns, as long as it is in their contract to do so. If you're not sure, ask your designer in advance so that when the time comes, you know who will take responsibility for communicating what went wrong and who will schlepp that box to UPS (or whomever) or arrange a pick up.
None of this is earth shattering. Go ahead and order the thing you want to order, but please remember, it could go two ways; either wonderfully satisfactory or not. With patience and a whole lot of trust, it will all work out. Designing and decorating is a collaborative process more than ever, and sometimes the stars align just right and my clients actually find wonderful products. But typically I will source something for a client, have the order written up and they usually have an option to pay my rep directly if they so desire. This way, I have at the very least, vetted the product in advance and we don't have to go in circles reviewing stuff that is being sold as something it is not. This is one of the many ways an interior designer can be your advocate to get the best results for your project, despite our ever increasing throwaway culture.