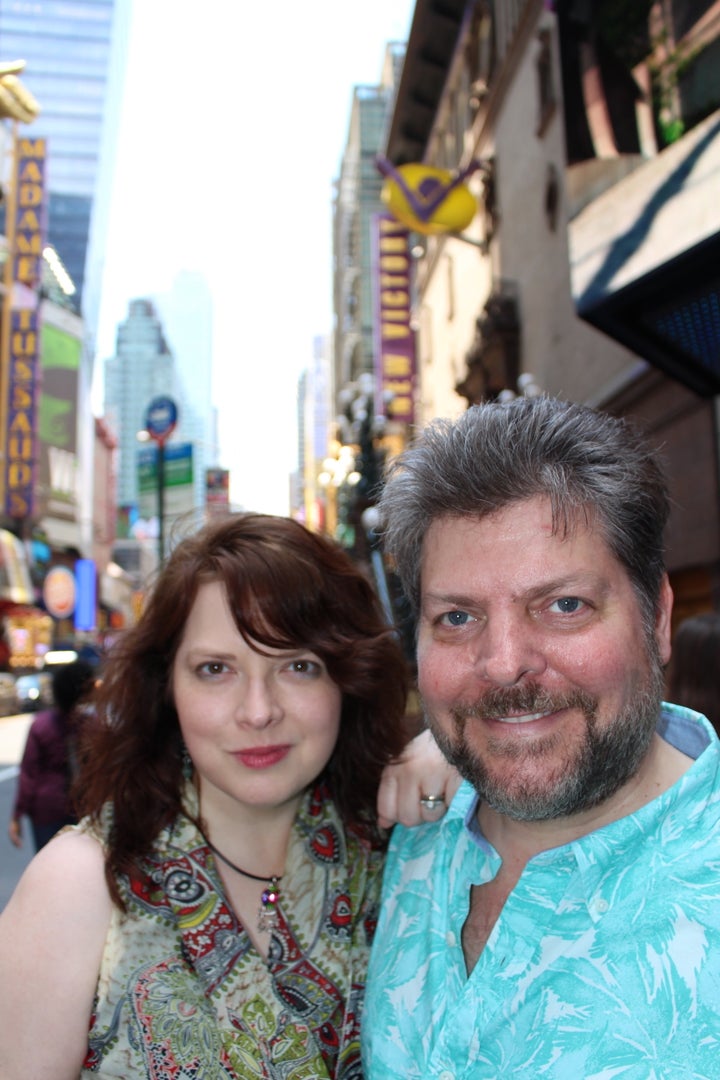 What happens when you set out to create musicals for adults, but you instead create a remarkable musical about little lizards for the whole family? You go with it! And when you get accepted to one of the oldest theatre festivals in New York, The Midtown International Theatre festival, you hopefully go beyond that! Emily and Rich (pictured in front of the New Victory Theater) have ambitions for this musical. Emily and Rich finish each other's sentences and put lyrics, stories, and music together. But one thing that really captures the imagination when meeting these two artists is that Emily comes from a family where musical theatre was a shared love. She was trained in voice and classical music, whereas Rich is not only hard of hearing, but mostly comes into music by his own momentum. He loved music as a child, listened to music mostly on his own, and in the first few years was a self-trained musician We interview them here and you can see that dynamic I am talking about for yourself.
Q ~ How did the two of you team up to work on musicals? And who does what?
Rich: We met at Mannes College of Music back in the late 1990s. Emily's mom, Marian Thompson, was a long-standing and respected vocal teacher at Mannes. She played a crucial role in getting the two of us together. I worked in the administration, and Emily taught the summer opera program.
Emily: My mother knew that Rich wrote musicals and that he was looking around for a new lyricist, and she knew I wanted to be a lyricist. It was almost like a blind date. My mom insisted we get together to talk about musical theater, and we hit it off immediately. We both had a real affinity for Alan Jay Lerner and all the musicals of Lerner & Loewe. We were also both fans of Andrew Lloyd Webber.
Rich: Our early meetings were mostly playing through different song books, comparing thoughts on different musicals and styles. As to how we divide our tasks, Emily writes book and lyrics, and I write the music. Emily is a trained musician, so that is very helpful when the two of us need to workshop a song. That Emily is a musician is also handy because we typically work apart from each other as a show is developed.
Emily: I email material to Rich, who sets lyrics to music. Often we'll pitch ideas that are usually the other's domain; I might suggest a musical idea or Rich will offer up some lyrical tweaks. (This approach works for us; we've written 7 shows together!) We do most of our work independently. Generally we get together about every 2 weeks or so to go over new material, to revise, or just to work on the business side of things. Since It Takes A Rainbow is part of the Midtown International Theater Festival this summer, we've been getting together much more often!
Q ~ How did the idea of It Takes A Rainbow begin? How long has it been "evolving" into what we will see at the MITF?
Emily: It Takes A Rainbow had an unusual beginning. Usually I set out to write a show on purpose. I let my students and love of the source material inspire me. For instance, three of our musicals are based on Shakespeare plays. Three of our other shows have their roots in mythology. It Takes A Rainbow, on the other hand, was the result of grief, boredom, and problem solving. It was September of 2012, the first anniversary of my mother's death. Even though a year had past, that first anniversary was hard. And I was spending this particular day attending teacher in-services, unable to concentrate. As the PowerPoint presentation continued, my mind started to wander. I was thinking ahead to what I would do for my 2nd grade musical later that year. In prior years I would typically produce five separate 10 minute plays, and it is exhausting to live in five different worlds! Could I get something together all in one 50-minute musical? It so happens that the frog is our school mascot in the 2nd grade, and I was thinking...thinking... then the PowerPoint clicked forward to the next item, and the presenter had included the image of a rainbow on that particular slide. Suddenly, with that image of a rainbow projected onto the screen, the ideas came flooding in. By the end of that meeting I had a plot, characters, and the sequence of the show. Since that day, the school has had an annual production of It Takes a Rainbow. It Takes A Rainbow has become a rite of passage at my school—a school tradition. Each production involves nearly 100 children. This show has also been produced in a children's theater (not a school) with a cast of twenty-five.
This August will be the seventh production of It Takes A Rainbow, and the MITF represents our New York City debut as a musical theater team. It is also quite different because we have professional actors performing along with some of our younger performers. For the children's parts, I've been able to pick out a few "all-stars" from past years, and it is such a talented cast. It is also our smallest cast to date. So, it has taught us a great deal about the versatility and adaptability of the show.
Q ~ You've been working for some time together, what other kind of work do you do or want to do?
Rich: For now, it's true that we have focused primarily on theater for young audiences and family musicals. Late last year we met with a Tony award winning producer whose parting words of wisdom were: "Write an adult musical—a musical for grownups." We certainly want to do that. What most people wouldn't know about us is that during our first year or so as a team, we took a stab at a number of ideas that were intended for general audiences, such as Wuthering Heights. Nothing really "clicked" until we started working on musicals with young audiences in mind. For instance, in the case of Wuthering Heights, we wrote a few songs we really liked, but I kept hearing the project more as an opera than as a piece of musical theater. Then we started writing children's musicals, and there was no looking back. Someday we may return to some of those early ideas, or we might find an entirely new project. But we do want to write something that isn't specifically targeted toward young audiences. We have also collaborated a bit on classical music. Emily's background is literature, and she would often find poems and suggest that I set them to music. We don't dwell so much on classical collaborations now that we are so busy with our musical theater work.
Q ~ What's "It Takes A Rainbow" all about and why do you think people enjoy it so much? What have they said and how much of the original version will be seen at MITF?
Emily: Sometimes audiences will see this show and say to us, "Wow, why isn't this show everywhere?" The MITF is a great step in the right direction. The story hasn't altered at all. It very much is the original show, with some actors doubling up on roles. However, there will be a very different vibe with the cast being so much smaller. The show gains a lot more intimacy. I think the audience will feel a part of the show. It Takes a Rainbow is a classic hero story told in the form of an origin tale. It depicts the journey of seven little lizards who live safely at home in their warm, brown bog. Everything is brown, including the lizards! Their father, King Upinde, decrees that the lizards will always stay together in their bog. However, their mother, Queen Wamvua, tells her children that there might be other colors in the world, or so she's heard. So the little lizards decide to venture forth in search of the colorful world. On their journey the little lizards encounter frogs of different colors and cultures. As each one becomes enchanted with the new color, a spectacular transformation occurs. The lizards finally decide to return home with the different colors they have collected. That is when something truly amazing happens. I think of this show as the anti-xenophobic musical. For years, our culture—our society—has been preaching "tolerance." That seems so futile to me. The best possible outcome of "tolerance" is what? That we tolerate each other? No, acceptance is the goal, and that is what we must teach. Also, why not teach celebration? That our differences are a cause for celebration? That is what this show is about at its innermost core. It Takes a Rainbow teaches that if we want to grow, we have to be open to that which is different, to that which is new. I think audiences instinctively sympathize with the lizard characters and their journey. There is no obvious villain in this story except our own fear.
The greatest compliment I've received over and over from people who have seen the show is the question: "What culture does this story come from?" The truth is I made it up, but it still reaches people as though it is genuinely an ancient story. I'm so pleased it comes across that way. And, Rich has done a terrific job of musically representing the various cultures the lizards encounter. The title song explains how this show is a celebration of all colors: "Whether you're brown, orange or blue/every color's truly true/every color is inside of you."
Q ~ There seems to be a really good creative understanding between you two. How do you creatively complement each other's work? Are there any other influential forces out there that help make your work better, or influence your work?
Rich: We both came to music very early in life. When Emily and I first met, we already had a very similar vocabulary of musical interests, from pop to classical to, of course, musical theater. And yet, we both come to music on very different paths. In Emily's case, it makes sense that music came to her very early: her mother was a world- touring soprano and a respected voice teacher. Naturally, Emily was surrounded by music growing up. She studied for years at the Mannes College of Music's Preparatory program.
Emily: In Rich's case, music didn't really make sense in so many ways! Rich was born hard of hearing, and no one would have ever thought to push him in a musical direction.
Rich: Besides, neither of my parents are especially musical.
Emily: But he sought out music anyway; it was just that it was a self-directed journey.
Rich: I always say, "I didn't come from a musical family, but my parents had good music taste— and a great record collection!" I used to sit with headphones on and listen to album after album. I listened to everything from The Beatles to the Rolling Stones, from Beethoven to Bach. My parents had the soundtrack to 2001: A Space Odyssey which features Strauss (both Johann and Richard), Ligeti, and Khachaturian. The Ligeti piece was really different; where was the melody? The rhythm? I can't say I really liked that piece when I was really young, but I think it was important that I was exposed to it and asked those kinds of questions. So, without any formal instruction (until the age of 13), I was always absorbing music. A significant early album I heard (again, from my parent's collection) was Jesus Christ Superstar. It is undoubtedly the first musical I learned backwards and forwards, but it led to other musicals such as Godspell, Evita, A Chorus Line, Pippin. I used to always envision in my mind what was happening on the stage. I never got to see much theater; it was always going on in my mind and in my ears.
Emily: When I was that age—8 or 9 or so—I walked around my house putting on a one-woman production of Evita every day! My family and anyone who happened to be visiting were my first audiences. So when Rich and I first met, I think it's fair to say that our common interest in Andrew Lloyd Webber helped get us going.
Rich: It's an interesting point: a big difference between the two of us is that Emily was trained in music growing up, whereas I was really self-directed until I started piano lessons at the age of 13. Emily's mom was a performer, and Emily absorbed that ability to be a performer. Whereas I sat alone, with headphones on, listening to the music and envisioning theatrical scenes in my mind. Emily is extroverted, I'm introverted. Anyway, by the time we met, we had a common vocabulary of musical likes and interests. It also helps that we both have a love of literature. although Emily is certainly miles and miles ahead of me in this area. We have written 3 children's musicals that are updates of Shakespeare plays, but I readily confess I'm not really "into Shakespeare." This of course annoys Emily very much! So, even though we have a lot in common, we both have very distinctive tastes. I once tried to explain to Emily the Shakespearean tragedy that is The Godfather saga, and she could care less about that film cycle. Over the years, we've learned how we blend well, whether through common interests or what is different about us.
Emily: It is only fair to say that since we've known each other since the late 1990s, we've learned how to work with each other.
Rich: This is a nice way of saying we don't always agree!
Emily: We've certainly had our differences. A case in point comes from It Takes A Rainbow. There is a song called "The Citrus Conga" (about yellow and orange, of course) that needed several rewrites.
Rich: The lyric was just so perfect, but musically, the energy needed for a Latin feel just wasn't there. I wouldn't say we "clashed" over this song, but there were certainly some frustrations along the way. Emily kept saying, "It needs more oomph" and things like that. That song must have gone through 7 or 8 drafts—including a number of drafts that were completely discarded. But this is the nature of any effective collaboration.
Emily: "The World of Green" was also like that. I wanted an Irish feel. Rich came up with something that sounded like a dirge, something that bagpipes might be playing in a parade. I told him, "no, not quite like that."
Rich: Yes, I was thinking the Irish piece had to have a drone-like quality. Finally, it hit me, and I asked Emily, "Oh, do you mean like an Irish gigue? Something a leprechaun might dance to?"
Emily: That was more what I was looking for, yes. Let's just say it took several rewrites to get that one right! On the other hand, Rich's music for our blue song and our violet song were perfect right out of the gate.
Rich: We've spent years growing into this creative understanding. We always have to remember not to take it personally if a song isn't working, whether lyrically or musically. Any collaborative team has to remember that it is the song and the show that must come first.
Emily: Not always easy to do! However, in addition to be collaborators, we are very good friends. That can be a help or a hindrance, depending on the situation!
Rich: Ultimately, I would say we've developed a deep level of trust with each other. We need to be able to call each other out if necessary, and trust that it's not all doomed.
Q ~ Stylistically, what type of music can we expect in It Takes A Rainbow?
Rich: Musically, It Takes A Rainbow runs the gamut, from Caribbean beats, folk ballads, to Elton John style soft rock. One might question whether this means there isn't a musical "voice" in the show, but this variety is by design. The variety of colors in the show is represented by the variety of music that exists in this world. There is difference out there in the world, and what better way to celebrate it than through music? Our differences can work together in ways that are harmonious.
Emily: And this is very much in keeping with the show's theme. There isn't just one style that fits all.
Rich: Different musical choices help define the character of the different colors.
Q ~ Is there an age specific group that the musical is written for? If so, please describe the ideal audience.
Emily: This show is especially wonderful and magical for young audiences. However, I believe this show speaks to everyone. Adult and teens definitely won't be bored.
Rich: It's such a fast-paced show; there isn't time to be bored! I know from experience that the toughest crowds are the very, very young ones who, when bored, begin to fidget or start talking —whatever. As Emily says, there is something magical going on here. I've seen youngsters transfixed. I've also seen adults in tears. The show does indeed seem to speak to everyone.
Q ~ What's kind of emotional response are you expecting audiences to experience in your musical?
Rich: This is a very fast-paced story that sustains a lot of forward momentum. We think audiences will enjoy that whirlwind sense of fun and have a few good laughs. This show is disarming in that it seems like a show for kids, but it is the adults who walk away with something to really think about. I think adults aren't expecting that when they come and see the show.
Emily: But this isn't presented in a heavy-handed way. It has a moral, but it isn't moralistic.
Rich: Right. Nowhere do you ever feel like you are being preached to. We both feel the first priority of theater is to entertain—to tell a great story. Audiences should walk away from the theater and draw their own conclusions. It is the experience—experiencing theater first-hand, in person—that is so important. Experience is a great teacher, and theater can be such a wonderful experience!
Emily: And, as one student told me recently, "This story's got layers."
Rich: At the end of It Takes A Rainbow, when the title song is sung, we hope to leave the audience with that moment of experience, where it all comes together and makes sense.
Emily: By this point in the story, all of the different colors of the rainbow have been explored, and we now discover a way that brings it all together. We see how the variety of our world can be found in each of us—if we take a closer look. Regardless of your age, you walk away with the sense that it is our differences that make us beautiful, that make the world beautiful.
Rich: If we've done our job right, audiences will recognize something about themselves when the show is over, but never once think that there is "a message." Instead, we aim to entertain. And to that point, "It Takes A Rainbow" is a song that gets stuck in your head and you can't get it out.
Emily: Getting a song stuck in your head... that's true of the whole show. I love that the book is so strong, and I love my lyrics. Though I always have to face a cruel fact: you don't leave the theater humming the book. I know the audience will leave humming Rich's music! That the show just so happens to have a beautiful message just makes the experience that much sweeter.
Rich: Ah, there's that word again! The "experience" of it. And, by the way, that "humming" the audience is doing most definitely includes the lyrics.
It Takes A Rainbow, book & lyrics by Emily Clare Thompson, music by Richard D. Russell, presented as part of the Midtown International Theatre Festival, 312 West 36th Street, "Main Stage" Friday, August 4th at 11am, Saturday, August 5th at 12 noon, and Sunday, August 6 at 12 noon. You can find tickets online by clicking here: https://web.ovationtix.com/trs/pr/975142
Related
Popular in the Community