 From the rural villages in northern Uganda to the bustling city of Kampala, the poverty-fighting programs I visited last week have something notable in common: they demonstrate how integrated programming can help achieve sustainable changes in the lives of women, men and their families.
At CARE, a leading humanitarian organization, we recognize people live their lives in a holistic manner. Issues such as health care, education and economic empowerment cannot be addressed in a vacuum. Thus, effective programs need to tackle the multiple root causes of poverty.
When I visited Uganda ten years ago, many health programs tended to be vertical, focusing on one particular problem such as HIV/AIDS. Today, a growing number of HIV/AIDS programs also incorporate a comprehensive menu of services for maternal health, access to finance, family counseling and child nutrition.
On a sunny afternoon, during my visit last week to Uganda, I met Concy Acayo, a 38-year-old pregnant mother of four who lives in a dusty shack in one of Kampala's poor neighborhoods. Concy greeted us with a smile so wide you wouldn't guess she has been living with HIV. Concy receives antiretroviral drugs and maternal health services from CARE's partner organization, Reach Out Mbuya.
Reach Out Mbuya is a community faith- based organization in Kampala with donor support from the Center for Disease Control and Prevention and the U.S. President's Emergency Plan for AIDS Relief (PEPFAR). For more than a decade, Reach Out Mbuya -- in partnership with CARE -- has counseled and tested more than 50,000 people in the area. They have provided prevention of mother to child transmission of HIV services to over 700 mothers.
Over the last few years, Reach Out has evolved to include diverse services such as maternal health care, counseling and financial services through CARE's Village Savings and Loan Association program. Concy says she is grateful for the medications she received that prevented the transmission of HIV to three of her children. She is happy the volunteers have taught her about prenatal and post natal care for her children. The organization has also helped Concy and her HIV positive husband broach some tough subjects such as family planning and domestic abuse.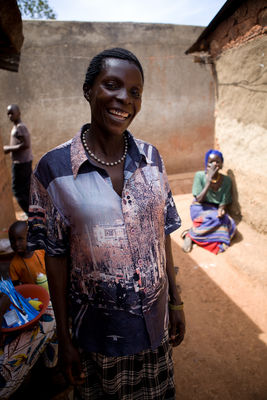 Yet, even though Concy eventually regained her health, she was still struggling to make ends meet.
Concy's life changed in 2010 when CARE introduced Village Savings and Loans Association (VSLA), an innovative savings program that teaches financial literacy and business skills to those living in poverty, especially poor women. Concy, like millions of other poor women in Africa, often cannot access a traditional bank because they do not have assets or savings.
Through CARE's program, participants are able to collectively save, while learning diverse trades and skills such as tailoring, bead making, large scale farming, and basic entrepreneurship to improve their livelihoods. Concy and a group of two dozen VSLA members meet each week to deposit small amounts of money in the group's savings box. The group then uses the money to make loans to each other. The loan repayment rate exceeds 99 percent.
Concy used her VSLA loan to generate income on a larger scale. She started a successful business selling vegetables, snacks and jewelry. After a year in the program, she bought a plot of land to build a small home for her family. She also used the money to pay for school and health clinic fees for her children.
Concy shows how integrated programs have different components that reinforce and complement one another. There is no doubt that a woman's economic empowerment is very much interconnected to her health and the well being of her children.
But integrated programs are complex and difficult to implement for one organization alone.
Nongovernmental organizations, community groups, governments and the private sector need to continue to work together as partners to create strong programs. Together, we can create integrated programs that will enable more women to stand on their own and contribute to the well being of their families.
Dr. Helene D. Gayle is president and CEO of CARE, the global poverty-fighting organization. Last week, she traveled to Uganda, visiting integrated programs that have helped women like Concy.
Calling all HuffPost superfans!
Sign up for membership to become a founding member and help shape HuffPost's next chapter