For 26 million millennials, parenthood has been added to their lineup of accomplishments. According to the most recent figures from the U.S. Department of Agriculture, the average cost of raising a child to age 18 is $233,610. This figure takes into account the cost of food, shelter, and other necessities for raising one child through the age of 17—college expenses are not part of this equation.
Despite the fact that nearly half of millennials report delaying parenthood until they were financially secure, many are still finding that they need help from their parents to make it all work. A recent TD Ameritrade Millennial Parents Survey revealed how baby boomer grandparents are lending a helping hand in the lives of their millennial adult children.
Multigenerational teamwork
The newest generation of parents find themselves in a unique position with a record high level of student debt combined with stagnant wages. This double whammy has put them at a financial disadvantage compared to previous generations. However, more than half of millennial parents have been fortunate enough to receive support—either financial or through unpaid labor such as childcare—from their baby boomer parents. This teaming up of the generations has benefited each millennial parent to the tune of $11,000 per year, on average.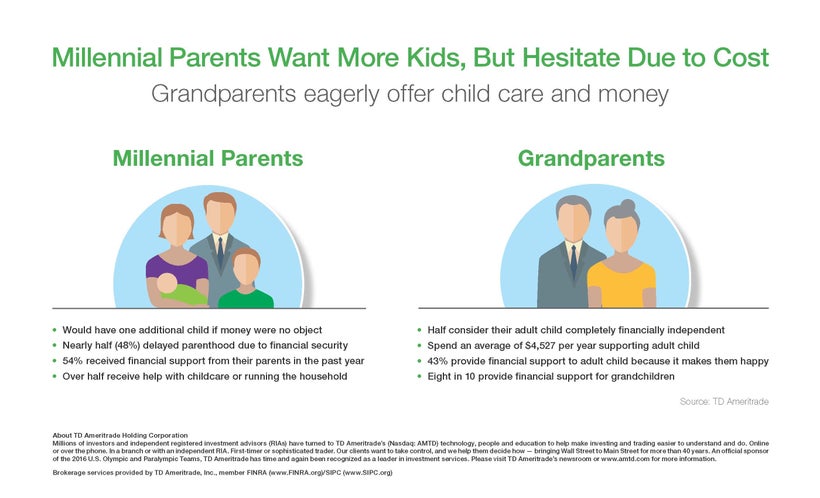 Fortunately, the vast majority (three-quarters) of baby boomer grandparents are happy to help out their children in whatever way they are able. The flip-side of this is that 47 percent of grandparents report having to make sacrifices to provide this assistance. Because of this, it's important for both parents and grandparents to take the time to talk through a few things in order to avoid potential rifts in the family unit.
Honesty and empathy on all sides involved is a winning policy. In any relationship where financial assistance is either given or received, it's important to start off with clear expectations upfront. Is the financial support a one-time gift? Is a loan being made? Will time spent providing childcare, transportation, etc. be paid or unpaid? Being precise upfront can save both headaches and heartaches down the road.
Communications needs to be ongoing. It's important that if circumstances change for whatever reason, both parties feel comfortable addressing that change in a timely manner. For example, continuing to offer financial support while inadvertently delaying meeting retirement goals will likely hurt both the baby boomer grandparent and millennial parents in the long run.
Set and work toward both short- and long-term goals. In order to reach a goal, it first has to be set. And well-defined goals with a plan of action can be easier to track than simply having a distant dream. It's both important and healthy to have financial goals. This guidance may seem impersonal at face value, but the reality is once we all pitch into the extended family unit either with our labor or financial assistance unsaid concerns can threaten that very intimacy and affection that makes us family.
And there are a number of free online resources people of any generation can use to help them get started.
Working together and keeping the lines of communication open can help prevent any potential conflicts in the future.
TD Ameritrade, Inc., member FINRA/SIPC. Stock investing is subject to risks, including risk of loss. Commentary provided for educational purposes only. Past performance of a security, strategy, or index is no guarantee of future results or investment success.
REAL LIFE. REAL NEWS. REAL VOICES.
Help us tell more of the stories that matter from voices that too often remain unheard.
This post was published on the now-closed HuffPost Contributor platform. Contributors control their own work and posted freely to our site. If you need to flag this entry as abusive,
send us an email
.