One of the founders of the Impressionist movement, Edgar Degas, is attributed with saying that "Art is not what you see, but what you make others see." In 1995, when Gregory Maguire published Wicked: The Life and Times of the Wicked Witch of the West, he opened the door to a new type of prequel -- one in which powerful women could be seen influencing a narrative in previously unimaginable ways.
Audiences that held a very special place in their hearts for 1939's hit film, The Wizard of Oz, suddenly were given an opportunity to imagine Elphaba as a young woman discovering her supernatural powers. To everyone's surprise, the Wicked Witch became a sympathetic character and a model of female empowerment.
In October 2003, when Wicked: The Untold Story of the Witches of Oz landed on Broadway with a book by Winnie Holzman and music and lyrics by Stephen Schwartz, Wicked became the must-see show for parents of adolescent girls. The Act I finale, Elphaba's "Defying Gravity," quickly became an anthem for women and girls who were tired of being defined by men and having their lives controlled by men.
Down at San Francisco's EXIT Theatre, the 2013 SFOlympians Festival presented the "sort-of" world premiere of Odysseus, or Megan Cohen's Totally Epic Odyssey. Cohen holds the honor of being the most frequently produced female playwright in the Bay Area, with more than 20 shows and readings in 24 months. Previously a dramaturgy fellow at American Conservatory Theater and literary manager for Cutting Ball Theater, she is co-founder and co-host (with Stuart Bousel) of a monthly art party at the EXIT Theater Café titled Saturday Write Fever. She's also one very insightful and confident woman with a devilish sense of humor.
Cohen wasted no time getting down to business. As part of her show, she passed around a legal pad asking audience members to write down the names of their favorite books written by women (so she could be better equipped the next time she got asked for some examples). Midway through the evening, she announced "I've been talking a lot, so we're going to take a 10-minute intermission and anyone who wants to can come up onstage and join me in my own little dance party."
During this public preview -- which was a key step in the development of Cohen's full-length adaptation of Homer's epic poem -- she performed various sequences in modern language (describing the drunken suitors chasing after Odysseus' wife, Penelope, as not much different from what one encounters in San Francisco's Marina District on a Saturday night). Whether describing how not to manage the final moments of your escape from an angry Cyclops or explaining the dangers of socializing with lotus eaters, Cohen proved to be a highly engaging raconteur.
Midway through the second act, Cohen switched gears and started talking about what she discovered while researching Homer's poem: namely, some pretty solid scholarly work suggesting that the Odyssey could very well have been written by a woman for other women. Her show was suddenly transformed into a fascinating lecture that made perfect sense if one thought about many of the details in Homer's text.
Whether in its infant stages or a full-blown epic poem like Homer's Iliad, storytelling is an art form that develops over time and goes through many revisions. The national touring company of Peter and the Starcatcher touched down at the Curran Theatre last fall with a lot of energy yet curiously diminished returns. It's interesting to listen to the creative team describe how the project came about in the first place.
If you listened closely to Rick Elice's description of the parade of potential investors who came to see the show when it was playing in the New York Theatre Workshop's 198-seat auditorium, you'll notice that many theatre professionals strongly advised keeping the show exactly where it was instead of moving it uptown to a larger theatre. Sometimes theatre people know what they're talking about.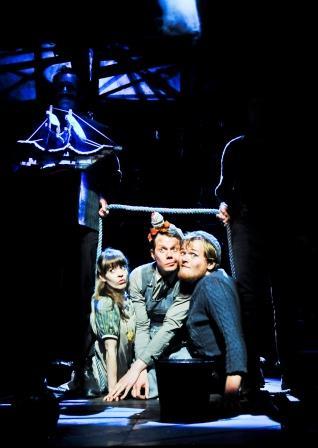 Megan Stern, Benjamin Schrader and Harter Clingman in
Peter and the Starcatcher (Photo by: Jenny Anderson)
Many storytelling situations require a certain level of intimacy for maximum effect. While co-directors Roger Rees and Alex Timbers used every trick to inspire audiences to use their imagination, there were several stretches where the spark simply wasn't there. It wasn't until I started poking around YouTube that I realized part of the problem had to do with scale.
When Peter and the Starcatcher first tested its wings at the La Jolla Playhouse, it was staged in the 492-seat Mandell Weiss Theatre.
The show's initial New York engagement took place in an intimate auditorium in the East Village.
When Peter and the Starcatcher moved uptown to the Brooks Atkinson Theatre, it ran for approximately nine months in a 1,069-seat theatre.
It then moved back off-Broadway to New World Stages (whose Stage 1 auditorium has 499 seats).
San Francisco's Curran Theatre has a seating capacity of 1,667. D'oh!
As I sat in the Curran Theatre I couldn't help wondering why I was having a less-than-satisfactory experience with this show. Granted, it had been a long day. But I soon noticed that I was only able to hear about 80 percent of the dialogue (even though the actors were strongly miked, there seemed to be some overlap in their lines). Whereas the first act took place on a relatively dark stage, it was obvious that the play's entire mood changed in Act II, when the action moved to a brightly-lit tropical island.
There's no hard rule insisting that small shows can't successfully be mounted in large theaters (Avenue Q's national tour has been presented several times at San Francisco's Orpheum Theatre). But let's be honest: There's very little in Avenue Q that requires any subtlety or inspires an audience to use its imagination.
Peter and the Starcatcher is different and, in order to play a large house, the production had to be beefed up a bit. In the following video, set designer Donyale Werle goes into exquisite detail about some of the materials used in the show's sets and costumes.
Other than the giant pineapple which graces the fake proscenium arch, much of the detail is lost in a house the size of the Curran. While the mermaid costumes generate solid laughs for their creativity, it's much better when you can see them up close. Like this:
The show's 12-person ensemble goes out of its way to entertain audiences, with John Sanders as Black Stache strangely evoking memories of Harvey Korman. Benjamin Schrader does some very nice work as Mrs. Bumbrake (as does Luke Smith in the role of Smee).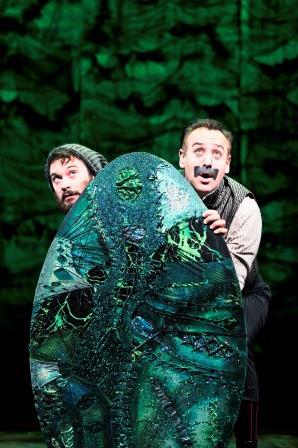 Smee (Luke Smith) and Black Stache (John Sauders) in
Peter and the Starcatcher (Photo by: Jenny Anderson)
As the boy who would become Peter Pan, Joey deBettencourt has an understated appeal, much like what Sir William S. Gilbert described as "the lady from the provinces who dresses like a guy and who doesn't think she dances but would rather like to try." By contrast, Megan Stern's Molly is a forceful, determined young woman who has no trouble pushing the male characters around to do her bidding (there's no question about who really wears the pants in this story). Here's the teaser: