It's a little surprising that until now, no one has put together the definitive tribute album to folk's fertile days in New York's Greenwich Village. 429 Records' new collection titled The Village--A Celebration Of The Music Of Greenwich Village spotlights the historical significance of the neighborhood's folk music scene with passionate contributions by thirteen artists including Rickie Lee Jones, Los Lobos, Bruce Hornsby, Amos Lee, Shelby Lynne, Cowboy Junkies, John Oates, Lucinda Williams, Mary Chapin Carpenter, Rachael Yamagata, and others.
In her glowing liner notes, Suze Rotolo (featured on The Freewheelin' Bob Dylan album cover) accurately states, "The songs on The Village aren't confined to any particular era any more than the musicians performing them are...every tune is something transformed from something I knew into something I didn't." The music of Tim Buckley, Judy Collins, Joan Baez, Fred Neil, John Sebastian, Joni Mitchell, Richie Havens, Eric Andersen, and Bob Dylan helped create a Greenwich Village golden era full of memorable classics, many of which are relevant today. The artists who contributed their works to The Village celebrated some of that period's anthems by giving them renewed significance through their loving reinterpretations.
Mike Ragogna: When was the last time you were in Greenwich Village?
Amos Lee: Just a few weeks ago; whenever I'm in New York, I'm in the Village. A lot of my friends live there and I love hanging out and hearing music.
Los Lobos' Steve Berlin: When we last played in NYC in July. I have good friends who live there, so anytime I'm in NYC, I am there.
John Oates: Three days ago, I was in New York to promote the (Hall & Oates) box set. I went down for dinner, and I always stop at Matt Umanov's Guitar Center on Bleecker Street. It's my little pilgrimage, you know.
Rachael Yamagata: I was just in the village for the recent CMJ festival checking out some bands.
Shelby Lynne: Just last week, my sister lives there with her husband. I went to The White Horse, and I always like to go to the Village because the shopping's great, there are some cool little record stores there. I'm into vinyl, so I always try to go check it out.
MR: Did you frequent the clubs and cafes when you were younger?
SB: When I was 14-15, my friends and I would make regular pilgrimages to The Village Vanguard and The Blue Note, taking the train up from Philadelphia after school and then taking the last train back. It was amazing, exhilarating and exhausting, but always fun. How my parents let me do it, I have no earthly idea. My favorite trip was much later when I was in NYC with Los Super Seven in 1995. Most of the band had never been to NYC, so it was fun to see the city and especially Greenwich Village through their eyes. But the best part was Joe Ely, who was there in the sixties as a teenager, happened to be in that band. So as we walked through the Village, club owners and fans came running out to greet him and drag us in for libations and stories.
AL: Yes, of course. The first gig I ever played in New York City, probably like a lot of other people, was The Bitter End. The first I had heard about The Bitter End was from a Donnie Hathaway record because he had recorded half of it at The Bitter End and the rest at The Troubador. Stevie Wonder played the place for a week, I can't tell you how much I would have paid to hear him sing and play in a place that seats 200 people....imagine that every night for a week.
RY: I didn't until college, but then I became addicted to coffee and cigarettes while reading a good book or doing some writing. It certainly became a daily ritual. Over time I'd learn the vibe of different clubs and begin to trust that whatever music they were booking might be something I'd like. It was social pastime becoming a way of life.
Cowboy Junkies' Michael Timmins: When we lived in Toronto, we used to all pile into a station wagon and take these trips down to New York, try and rent a cheap room at whatever hotel you could get in, and then go back the next day, maybe go to show. One of the reasons we went was to go to Greenwich Village. That was the whole idea. It had this weird, mystical attraction to us because we'd heard so much about it, especially through Dylan's life. We'd go to The Turning Point and all the little clubs just to see what they looked like. Not that there was a "scene" around those clubs at that point, but like any venue, if you grew up listening to music that came out of it, it was just always amazing.
MR: Who were your favorite acts that performed in the Village?
SB: We were total jazz snobs then so that was it for us, in particular McCoy
Tyner, Gato Barbieri, and the Jazz Messengers.
MT: Dylan's the one. When Dylan came, he changed the whole landscape, there was that whole new generation of singer-songwriters that arrived. I really liked Fred Neil a lot, I really liked his voice, and he obviously had a huge impact on Tim Buckley as well. Leonard Cohen also was influenced by that era.
JO: My favorite artists at the time were Mississippi John Hurt, Doc Watson, Phil Ochs, John Hammond Jr., Sonny Terry & Brownie McGee... There were so many, and every act was real special.
RY: Growing up, I loved the great storytellers.
SL: Of course, we had Woody Guthrie, and it was all wonderful and so real. The power in what they gave to us is undeniable, and it's so strong. We're talking about real writers, we're talking about real musicians. We're talking about people sitting down with a guitar singing their music. We're talking about no Pro Tools, about owning two pairs of boots, two pairs of jeans, and not being a society of excess...and it does matter in the music.
MR: How did the music of Greenwich Village affect your own?
SB: It was the first place much of America first heard the Latin music influence, which is why we picked "Guantanmera" for this project.
JO: The music that came out of that era, especially out of the Village and that emerging folk scene in the sixties, was very, very important to me and my guitar playing, and a lot of the musical things I was doing before I met Daryl. So it really does touch me personally, and I feel very comfortable in that place.
MR: How did you come on board for The Village?
Bruce Hornsby: They asked me if I was interested in being a part of it, and I always loved the John Sebastian song, "Darlin', Be Home Soon." So I asked them if it was okay if I submitted that, they said yes, and I said, "Okay, I'm in."
MR: How did you decide on the song you chose?
Rickie Lee Jones: I guess they just asked me to do a Bob Dylan song from that period, and "Subterranean Homesick Blues" was the one that came to mind first. It seemed like it would be fun to do, not too serious. You know, I learned that song when I was a kid. My big sister bought Bob Dylan records, and I would lock myself in her closet and listen to her playing Dylan. It's one of the ones that's been with me all my life.
SL: I'm a Dylan fan...big time! When I got the opportunity to sing something for this record, I immediately went to Dylan. I just felt that Bob Dylan was a driving force of that period, and it gave me an excuse to sing one of his songs.
MT: We're big Tim Buckley fans, and there are so many songs to choose from that era, but our manger, Mark Spector, suggested "Once I Was." I felt it would fall perfectly into what we can do. I got into Tim in the early eighties, and I would find a record here and there, a lot of his records were out of print. Right around that time, This Mortal Coil did a Tim Buckley song and had a big hit, so his music percolated into the underground culture again. It comes in and out all the time...he's just one of those guys who I think is timeless. When you listen to his music, he could have easily been doing it today.
BH: Although I was a big Lovin' Spoonful fan, I came to love "Darlin', Be Home Soon" because of Joe Cocker's version from his second record, Joe Cocker!. My rendition started from his version of it, and then gradually evolved through the years into something that is more personal...more of my own take on it.
SB: "Guantanamera" is a song we've basically played from the first day of our existence as a band, and we continue to play it to this day. It's a classic that has been recorded by just about everyone, yet it still retains a freshness that many of the chestnut songs of that era have lost.
JO: "He Was A Friend Of Mine" is a really emotional song. When I was asked to do it, I definitely jumped on board. It's a ballad, and I wanted it to be a blend of Mississippi John Hurt meets Dave Van Ronk. I'm actually quite proud of that track 'cause it's a different interpretation than what Dave Van Ronk did. I asked Drew Emmitt--who used to be in the group Leftover Salmon--to play mandolin on it. He's a Colorado guy, a great bluegrass player. We cut it live in one take. But I also think a lot of the interpretations on the album are really cool, like Amos Lee's and The Duhks'...
RY: I chose "Both Sides Now" for a few reasons. It's such a classic, and I'd always loved and known it from Judy Collin's version. Her vocals are so angelic, and when I thought of myself covering it, I thought I could offer a darker twist on the song as something different. The lyrics had such a sad quality that I wanted to explore. My good friend Kevin Salem produced, and we worked in Woodstock, which, of course, had it's own symbolism as well.
AL: When I was approached about The Village album, I talked to some friends. One of them lived in the Village in the sixties, and he suggested Fred Neil. I remembered his name from when I worked in a record store when I was a kid. Fred was someone I was always interested in. I remember his song "The Dolphins," mostly because it was covered by a lot of people, most notably by Tim Buckley and Richie Havens. Fred Neil was dedicated to the cause of trying to save dolphins from people who were trying to destroy them and worked very hard to get that message out. So I went back to Bleecker & MacDougal (Fred Neil's album), and fell in love with his song "Little Bit of Rain." I brought my band into the studio and I love the way we cut it.
MR: John, if Daryl Hall had participated in this project, what song do you think he might have contributed?
JO: (laughs) Well, he made a joke the other day that he would have done Dave Van Ronk's "Cocaine." When he heard what song I did, he said, "Why didn't you do 'Cocaine?' and he laughed, so maybe that's the one.
MR: Art Alexakis of Everclear, what song would have been your contribution to The Village?
Art Alexakis: If I had my druthers? "Tangled Up In Blue" is one of my all-time favorite songs by anybody. And we have a super good cover of "This Land Is Your Land" that came out on our album last year...
MR: Has recording a track for The Village swayed how you might approach a future project?
JO: When the guy at the record company heard my track, he actually asked me to do a solo album in that style. So I think my next solo album will be in a very traditional folk blues and guitar style.
MR: There seem to be a lot of young artists now who get what the music of that era was about, and their songwriting seems to exhibit what was great about it.
JO: There's an incredible emergence of singer-songwriters and songwriting venues in New York City which is tremendous. I'm very well entrenched in the singer-songwriter movement. There's something magical about seeing someone on a stage with a guitar just singing their songs. One of the great organizations in New York is The New York Songwriters' Circle of which I've been a part. In fact, on November 19, they're having their final songwriting contests and I'm one of the judges.
MR: What do you like best about the folk genre?
JO: It's a very pure, authentic style of not only music, but performance. I think people who can do it really should do it because it's a showcase for their playing and their ability to perform. When I was nine or ten years old, I started to play this kind of music, so for me, it's very comfortable. When I play solo shows, I always throw in a Doc Watson song or something like that. In its purest form, it's really something special.
MR: What do you think is the most significant contribution Greenwich Village gave to culture?
AL: The significance of it is that it's a great place for people to congregate to get further along as artists, that what it comes down to. You can walk through the place and feel the history and its place of culture in the United States.
SB: Like L.A. in the eighties and San Francisco in the late sixties, Greenwich Village was a laboratory for experimenting with song forms and styles that still echo through the music of many old and new bands. I think the music of The Decemberists or Death Cab would be quite different should the Greenich Village scene not emerged.
RLJ: The contribution will be understood over time. Maybe it's significance was that it existed. It allowed Bohemian people to have cheap rent and places to gather, who then went out and affected the culture we live in now. Or maybe it was a specific club that people played at. Or it's accidental, you know? Maybe somebody moves there, somebody lives there, and then people begin to congregate, and that place and time is golden. And when you're part of any place and time that's remembered by history--the Village or Haight-Ashbury, The Troubadour in 1978--it's a really golden time. People today, because of television, the internet, there's not a lot pulling them out to have to congregate and live together.
JO: I think it reintroduced Americans of that era--especially college and high school students--to the great legacy of traditional American music that is so unique to our country, and has made its mark on the world. It mutated and evolved into so many styles of music, like rock, blues, and various other commercial music. It was a rediscovery of people like Mississippi John Hurt, Son House, "Bukka" White, Doc Watson, and all the great traditional musicians who were rediscovered there and showcased at places like the Philadelphia Folk Festival and the Newport Folk Festival. This was an important moment, I think, because it really provided young people with a chance to see the true roots of American music.
RY: The artists. All of the people "living their passion and creativity" and constantly challenging, turning upside down, inspiring, interpreting and communicating ideas of life. Their work in turn enriches life itself.
MT: From my point of view, the whole idea of a song saying something--not necessarily a political statement--but it having a point, reaching deeper than three-and-a-half minutes of a good melody, bridge, and chorus. That's where, to me, it began, with people actually sitting down and listening. It's that cross of poetry and song that inspired so much, where a song could have meaning.
MR: Marshall Crenshaw, what do you think?
Marshall Crenshaw: I can't say why, but it's one of those places where lots of geniuses have found themselves and emerged from, a hotbed of thought and creativity. You definitely feel something when you walk around down there...
MR: John, if Greenwich Village had never existed, would "Past Times Behind" have ever existed?
JO: (laughs) Maybe not! That's one of the few moments in my Hall & Oates career where my folky roots really did show through. "Past Times Behind" was a song I wrote before I met Daryl, and the songs on the Whole Oats album, in general, were all a hodgepodge of songs that we contributed individually and not really collectively. So that's where those folky roots shine through, and from there, our music kind of goes to another place.
MR: It seems that the spirit of Bleecker Street, at least the intelligent, counter-culture nature of it, has faded.
MT: I think part of that is that there are so many different ways of expressing that spirit. Back then, it was an early time, before the music business became the machine it did for pop and rock, so the clubs are where you expressed it, and that was a real central point. You couldn't post your new video on YouTube or on your MySpace page. Now there are so many ways of getting music out there, but back then, really, it was just a stage. You got up and played, and that was your statement. So it was easier to create that kind of movement because it was focused, it was automatically centralized due to the lack of outlets.
SL: We have to go back to the singer and the songs. The most important thing is that this young record company (429) is interested in putting out a record of things from the past that matter, and that's the only way that the great stuff can stay alive, you know? It's a fight, but it's worth it, and I'm glad to be a part of it.
MR: Could another musical renaissance like Greenwich Village's ever occur again?
RLJ: It's going to be harder. I mean, what would the Village of 2012 be? An internet site? Probably, huh?
JO: Yeah, it's happening right now. It's called the internet. Really, it's a global village that's not restricted to a neighborhood. The concept of a neighborhood is really just too small for the scope of what's going on in the world. I think the new Village is a virtual one.
The Village - A Celebration Of The Music Of Greenwich Village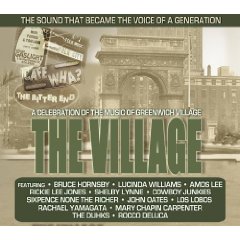 Tracks:
1. Subterranean Homesick Blues - Rickie Lee Jones
2. It's Alright Ma I'm Only Bleeding - The Duhks
3. Positively 4th Street - Lucinda Williams
4. Wayfaring Stranger - Sixpence None The Richer
5. He Was A Friend Of Mine - John Oates****
6. Guantanamera - Los Lobos
7. Violets Of Dawn - Mary Chapin Carpenter
8. Darlin' Be Home Soon - Bruce Hornsby
9. Little Bit Of Rain - Amos Lee
10. Don't Think Twice It's Alright - Shelby Lynne
11. Once I Was - Cowboy Junkies
12. Both Sides Now - Rachael Yamagata
13. The Ballad Of Hollis Brown - Rocco DeLuca
****FYI, after 20 years of keepin' it clean, John Oates unveils his reinstated stash today. We'll keep you informed as more news develops...
THE MOST PRESSING PRESS RELEASES:
SLAYER TO HIJACK MYSPACE MUSIC FOR A VERY SCARY HALLOWEEN

It's going to be a very scary Halloween weekend at MySpace Music, thanks to Slayer.

Starting tonight at Midnight, Slayer will commandeer the site's Music Home Page ( http://MySpaceMusic.com ) and brand new Music Video Home Page ( http://MySpace.com/musicvideo ) for the entire Halloween weekend.

The first Slayer Halloween treat will be the exclusive premiere of Slayer's brand new album, World Painted Blood, which is due in stores next Tuesday, November 3. You've probably heard a few morsels from it - "Psychopathy Red," "Hate Worldwide," and the title track - but now you'll be able to hear "Snuff," "Public Display of Dismemberment," "Not of This God," and "Beauty Through Order" - the whole thing, start to finish and on demand - until Tuesday when you can own your very own copy.

But if you really want to get creeped out this Halloween, then check out the video graphic novel "Playing With Dolls," which will be exclusively available for viewing on MySpace Music only through the weekend, and then on Tuesday as part of the World Painted Blood Deluxe Edition.

No mere music video, the 20-minute "Playing with Dolls" (which is included in the World Painted Blood Deluxe Edition) was created and directed by Mark Brooks (Metalocalypse) and is a stark, 12-part nightmare that breathes corrupt life into Slayer's latest syllabus of stalkers, psychopaths and serial killers, merging their aberrant psyches into the supremely focused desire of a single, merciless malcontent. A methodical distillation of one man's lethal frenzy, the film follows the gruesome outbursts of a nameless protagonist. He is not an indiscriminate murder junkie, but rather a highly creative snuff-artist with a deeply personal sense of purpose - a man for whom murder is the only conceivable way forward. With a black heart hardened by tragedy, he chooses his victims carefully. His methods are as grisly and varied as they are poetic.

To complete this seizing of MySpace Music, every slot on the MySpace's Music Video Homepage will be filled with Slayer music videos, shout-outs, digital clips of the band providing some behind-the-scenes perspective on World Painted Blood, and other terrifying tidbits.
TWILIGHT HITS NEW HEIGHTS
"THE TWILIGHT SAGA: NEW MOON - ORIGINAL MOTION PICTURE SOUNDTRACK"
RISES TO #1 ON THE BILLBOARD 200;
FIRST TIME A SOUNDTRACK AND ITS SEQUEL BOTH REACH TOP SPOT ON CHART;
EVENT FEATURING SOUNDTRACK ARTISTS SCHEDULED FOR NOV. 6TH IN LOS ANGELES

"THE TWILIGHT SAGA: NEW MOON--ORIGINAL MOTION PICTURE SOUNDTRACK" rises to #1 this week on the Billboard 200, its first full week in stores and online. Despite the soundtrack being released four days earlier than scheduled, it made an impressive debut last week at #2 on the chart after an abbreviated week at retail. This marks the first time ever that a soundtrack and its sequel have both reached the #1 spot on the Billboard 200. THE TWILIGHT SAGA: NEW MOON is slated to open in theatres nationwide on November 20th.
The musical companion to the highly anticipated second installment in Summit Entertainment's film franchise features new tracks from some of modern music's most gifted and admired artists, including Thom Yorke, Muse, The Killers, Bon Iver & St. Vincent, and Death Cab for Cutie, who contributed the album's first single, "Meet Me On the Equinox." The track is currently #14 at Modern Rock radio.
Also featured on "THE TWILIGHT SAGA: NEW MOON - ORIGINAL MOTION PICTURE SOUNDTRACK" are previously unreleased tracks from such acclaimed artists as Grizzly Bear, Lykke Li, Band of Skulls, Editors, OK Go, and Anya Marina, whose song "Satellite Heart" was the second track made available prior to the soundtrack's release. Among its numerous highlights is the exclusive "I Belong To You (New Moon Remix)" from Muse, who also appeared on the original "TWILIGHT" soundtrack.
A nationwide cast tour for THE TWILIGHT SAGA: NEW MOON, which will also feature several bands on the soundtrack, kicks off in Los Angeles at the Hollywood & Highland Center on Friday, November 6th. The special event is open to the public. The audience will be treated to performances by Death Cab for Cutie, Anya Marina, Sea Wolf, and Band of Skulls, giving them a new opportunity to experience the music from the soundtrack. The cast tour will then continue across the country, with select actors from the movie making stops in 15 cities. Several dates will also include performances from soundtrack artists. For more information, visit www.hottopic.com and www.nordstrom.com.
In addition, Summit Entertainment has teamed up with leading online movie ticketing sites, Fandango and MovieTickets.com, to offer consumers who purchase advance tickets for THE TWILIGHT SAGA: NEW MOON a free, exclusive remix of the soundtrack's "Satellite Heart" by Anya Marina, available only on the iTunes Store. With every ticket purchase, consumers will receive a free download code redeemable on the iTunes Store - www.iTunes.com - through January 15, 2010 (While supplies last. Remix exclusive for a limited time. A maximum of 10 codes per Fandango transaction).
Released in November of 2008, "TWILIGHT - ORIGINAL MOTION PICTURE SOUNDTRACK" has gone on to sell more than 3.5 million worldwide. The soundtrack topped the Billboard 200 chart upon its release, marking the largest debut for an Atlantic Records soundtrack since Nielsen SoundScan began tracking sales in 1991. It also marked the biggest digital album debut of a theatrical soundtrack in SoundScan history. Since its release, "TWILIGHT - ORIGINAL MOTION PICTURE SOUNDTRACK" has remained on the Billboard 200 for a total of 51 consecutive weeks.
TONI BRAXTON JOINS THE ATLANTIC FAMILY
NEW SINGLE, "YESTERDAY," AVAILABLE NOW ON GRAMMY-WINNING SUPERSTAR'S OFFICIAL WEBSITE
LABEL DEBUT SEES COLLABORATIONS WITH STAR-STUDDED ARRAY OF PRODUCERS AND SPECIAL GUESTS
Atlantic Records is proud to announce the addition of legendary R&B superstar Toni Braxton to its storied roster. The multiple Grammy Award-winning singer will unveil her hugely anticipated label debut on February 2nd, 2010.
"Atlantic Records has a rich heritage of great soul voices, from Ray Charles to Aretha Franklin, from Otis Redding to Roberta Flack," said Atlantic Chairman/CEO Craig Kallman. "Last year, we had the rare opportunity to bring another R&B icon into the Atlantic family, and for me it was an opportunity of a lifetime. Toni Braxton is not only one of the greatest voices of all time, but she is a charismatic superstar with an incredible list of achievements. She has sold over 40 million records worldwide, has had 15 Top Ten Billboard hits, earned six Grammy Awards, and the list goes on and on. Above all, there has always been that fantastic voice, filled with passion and beauty and soul. I believe that Toni has made the most spectacular album. It's the culmination of everything that has come before... a brilliant reflection of her experiences in music and in life. It's the start of an exciting new chapter - one which all of us at Atlantic are so very proud to be part of."
"Yesterday," the first single from the album, is currently on sale at Braxton's official home online, www.tonibraxton.com. A companion video - directed by famed filmmaker Bille Woodruff, known for such classic Braxton clips as "Un-Break My Heart" and "He Wasn't Man Enough" - was filmed earlier this month in Los Angeles and is currently in post-production with a premiere date to be announced later.
The as-yet-untitled album looks to be Toni's most powerful and personal musical statement to date. Braxton personally chose to collaborate with a veritable who's-who of red-hot producers and songwriters, including Frank E (Madonna, T.I., Plies, Flo Rida), Steve Mac (Leona Lewis, Il Divo), Lucas Secon (Britney Spears, The Pussycat Dolls), Harvey Mason & Oak (Chris Brown, Joe, Mario), Troy Taylor (Trey Songz, Kevin Lyttle), Dapo Torimiro (John Legend, David Archuletta, Brandy), and David Foster (Whitney Houston, Barbra Streisand, Celine Dion). What's more, the album features a guest appearance from Toni's new Atlantic labelmate, R&B/hip-hop sensation Trey Songz, who lends his distinctive vocal stylings to the aforementioned single, "Yesterday."
This past weekend saw Braxton singing the National Anthem before the Tampa Bay Buccaneers' NFL International Series game against the New England Patriots at London's Wembley Stadium, a rendition broadcast here in the US as part of CBS' The NFL Today's "Golden Anniversary 50th Year of the NFL" coverage. Toni is further scheduled to be the opening performance at the upcoming CENTRIC Presents: 2009 Soul Train Awards Show, taping next week at the Georgia World Congress Center in Atlanta, Georgia. The event will then premiere on both CENTRIC and BET in a special simulcast on Sunday, November 29th at 9:00 PM (check local listings).
Toni Braxton has been at the forefront of modern R&B and soul since her 1991 debut single, "Love Shoulda Brought You Home" (featured in the film, Boomerang). Her self-titled debut, which followed in 1993, proved a true pop phenomenon, earning 8x-platinum certification from the RIAA for sales in excess of 8 million. The album also saw Braxton receiving her first round of Grammy Awards, including "Best New Artist" and two "Best R&B Vocal Performance, Female" trophies, honoring the singles, "Another Sad Love Song" and "Breathe Again."
NIGERIAN AFROBEAT LEGEND TONY ALLEN'S SECRET AGENT TO BE RELEASED JANUARY 12
"At nearly 70 the man Brian Eno reckons is perhaps the greatest drummer that ever lived
is reveling in his heritage, and it's contagious."--Q
Tony Allen--best known for his work as drummer and musical director for Fela Anikulapo Kuti, one of Africa's most influential artists--makes his World Circuit/Nonesuch debut with Secret Agent, January 12. Following its European release earlier this year, Secret Agent has received generous critical praise. The Guardian proclaimed, "There is no question that Tony Allen is a genius, one of the greatest percussionists in the history of popular music," while Observer Music Monthly said, "If you're wondering why Afrobeat is hip, start here."
Together with Fela Kuti, with whom he played for 15 years, Allen co-created Afrobeat--the hard-driving, horns-rich, funk-infused, politically insurrectionary style that became such a dominant force in African music and is now one of Africa's most popular styles among international listeners.
Allen produced Secret Agent, which was recorded with his touring band of musicians from Nigeria, Cameroon, Martinique and France. The music is four-square in the Afrobeat tradition--rhythmic tenor guitar, funky keyboards, call and response vocals, and full-throated horns--with a few twists (including keyboard player and arranger Fixi's accordion on some tracks). Allen's playing meanwhile draws on four different styles--highlife, soul/funk, jazz and traditional Nigerian drumming. At Afrobeat's heart is the beat, even more prominent now than it was in Fela Kuti's legendary Afrika '70 band.
Secret Agent is Allen's first release since he became a founding member of The Good, The Bad and The Queen (alongside Damon Albarn, Paul Simenon and Simon Tong). This association has helped encourage a recent upsurge of interest in Afrobeat. Over the years Allen has appeared on dozens of albums and his continued relevance in 2009--fans of hip-hop, funk and jazz clamor for his recordings--speaks to the staying power of the Afrobeat music that he helped create in the 1960s.
Cascadia Yulegrass - Inaugural Acoustic Holiday Bluegrass Celebration
to tour the Pacific Northwest
Dates announced in Bellingham, Eugene, Hood River, Portland & Seattle
World-renowned fiddle master Darol Anger to direct players including Sharon Gilchrist, Scott Law, Bill Nershi, Keith Moseley and special guests.
December 16-20, 2009
www.CascadiaYulegrass.com

Looking for an alternative to traditional holiday entertainment this season? Acoustic holiday bluegrass visits the Pacific Northwest December 16-20 with the inaugural Cascadia Yulegrass celebration. Featuring world-renowned musicians and regional favorites including Darol Anger, Sharon Gilchrist, Bill Nershi and others, Cascadia Yulegrass is a contemporary, family-friendly, and affordable holiday alternative that doesn't involve cracked nuts or ballerinas.
World-renowned fiddle master Darol Anger will direct and perform. Exceptional among modern fiddlers for his versatility and depth, Anger has driven the evolution of the contemporary string band through his involvement with numerous path-breaking ensembles such as the Turtle Island String Quartet, the David Grisman Quintet, and his Republic of Strings. Today Darol can be heard on NPR's "Car Talk" theme song along with Earl Scruggs, David Grisman and Tony Rice, and is a featured soloist on dozens of recordings and motion picture soundtracks. For Cascadia Yulegrass, Anger is joined by Rowan/Rice, mandolin-player Sharon Gilchrist, regional guitar hero Scott Law, flat-picking master and String Cheese Incident guitarist Bill Nershi, and SCI bassist Keith Moseley. Nershi is coming off a diverse and successful 2009, including a performance at folk music icon Pete Seeger's 90th birthday party at Madison Square Garden. The event was recorded by PBS and is currently being broadcast nationally.
Cascadia Yulegrass also features special guest appearances by Hot Buttered Rum drummer/Everyone Orchestra founder Matt Butler and vocalist Jilian Nershi. Opening the event is feel-good artist Big Water, who will be bringing his message of love, truth & grooving rhythms.
Cascadia Yulegrass hits the following locations this season:
12/16/2009 - River City Saloon, Hood River, OR
12/17/2009 - Tractor Tavern, Seattle, WA
12/18/2009 - Wild Buffalo, Bellingham, WA
12/19/2009 - Historic McDonald Theatre, Eugene, OR
12/20/2009 - Wonder Ballroom, Portland, OR
Tickets priced from $10 - $22. A variety of VIP and seating packages are available.
Tickets for all markets go on sale Tuesday, November 3rd at www.CascadiaYulegrass.com and venue box offices.
Don't Forget the Food Drive!
In a year when the need for emergency food boxes throughout the Oregon and Washington foodbank networks skyrocketed to historic highs, Cascadia and The Conscious Alliance (www.ConsciousAlliance.org) are proud to announce food drives at each concert - with 100% of donations going to benefit local area food banks. Each patron who donates 10 non-perishable food items will receive a free limited edition Cascadia Yulegrass poster! The Conscious Alliance always encourages food donations to be low-sodium health food oriented products.
NOTHING'S SLOWING DOWN MOTION CITY
Motion City Soundtrack Announce Select Dates with Weezer this December!
Motion City Soundtrack are thrilled to announce that they'll be joining Weezer this December for some select live shows! Kicking off in Chicago December 1st at the Aragon Ballroom, this run will see MCS playing dates in the Midwest and along the East Coast with the like-minded pop rockers. Before heading out on this short trek, Motion City Soundtrack will play to hometown fans and friends at a sold out Triple Rock Social Club show on Halloween Eve aka Mischief night. And directly following the Weezer dates, MCS will return to Chicago for a sold out exclusive three night stand at Lincoln Hall where the band will perform their first three albums in their entirety over three separate nights - I AM THE MOVIE on December 18th, COMMIT THIS TO MEMORY on December 19th, and EVEN IF IT KILLS ME on December 20th.
There is a lot of excitement in the Motion City Soundtrack camp as the band gears up for the release of their major label debut - MY DINOSAUR LIFE. The first single off the album - "Disappear" - is currently being streamed on the band's web site and is available for purchase exclusively through iTunes.
JERRY GARCIA BAND WILL "LET IT ROCK"
Double-Disc Collection Includes Rare Early Performances Of The Group's Original Lineup, Featuring Legendary Pianist Nicky Hopkins, Recorded Live In Berkeley, November 1975
For Jerry Garcia, 1975 was a seminal year that found him splitting time between recording Blues for Allah with the Dead, directing The Grateful Dead Movie, and forming the Jerry Garcia Band-his long-running side project. JGB's earliest days are the subject of a two-disc live collection recorded during that momentous year. THE JERRY GARCIA COLLECTION, VOL. 2: LET IT ROCK, JERRY GARCIA BAND, NOVEMBER 17 & 18, 1975, KEYSTONE BERKELEY will be available November 10 from Jerry Garcia Family/Rhino at physical retail outlets and at www.dead.net for a suggested list price of $19.98.
The Jerry Garcia Band-Garcia, his constant collaborator bassist John Kahn and drummer Ron Tutt-played its first show with Nicky Hopkins on piano in August 1975. The ultimate session player, Hopkins' credits include work with The Beatles, The Who, The Rolling Stones, and Jefferson Airplane to name a very few. While Hopkins residency was brief with the Jerry Garcia Band, it played an important role in the group's shift away from big jams toward song-oriented material.
In addition to being a brilliant songwriter himself, Garcia had a great ear for other people's songs and the new band provided him an opportunity to explore others' works. LET IT ROCK includes covers of Chuck Berry ("Let It Rock"), Little Milton ("That's What Love Will Make You Do") and Jimmy Cliff ("Sitting In Limbo.") It also features performances of Allen Toussaint's "I'll Take A Melody" and Hank Ballard's "Tore Up Over You," songs that would surface a few months later on Garcia's Reflections (1976). In addition to other artists' songs, the band dips briefly into the Dead canon for "Friend Of The Devil" and Garcia's 1972 solo debut for "Sugaree." Three Hopkins originals are featured as well, "Pig's Boogie," "Lady Sleeps," and the curiously titled "Edward, The Mad Shirt Grinder," a song Hopkins first performed with Quicksilver Messenger Service.
While it is not strictly speaking a complete show, THE JERRY GARCIA COLLECTION, VOL. 2 is sequenced to approximate a two-set club gig, highlighting performances recorded November 17 and 18, 1975, during a pair of intimate gigs at Keystone Berkeley in front of a hometown crowd. The shows demonstrate that this lineup was capable of collective improvisation on the same level as the Grateful Dead, says David Gans, host of the Grateful Dead Hour. "Everybody could play melody or rhythm, or both, at any time, flying in and out of formation and always in intimate relation to what the others were playing," he writes in the collection's liner notes.
INDIGO GIRLS
NEW DVD - LIVE AT THE ROXY
AVAILABLE ON NOVEMBER 17TH

The forthcoming DVD release Indigo Girls: Live at the Roxy demonstrates why the GRAMMY award-winning folk-rock duo Indigo Girls continue to draw capacity crowds over twenty years into their career. Captured in crystal-clear HD, their July 2007 show at the historic Roxy Theater in Atlanta, Georgia is a true testament to the songwriting and performance prowess of Emily Saliers and Amy Ray, whose successful careers began in 1988 in the small clubs of Atlanta and Athens, Georgia and quickly evolved into performances at venues as diverse as Lilith Fair, Red Rocks, the Newport Folk Festival, and headlining Madison Square Garden. Saliers and Ray are joined onstage at various points in the show by singer-songwriter Brandi Carlisle, who enhances the duo's famous harmonies on songs such as "World Falls" and "Galileo." Later in the show, the Girls are joined onstage by Atlanta-based rock group Three5Human, whose guitarist Tomi Martin has played with an impressive list of artists including Michael Jackson, Madonna, Eric Clapton, Outkast, and TLC. Three5Human front-woman Trina Meade lends her stunning vocal pipes to Indigo Girls classics like "Closer to Fine" and the fan favorite cover of Gladys Knight's "Midnight Train to Georgia." Other numbers include "Shame on You," "Pendulum Swinger," "Little Perennials," and "Tried to Be True," as well as two special bonus tracks. Total running time: 1 hour and 27 minutes.

This DVD follows on the heels of the Indigo Girls' latest release, the critically-acclaimed Poseidon and the Bitter Bug.
Rhino Presents Soundtrack To Latest Jason Reitman Film, Including CSNY, Elliott Smith, Dan Auerbach, Sad Brad Smith, And Sharon Jones & The Dap-Kings
Paramount Pictures presents in association with Cold Springs Pictures and DW Studios Up In The Air, a film by Jason Reitman - the Oscar®-nominated director of Juno. Due in theaters nationwide this December, the film stars George Clooney as Ryan Bingham, a corporate downsizer and consummate modern business traveler who, after years of staying happily airborne, suddenly finds himself ready to make a real connection. Rhino fastens its seat belt for the film's musical journey with a collection of songs compiled by Reitman, who previously won a Grammy® for the Juno soundtrack. UP IN THE AIR: MUSIC FROM THE MOTION PICTURE will be available December 1 from Rhino Records at all retail outlets, including www.rhino.com, for a suggested list price of $13.98 (physical) and $9.99 (digital).
The soundtrack, Reitman says, is like a character in the film. "I start thinking about the music very early on. While I'm writing the script, I'm putting together a matching iTunes library. The result is a collection of songs that speaks to the nature of travel and warmth of human connection."
The film and soundtrack both open with a funky, contemporary cover of Woody Guthrie's working-class American classic "This Land Is Your Land" by Sharon Jones & The Dap-Kings. "It's a really lovely, soulful entrance to the journey of this film about the American landscape," Reitman says.
UP IN THE AIR includes two previously unreleased tracks with unique personal connections to Reitman. The first is "Help Yourself" by Chicago-based singer-songwriter Sad Brad Smith. Reitman discovered Smith through his brother-in-law, who became a fan after seeing a performance by Smith at a Chicago coffee shop. The second track, "Up In The Air" by Kevin Renick, was personally handed to Reitman on a cassette during a speaking engagement in St. Louis. A recently laid off Renick had heard Reitman was working on a film adaptation to the popular book and had written this song with the story in mind. The track, complete with Renick's spoken word introduction included on the original cassette, now plays over the end credits.
The soundtrack also includes "Thank You Lord," from legendary guitarist Roy Buchanan's 1973 Second Album; Elliott Smith's "Angel In The Snow" from his posthumous collection of unreleased music; "Goin' Home," a solo track by Dan Auerbach, half of the Black Keys; "The Snow Before Us" by San Francisco trio Charles Atlas; plus two appearances by Graham Nash, with CSNY on "Taken At All" and solo on "Be Yourself" from 1971's Songs For Beginners. Along with the featured songs, UP IN THE AIR also includes two tracks from Rolfe Kent's musical score.
CHIP TAYLOR GETS HIS DAY!
The mayor of Yonkers, NY has declared Wednesday, October 28 "Chip Taylor Day" in honor of this week's release of legendary songwriter Chip Taylor's new album Yonkers, NY (Trainwreck Records), about Chip's upbringing in the NYC suburb.

Stream 'Yonkers, NY' in its entirety at this link and read on for the full proclamation from Mayor Philip A. Amicone below: http://bit.ly/ChipTaylor-YonkersNY

"Bastard Brothers," the first single of Yonkers, NY, details Taylor's forced move from being a violinist to a guitar player as a seven-year-old. His violin playing annoyed his brothers (Jon Voight and Dr. Barry Voight) so much that they convinced their parents to secretly switch Taylor's violin with a less screechy instrument. This move led Taylor down his extraordinary musical path. Listen here (cleared for posting):
http://bit.ly/BastardBrothers_MP3

Please feel free to post the album stream or MP3. Stay tuned for more about Chip Taylor this week. Feel free to reach out if you'd like to learn more.

"Chip Taylor Day" Declared By Yonkers, NY Mayor

The full proclamation from Mayor Philip A. Amicone:

HEREAS: As Mayor of the City of Yonkers, it is with a great sense of pride that I recognize those distinguished Yonkers natives who have risen to the highest levels of personal success and who remain true to their Yonkers' roots, and

WHEREAS: Foremost among these individuals is CHIP TAYLOR, who is recognized this day, in celebration of the release of his newest album, Yonkers, NY, which chronicles his life history, and

WHEREAS: Raised in Yonkers, CHIP TAYLOR, also formally known as James Wesley Voight, began his love affair with music at an early age, and his penchant for the country genre found an outlet in his Archbishop Stepinac High School band, 'Town & Country Brothers', and upon graduation, entered the music business, writing and composing pop and rock songs and achieved success with a number of his songs, and

WHEREAS: A prodigious and prolific talent, CHIP TAYLOR's status as one of the most notable songwriters in American music is secure and in recent years has won praise for acclaimed recordings and collaborations and has penned dozens of classics, written in varied voices and styles, most notably Wild Thing and Angel of the Morning, and

WHEREAS: Throughout the course of a successful music career, CHIP TAYLOR released over twenty albums and with the release of his latest recording, Yonkers, NY, he relates the story of his childhood and adolescence, through an eleven song cycle which is filled with warmth and humor, enlivened with spoken reminiscences and packaged with a book of lyrics and vintage photos of the people and places that are their subjects, and

WHEREAS: Family has played an important part of the songwriting process of CHIP TAYLOR and many of the songs on his newest album are a reflection of the warmth and love of family and friends that he experienced during his youth, and

WHEREAS: The City of Yonkers raises its voice in tribute to CHIP TAYLOR and wish him much success with our namesake album.


NOW, THEREFORE I, PHILIP A. AMICONE, Mayor of the City of Yonkers, do hereby proclaim this 28th day of October 2009 to be CHIP TAYLOR DAY in the City of Yonkers, and I call upon all the residents of our City to join with me in congratulating this individual on the release of his newest musical endeavor and to express our gratitude to him for 'putting Yonkers, NY' on the musical map.

Given under my hand and the Seal of the City of Yonkers, New York this 28th day of October 2009.
SARAH McLACHLAN'S LUKE DOUCET SHOWS YOU HOW TO DO IT!
Acclaimed guitarist, songwriter and producer Luke Doucet has posted a series of guitar lessons and stunning performance videos to YouTube, shot at his Canadian home. He kicks off his East Coast tour today with Willy Porter in Atlanta. He will be performing solo.
Luke joined Sarah McLachlan's band at age 19, and the Toronto Star called him "the best young guitarist in the country." He has since gone on to release solo work including the highly praised 'Blood's Too Rich' (Six Shooter, 2008) as well as albums with rock band Veal,
and also works as a producer.
The video series guest stars Luke's arsenal of guitars, featuring his vintage, well-loved Gretsch White Falcon.
Luke breaks down a complicated part on his tune "Buttercloud," including detailed fingering suggestions and other pointers, with close-ups, played on a Johnson steel guitar.
CRACKED LATIN'S SCARY (IN A GOOD WAY) VIDEO:
Cracked Latin's "My Hallucination" video for your consideration...
Calling all HuffPost superfans!
Sign up for membership to become a founding member and help shape HuffPost's next chapter